r Futuristic Finishing
Culp, BBA Nonwovens and Fleissner partner to enhance finished home furnishings
fabrics. Culp Finishing in Burlington, N.C., a segment of High Point, N.C.-based Culp
Inc., the well-known manufacturer of upholstery and mattress fabrics, is approaching finishing from
a different perspective these days. Unlike traditional finishing methods, the companys new
Aqua-Lok® process is not predicated on adding chemicals and compounds to fabric as it is prepared
for shipment to home furnishings customers.Until now, everything weve done to enhance properties of
finished fabric for the past 20 years has actually decreased fabric life, said Michael D. Messer,
division vice president of manufacturing, Culp Decorative Fabrics. With Aqua-Lok, we are actually
increasing fabric life, durability and abrasion resistance, while providing the properties that
customers and consumers want.Those properties include superior hand, aesthetics, durability, value
and environmental friendliness, he said.Traditional finishing processes for home furnishings
fabrics include application of chemicals, particularly latex, to enhance properties, especially
abrasion resistance. Those chemicals, however, actually decrease fabric life and performance,
prohibit recycling and create considerable expense in wastewater treatment. Durability And
SoftnessThis is a big move for us, said Robert Culp, chairman and CEO, Culp Inc. We have a huge
investment in latex here. But latex is not friendly to what we do and what our customers want. We
can now give them all the benefits of traditionally finished fabric and then some without the use
of chemicals. Primary end-uses for Culps finished fabrics are in contract furniture, consumer home
furnishings and mattress ticking.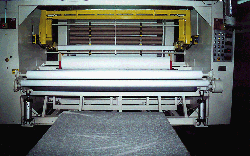 The real key today is softness, Culp said. Customers look for a soft hand before anything
else, and softness in upholstery fabric has a certain look. Used to be, if someone was shopping for
furniture and they saw a color they liked, they would go up and feel the fabric. Now, if it doesnt
look soft, youve lost their attention.In addition, Aqua-Lok significantly enhances dura-bility,
according to Jerry Owens, division vice president, product development, Culp Decorative Fabrics.
There are wear-dated tests that Aqua-Lok fabrics pass that fabrics coated with latex cant come
close to, he said. In addition, aftermarket treatments applied to improve stain resistance and
other properties generally degrade a latex coating, but they have no effect on Aqua-Lok
fabrics. The Culp/BBA ConnectionCulps Aqua-Lok is a hydroenhancement process licensed from BBA
Nonwovens, Simpsonville, S.C. BBAs Interspun® Division first commercialized the concept in 1995.
Logistics essentially economies of scale prompted the company to seek a partner for its
implementation, rather than be the exclusive provider. Negotiations began with Culp after ITMA 99,
the result of which is that Culp is currently the exclusive licensee of this technology, Owens
said. The basic process, according to Frank E. Malaney, business unit manager for BBAs Fabric
Enhancement Group, entails impinging high-pressure water onto a woven or knit fabric, thereby
changing its structure and the properties of the fabric. Fabric TransformationWhat seems like
a very simple process is, in fact, rather complex, Malaney said. BBAs Interspun process, upon which
Culps Aqua-Lok is based, involves the impingement of a fabric, while supported on a solid or
pervious surface, with very fine, high-velocity and discreet water jets in the form of a curtain.
The energy imparted causes the cloth to bulk and blossom and individual fibers to be entangled.
This entanglement takes place at crossover points between the warp and the weft, within the yarns,
and in the interstices between yarns. The amount of entangling and bonding is directly related to
the energy imparted to the cloth and to the nature of the fabric.Determining factors of the
enhancement effect, according to Malaney, are the jet density and diameter, distance between jets,
energy imparted, structure of the support and the distance of the jet orifice from the support
structure.Aqua-Lok and Interspun processes cause a number of things to happen to fabric during
finishing. Yarns are displaced and uniformly redistributed in the fabric. Individual yarns are
bloomed and then re-entangled. A bonding effect takes place at the crossover points of the warp and
filling yarns and between adjacent warp and/or filling yarns. Most of the tensions are removed from
the cloth, inhibiting torquing and edge curling. The last side of the cloth facing the support belt
can have a soft, sueded hand. Patterning can be imported into the fabric.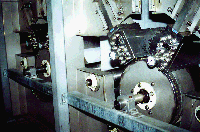 The results of this processing are very profound in regard to the measurable physical
properties of the cloth, Malaney said. Depending upon the fabric and the process parameters used,
fabric will exhibit many enhancements in properties. The fabric is made more uniform, and edge-fray
resistance is improved. Abrasion resistance improves by up to 150 percent, and pilling resistance
is also improved. The fabric is bulked as much as 50 percent and has greater cover. Pore size can
be reduced. Cotton fabrics absorb dyes and develop color as if they were mercerized. Air
permeability is lowered by as much as 80 percent in spun fabrics, Malaney said. In filament
fabrics, air permeability can sometimes be increased. Seam slippage is improved substantially.
Fabric torque is also reduced. Reed marks are eliminated in a number of cases. Surface durability
is improved, and a soft, suede-like hand can be achieved. The fabric is much cleaner, and latex
coating of fabrics can be reduced or eliminated.The fabric is transported on a solid or pervious
surface, usually a tightly constructed metal or plastic woven screen. Perpendicular to the line of
travel are a number of manifolds that contain high-density jet strips from which curtains of very
high-velocity water emanate at up to 130 bar. The water impacts the fabric and causes displacement
and entanglement. The fabric can be impacted on one side or both sides. The pervious screen can be
transported either on a flat or curved surface. The process uses only water to achieve finishing
results. The water must be free of any particulate matter that would block a jet hole, which could
cause disruption of water flow and create a defective fabric.Each fabric has different process
parameters, depending upon final properties desired, Malaney said. Undoubtedly, this is a
tremendous process, said Howard L. Dunn Jr., president and chief operating officer, Culp Inc. But
we certainly still have a lot to learn about it. It is certainly not a process that can be applied
to off-the-shelf products. You have to engineer products to fit the process.Malaney agreed, saying,
Merely impacting a cloth with high-energy water will generally not provide an acceptable fabric.
One must understand the finished fabric properties required and the interaction between fabric
construction and the hydroenhancement process variables. Only then can the appropriate process
conditions be set. Once that specificity has been determined, however, it is not difficult to
control the process. Working The ProcessCulp has had the process and machinery in place since
July 2000. The line is currently running between 70,000 and 100,000 yards per week. Projected
capacity is in excess of 340,000 yards. The company has developed several lines of Aqua-Lok
upholstery and mattress fabrics that were introduced in the fall markets.We had a limited
introduction at that time, Dunn said. Obviously, we had not been running for a very long time. At
markets this spring, we plan to introduce a much broader line of Aqua-Lok products. Weve initially
created interest in the contract and mattress-ticking market segments. We will build on
that.Currently, Dunn said, Culp has found the Aqua-Lok process improves the properties of all
fabric types, except for pile fabrics. As we continue our research and development efforts, I am
certain that we will engineer processes by which pile fabrics can be enhanced. For the moment,
though, we are concentrating on developing the markets for the products we already have
available.Potential future applications include vertical surface coverings, development of Aqua-Lok
pile fabrics and continued enhancement of ticking and other offerings. Culp said the process has
the potential to make a substantial impact on most home furnishings segments.Soft is everything in
home furnishings, said Dunn. This process gives both the contract and consumer markets the effects
and properties they want. In the past, we added softness and strength by washing and tumble-drying
and then adding a latex backing. High energy consumption, slow through-put and chemically treated
water were by-products of the old process. These processes which are the standard in the industry
today create products that are structurally weaker and cannot be recycled. The Aqua-Lok process,
since it uses only water, is much more environmentally friendly. In addition, we are able to
recapture, filter and recirculate more than 90 percent of the water we use in the process. A big
advantage to this process, Owens said, is that it is an environmentally friendly process and
creates an environmentally friendly product. This is a big issue today, especially within the
contract and commercial segment. They want to be sustainable to be able to recycle. Before, you
couldnt provide a recyclable fabric at a competitive cost. You either used latex, which is not
recyclable, or you added picks, which is not cost-effective. Now we can provide fabrics that are
environmentally friendly, of superior quality and at competitive prices. It is a win-win situation
for everyone. Fleissner's AquaTexGermany-based Fleissner GmbH is the sole manufacturer of
machinery for BBAs Interspun technology, including Culps Aqua-Lok. Fleissners AquaTex line of
machinery is a derivative of the AquaJet offering which has enjoyed wide acceptance for nonwovens
finishing.In 1995, we introduced the AquaJet for nonwovens applications, said Don Gillespie, vice
president of Charlotte, N.C.-based Fleissner Inc., the U.S. subsidiary of Fleissner GmbH. The
AquaTex is a design derivative based on the AquaJet. We designed a machine specifically for the BBA
Interspun process.In addition to the new Fleissner line, Culp Finishing also uses traditional
finishing ranges from Kenyon, ProctorandSchwartz and Babcock. The plant processes fabrics made from
polyester, rayon, acrylic, cotton, nylon, olefin and blends. The plant also has three Fehrer NL-21
needle looms. The Many Faces Of Culp Inc.Culp Inc. is organized into three divisions: Culp
Decorative Fabrics, of which the finishing facility is a part; Culp Velvets/Prints Division; and
Culp Yarn Division. Ticking and upholstery fabrics finished in Burlington are woven on Dornier
looms at plants in Graham, N.C., and Pageland, S.C.The company was founded in 1972 by R.G. Culp
Jr., the late father of the current chairman and CEO. Originally called R.G. Culp and Associates
Inc., the company changed its name to Culp Inc. in 1980. Beginning as a converter of upholstery
fabrics to supply small and medium-sized furniture manufacturers, the company has grown into a
major manufacturer and marketer of fabrics for the furniture, bedding, recreational and
institutional furnishings markets. In the 1990s, Culp Inc. added to the existing facilities in
North Carolina and South Carolina by acquiring manufacturing operations in Tennessee, Pennsylvania,
Alabama and Quebec. In addition, according to Culp, the company has made a major commitment to
global expansion. Culp Inc. is aggressively seeking out worldwide business opportunities including
acquisitions, joint ventures and sourcing of raw materials, he said. A publicly traded company,
Culp has nearly 4,000 employees, and annual sales of $488.1 million in fiscal 2000.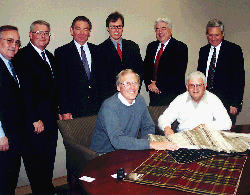 Seated (left to right): Robert Culp, chairman and CEO, and Howard Dunn, president and COO,
Culp, Inc. Standing (left to right): Jerry Owens, Culp; Michael Messer, Culp; Manfred Hueneke, BBA
Nonwovens; Jurgen Heller, Fleissner; Don Gillespe, Fleissner; and Frank Malaney, BBA Nonwovens.
January 2001