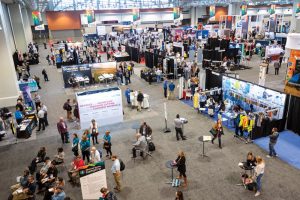 People excited to return to "live" events and Nashville deemed a success both in terms of the show and the location.
By Jim Kaufmann, Contributing Editor
IFAI Expo, held recently in Nashville, Tenn., saw a continuation of the industry's reemergence from a year-and-a-half of pandemic-induced hibernation. Judging by the reactions of exhibitors and attendees alike, the 100th anniversary edition of the show — with its corresponding special events and technical programs — was a pleasant success.
"We had lowered expectations coming into this show, but are very happy with our booth traffic and the discussions held," said Ted Fetterman, vice president, sales and marketing, Bally Ribbon Mills, Bally, Pa. "I think people are ready to come out of hibernation. I know I am! And this industry has always been look, touch and feel, which is very hard to do by email or on a Zoom call."
Other attendees agreed with those sentiments. Uli Tombuelt, CEO of Sattler USA, said: "Obviously this year's attendance is less than in previous years, but we're still having a very good show. There are a lot of interested buyers here and there is a lot of buying going on!"
IFAI reported there was a total of 3,173 attendees on site with 218 exhibitors on the expo show floor.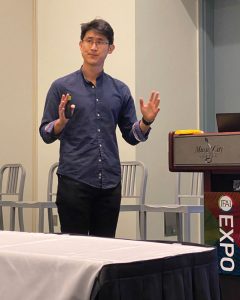 AT Conference Kicks Off Festivities
The Advanced Textiles (AT) Conference kicked off the first day of expo activities with a lunch and plenary session on innovation titled "A More Perfect Union — Advancing Textile Manufacturing Through Collaboration." This session was followed by speakers discussing innovations in e-textiles, medical textiles, Industry 4.0, advanced manufacturing and sustainability, among other topics. One highlight from the AT conference was e-textile sessions presented by Dr. George Sun, CEO, Nextiles, and Clare King, president of Propel LLC. The somewhat astonishing fact was presented that currently "there exists over 2 billion more 'connected electronic devices' then there are people in the world" as part of the reason for the continued interest in e-textile wearables. King drew praise from several attendees by suggesting that "we need to build a bridge between technology and textiles, and to do that we would benefit from a textile/electronics engineering discipline being offered." She added that "textile engineers are undervalued and really need to be paid more," which was nice to hear openly expressed, because plenty of industry veterans already knew that.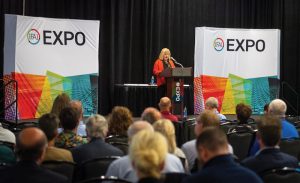 Day two began with IFAI's Annual Meeting where outgoing Chairman Kathy Schaefer, CFO of Glawe Awning & Tent Co., reviewed IFAI's metrics validating that the organization had been able to manage well through the pandemic, its membership remains strong and that IFAI continues to be a solid and thriving industry organization. She also announced several member awards, including an Honorary Life Membership to Dennis Bueker of Miami Corp., before formally handing off the position to incoming Chairman Amy Bircher, founder and CEO of MMI Textiles Inc. Bircher, IFAI's 53rd chair, acknowledged that the industry is experiencing numerous challenges related to supply chain and labor issues similar to other industries, but that IFAI's board would be working to rebrand the organization going forward to emphasize collaboration across its different divisions and within the various industry segments in order to strengthen the organization as a whole and strengthen its future (See "Amy Bircher: New IFAI Chairman," TW, this issue).
Then, following keynote speaker Steve Rizzo's entertaining presentation on the powers of optimism — where he offered that "we create our own realities" and "need to get out of our own way so that we can live the life we deserve" — for expo attendees, it was either on to more of the AT conference sessions or out to the show floor to create some new realities.
Expo Show Floor
The IFAI Expo show floor was markedly smaller than in years past with numerous companies opting for smaller booths. That said, most on the show floor were resolutely upbeat. "It's just nice to see people in person again instead of the numerous emails, calls and Zoom calls we've all been juggling throughout the pandemic," stated Juliana Wilson, a technical sales representative for Warwick Mills. "Warwick has shown before, but this is my first time at IFAI and I've felt very welcomed. We've had several very good meetings and have made numerous strong connections." Zoe Newman, a graduate student at the Wilson of Textiles at NC State University, was also a first-time visitor to IFAI Expo. "It's been great to be here and see the diversity of the textile industry and its wide-reaching applications," Newman said. "It's also been nice to actually put a face with the names of companies, products and people that we've come in contact with or learned about through our studies." Tony Ehrbar, owner and CEO of American Tent, added: "It's been a good show and we've had a steady stream of traffic throughout. We didn't know what to expect but it feels like the attendees are not just tire kickers, they're actual decision makers."
The show floor was also a good place to be for those looking for innovation. "You can't really look for innovation while sitting behind your desk," Fetterman suggested. "You need to get out and see concepts, ask questions and have the discussions. Then think a bit and maybe ask more questions, all of which is hard to do from behind a desk."
Innovation was definitely found at a number of different booths. Advanced Functional Fabrics of America (AFFOA) — an industry organization "working to enable a manufacturing-based revolution by transforming traditional fibers, yarns and fabric into highly sophisticated, integrated and networked devices and systems" — had several innovative concepts on display in its booth and a constant flow of curious people. Alpha Systems, a manufacturer of straight drop motor systems for awnings and window treatments was one of several companies receiving this year's IFAI Show Stopper awards for its innovative products. "The show and networking events have been really good for us," said Alpha Systems' Samuel Alamsyah. "Angie from IFAI has been great to work with and we've had really good discussions with our customers and partners this week."
Renegade Plastics, founded only a few months ago to commercialize and further a new plastics-based technology, used the show floor to present a soft introduction of its products that should be available in early 2022. According to Curran Hughes, Renegade's president, the plastics technology, available in films and scrims, will be lighter, yet with the same performance of heavier polyethylene fabrics and films used in the agricultural space. "The polymers used are expected to be food safe, so no off-gassing concerns, will have long life and will be fully recyclable," Hughes said. "It presents an alternative to vinyl that can perform similarly, yet without as many environmental concerns." Initial product introductions in Asia and Europe have already garnered acceptance. "Our long-term goals are essentially to make upstream plastics more sustainable, while building a closed loop plastics economy for upstream industries," Hughes added. "We want to change 'plastics as usual.'"
It should also be noted that Nashville received rave reviews from attendees. "Nashville is a great location for trade shows," offered Jim Briggs, global market leader, Mehler Engineered Products. "The conference hall is nice and conveniently located close to hotels and the entertainment districts where there are lots of options to entertain and be entertained." "Nashville just creates a great environment for an industry event like this," Warwick's Wilson added. "There's the city's history, good food, plenty of live music, and all easily accessible, which allows you to venture out with new and old friends alike and have some fun."
"Nashville was a wonderful location for IFAI Expo and we'll be back!" said Steve Schiffman, IFAI president. "The industry was excited to be back together, and we were delighted to provide the venue to help people reconnect. We're already well into planning and looking forward to IFAI Expo 2022, October 12–14, 2022 in Charlotte, N.C."
Hopefully, the industry's reemergence endures unabated and life in general is able to continue its way back to some semblance of normalcy.
Read about the 2021 IFAI International Achievement Award Winners here.
November/December 2021