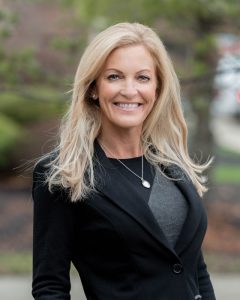 MMI Textiles' Amy Bircher shares her thoughts on IFAI and its value to the industry, as well as the textile industry in general as she begins her term as chairman of the IFAI board of directors.
TW Special Report
Amy Bircher was recently named the 53rd chair of the Industrial Fabrics Association International (IFAI) at the IFAI Annual Meeting held during IFAI Expo 2021 in Nashville, Tenn. Bircher, founder and CEO of MMI Textiles Inc., Westlake, Ohio, succeeded outgoing Chairman Kathy Schaefer, CFO of Glawe Awning & Tent Co., Fairborn, Ohio.
In business since 1997, ISO 9001-certified MMI Textiles specializes in supplying technical textile products — from woven and knit fabrics to webbing, elastic, hook and loop fasteners, and more — to military and tactical, medical, and commercial markets. Initially operating as a manufacturer's representative, the company now also oversees the production of its own stock and custom products, many of which are domestically made. According to the company, it has experienced double-digit growth every year since it opened its doors — a fact it credits to strong vendor partnerships and customer commitments. The company's growth included the acquisition of NDW Textiles Inc. in 2007, her family's converting business that has since quadrupled in size. MMI also opened a new narrow weaving facility in Lenoir, N.C., that oversees production of its patented CT Edge® and other Mil -Spec narrow fabrics.
Textile World recently had the opportunity to speak with Bircher as she embarks on her term as IFAI chairman.
TW: What led you to the textile industry?
Bircher: My family owned and operated a textile dyeing and finishing plant in Lynchburg, S.C., from 1980 to 2000. I started cutting fabric swatches for customers at a very young age and then worked in various parts of the business during high school and college summers.
TW: IFAI reached its 100th anniversary last year? What do you see for your term as chairman, and how does the history of the organization impact your role?
Bircher: It is quite a historical milestone for the association, and I am honored to be chosen as its 53rd chairman. IFAI is in the middle of an extensive rebranding exercise that will ultimately raise the brand perception and awareness within our textile industry so that IFAI can capture an audience that exists in growth markets for them, while maintaining the importance of legacy markets that are the heart of the association. Our board is very engaged in this important exercise and our membership is very excited and ready for this change. I would also like to continue to push for more collaboration among our divisions. In this ever-changing business environment, and with all of the issues that have come out of the pandemic, it is more important than ever to get out of the silo-effect and work across the industry to tap into growth opportunities and discuss common issues. It's an exciting time for IFAI — it is a remarkable association with very strong leadership that is driven to take IFAI to the next level and provide member benefits that resonate with everyone.
TW: What do you think is the true value of IFAI membership?
Bircher: Almost everyone would say the networking — and it's true. To grow your business and stay relevant, you need to network as much as possible in any industry. IFAI provides the platform to do just that — networking events with great educational content, webinars, advocacy, and the online CONNECT forum that has produced peer groups coming together to share common issues.
TW: How do you see the role of IFAI, and what does the organization mean to the U.S. textile industry, especially this year with the increased demand for medical textiles?
Bircher: This is definitely a focus point for the association — to grow its footprint in the medical textile space. IFAI collaborated with many other organizations during the pandemic — NCTO, INDA, AFFOA, Seams, to name a few — to come together and fight for U.S.-made personal protective equipment (PPE) — this really helped IFAI's brand during a very difficult time. That, I believe, was a pivotal moment for IFAI and really shone a light on Steve Schiffman's leadership. IFAI has a military division and USIFI for advocacy that strongly supports the Berry Amendment. The membership of those divisions really pushed hard during 2020 to get textiles to mask and gown producers and push for long term commitments for domestically produced PPE.
TW: As the leader of an innovative textile business, how do you see the current state of the industry, including current and/or future challenges and opportunities?
Bircher: Unfortunately, the textile industry has been dealt tough issues that may not go away any time soon. From labor issues to supply chain issues, everyone is fighting the good fight to get products to their customers in a timely manner. These are unprecedented times and one that I have never seen in my long textile career. This is also a time to be very connected to your customers as good partners and get creative on servicing their needs. We are always innovating and looking for opportunities to move forward, and we will get through these challenging times. In the end, I think we will come out stronger than before and having gained knowledge that we never thought to seek. We are continually investing in our industry, and in 2022 MMI Textiles is moving to our new 40,000-square-foot headquarters facility in Cleveland, Ohio, and we are adding equipment in our Lenoir, N.C., narrow weaving facility to expand capacity and capabilities.
TW: For textile industry leaders who step forward to serve in elected positions, there is a tremendous commitment of time and brain power to the duties involved. How will you balance those new demands with your responsibilities at MMI Textiles?
Bircher: Thankfully I have the best team in place within MMI Textiles that will allow me to have the time to commit to my responsibilities as chairman. I have also had time to prepare for this moment. I take this role and responsibility seriously — MMI stands for Me, Myself, and I — a commitment that I will give 110 percent to anything that I do. And that is the same with my responsibilities as IFAI chairman.
TW: Trade has been a significant issue for the current administration. What are your thoughts as IFAI chairman as well as a CEO of a company with global business interests?
Bircher: From an MMI perspective, trade has been, and always will be, a tough topic for business — we live in a global environment with trade policies evolving and potentially changing all the time. We import product from Asia, including China, and while tariffs affected me when they were put in place, I actually agree with them. What has been difficult is the tariff exclusions for PPE. We have proven that the United States can produce PPE products and we need to have those products produced on American soil. What happened when we were cut off from PPE out of Asia — where some 80 percent was produced pre-pandemic — and the subsequent price gouging is a wake-up call that we can't rely on foreign entities to keep us healthy and safe. Now we are fighting for "Made in USA" PPE laws so that all of the companies that made huge investments in equipment can continue to produce PPE in this country.
From an IFAI perspective, the organization is global and must remain neutral in its opinions on trade, however it does have the USIFI division that advocates for regulatory and legislative issues to protect its USA-based manufacturing membership.
TW: Imagine you are looking back on your year as chairman. Where is IFAI, and what contributions did you make to the organization?
Bircher: After one year, I hope I have provided Steve and his leadership team with the support they need from me in my role to continue to propel them forward in the manner for which they have approached their vision and mission every day. We will also have finished our rebranding and unveiled to the industry at large.
TW: What do you see for IFAI in the future, beyond your tenure as chairman?
Bircher: Post chairman role, I see great IFAI board leaders and next chairmen continuing the hard work and support of Steve Schiffman and his team to stay the course they have taken in their strategic vision for IFAI. The organization will continue to evolve and will not only strengthen and grow its core divisions, but will add new markets that feel the need to belong to IFAI.
November/December 2021