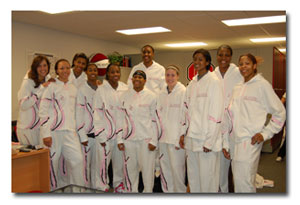 The North Carolina State University (NCSU) College of Textiles, Raleigh, N.C.,
lent its talents to the furtherance of breast cancer research by spearheading a project to design
and manufacture pink-themed warm-up suits for NCSU's Third Annual Hoops for Hope Breast Cancer
Awareness basketball game earlier this month, pitting the University's Lady Wolfpack against the
women's team from Boston College. The game, one of hundreds played around the country as part of
the Women's Basketball Coaches Association's (WBCA's) "Think Pink" cancer-awareness campaign, is in
part a celebration of NCSU Women's Basketball Coach Kay Yow, who is living with the disease.
"The College of Textiles at NC State is proud to be involved in a game that raises awareness
of breast cancer and celebrates the lives of survivors.," said Blanton Godfrey, dean of the
college. "Kay Yow is a symbol of NC State, the State of North Carolina and the nation; and to be
able to be a part of an event to raise money and awareness of this disease is quite an honor."
College of Textiles Associate Professor Cindy Istook oversaw the project, which involved the
participation of students Ho Sun Lim, Katie McCree and Amy Quinn; Tony Award-winning costume
designer William Ivey Long; Cotton Incorporated and Textile Clothing and Technology Corp. ([TC]
2), both based in Cary, N.C.; and MJ Soffe, a Fayetteville, N.C.-based activewear
manufacturer.
The jacket and pants, designed by the NCSU students under Long's guidance, sport the new Kay
Yow WBCA Cancer Fund logo and pink accents. Cotton Incorporated donated lightweight, double-knit
100-percent cotton fabric debuting the company's new TransDRY™ moisture-wicking, quick-drying
technology for apparel. [TC]2 developed the digital print designs; and MJ Soffe screen-printed the
designs on the fabric and made up the garments.
The Lady Wolfpack won the game by a score of 60-41. The event, attended by nearly 8,100 fans,
raised $42,400 for the N.C. Triangle Affiliate of the Susan G. Komen Foundation.



March/April 2008