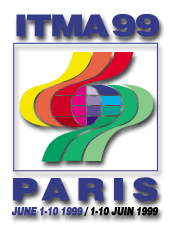 A Second Look At ITMA
The Paris show was teeming with new ideas and innovations.
Editors Note: This is ATIs second look at ITMA 99 in Paris. Please see the June issue for an
exciting first look at major innovations. Also please see the September issue for a more
comprehensive look at dyeing, finishing and printing, weaving, knitting and
spinning. Dyeing, PrintingandFinishingBabcock Textilmaschinen AG (Moenus Textilmaschinen
Group), Germany, presented several new innovations at the Paris show.The Babco-Therm is the first,
hot-steam dryer in the world, according to the company. It features continuous dyestuff fixation
within 100-percent steam atmosphere.The new Babcock Power-Tex intensive washing unit brings greater
cost effectiveness to the processes of desizing, boiling, and demineralization for pretreatment of
woven fabrics. Speeds of up to 100 meters per minute can be reached. The machine utilizes hot steam
and maximum kinetic energy to reach the best possible effectiveness.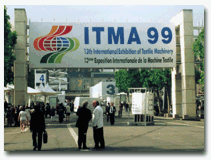 Babcock's intensive washing machine Spray-Flow has been developed for washing of
tension-sensitive and permeable knitted and woven fabrics. The machine has a capacity of
approximately 5 meters. It can be used as a single unit, or in combination with several
compartments for the pre-treatment or after-treatment of dyed and printed fabrics.The Babco-Star is
a new tenter frame generation for knit and woven fabrics. It offers new innovative solutions,which
reflect in uniform fabric treatment, improvements in fabric quality and ergonomic improvements for
the operator.Brugman, Holland, introduced a new washing concept based on the successful Brubo-Matic
washers with extremely short installation time. According to the company, the machine will be
delivered to customers pre-assembled and is ready to use as soon as the usual connections have been
made.The Brubo-Sat bleaching system has been significantly developed since its initial introduction
at ITMA 91 in Hanover, Germany. The applicator unit with the automatic cleaning system offers quick
liquor change-over and little waste. Brugmans uniquely integrated and further enhanced machine
control system with parallel processing capability can be fitted to any Brugman machine.A. Monforts
Textilmaschinen, Germany, showed its new stenter, the Montex 5000 TwinAir Plus. The machine has a
completely newly designed stenter chamber, which the company says increase drying by as much as 18
percent and reduce energy consumption.The Montex 5000 also has an erogonomically improved operators
platform, incorporating a new adjustable and sliding panel design, offering enhanced PLC control
visualization and improved control placement. Other features include computer-designed chain track
elements; an optional indirect gas heating system; and a modular Qualitex PLC system. Dornier
EcoSqueezeLindauer Dornier GmbH , Germany, introduced its new EcoFix heat setting machine for
treatment of circular knit goods of all diameters in round condition. Dorniers patented Circular
Expander saves the user several steps compared to the conventional single layer heat setting
processes, and achieves more consistent and improved quality values.Dorniers concept of a Circular
Squeezing Machine was brand new at ITMA. The company calls it EcoSqueeze. While the unit is not yet
available for sale, the company says it offers several advantages.These advantages include
treatment of circular goods in round condition, and high efficiency squeezing without selvedge
marks and mesh distortion.Dornier further promoted its combined mercerizing and bleaching ranges:
EcoMerc and EcoCombine 2-D, which also integrate Dorniers Circular Expander principle.Henkel Corp.,
Germany, showed for the first time at ITMA its revolutionary ILX Inline Mixer with proprietary
software for mixing chemicals. According to the manufacturer, this system offers significant
improvements in quality and reproducibility, while reducing cost significantly. Batch-to-batch
uniformity and manpower savings are said to be incredible.Krantz Textiltechnik GmbH (Moenus
Textilmaschinen Group), Germany, showed its Aero-Dye piece dyeing machine for very light, delicate,
open-width woven and knit fabrics, of weights up to 400 grams per meter. It is also suited for
tubular goods. Krantz also presented a new compactor for knit goods that is integrated into the
companys tenter frame.Kusters GmbH, Germany, presented at ITMA its new and improved machinery
program which included the Fiberkleen, a process machine for removing fiber lint of spun yarns,
especially for carpets, and permits heat setting in regards to pilling and fuzzing.Kusters Quick
Change Fluidyer allows precision dyestuff application for carpet and pile fabrics in respect to
color level and reproducibility. Turbo Flush is a high-efficiency washing machine for continuous
processes with intensified liquor exchange.Rapid Batch is Kusters new dosing technique for the
production of dye preparation baths on the basis of liquid dyes and dye stock solutions. Up to 32
liquid products can be dispensed simultaneously to an extremely high degree of accuracy. The
Ultrasonic Laminating Calender is for laminating of the same or different thermoplastics, or non
thermoplastic materials.MCS, Italy, showed for the first time its MCS Air-Jet dyeing machine for
processing delicate woven fabrics made of viscose/nylon/Lycra®, cotton/nylon/Lycra, Tencel®, blends
with linen, and mircofibers. The machine features indirect cooling and overflow rinse. An
additional tank for liquor preparation reduces downtime.According to the company, the machine is
particularly suitable for sensitive fabrics and works with a liquor ratio from 1:2 to 1:5. It is
available in different models with a nominal capacity of 180, 360 and 540 kilograms.The company
further promoted the MCS Multiflow, a new, patented single-rope dyeing machine. MCS says that the
machine represents a revolutionary concept in rope dyeing with time savings from 40 to 60 percent
compared to traditional machines.Multiflow gives excellent results in dye-quality and
repeatability, according to the company. Several options, like the Hydrovario adjustable nozzle, a
service tank, and a heat-exchanger system are available. The machine is suitable for processing of
knitted and woven articles with different weights and fabric structures. New Santex
DryerSantex AG, Switzerland, presented its new Santashrink-Combi shrinkage relaxation dryer and
thermofixation machine for open knitwear. With some optional equipment, the machine can be used for
the shrinkage and relaxation of tubular knits.After leaving the treatment chambers, the knitwear is
placed in a tensionless condition on the transport belt, and the plaiter plaits it into the
transport dolly.The machine is extremely versatile and can also be supplied with an integrated
compacting section at the outlet, according to the company. Santashrink is available in various
configurations including the standard, Jumbo and the ITMA-introduced Combi.The new Santaspread
steaming and compacting calender offers superior width control through an infinitely adjustable
special tubular fabric spreader driven by a variable speed motor.Steaming is accomplished in a
condensation-free steam box, while compacting is done through two specially-designed, felt belts
with adjustable belt speeds for overfeed. The calendering occurs between the felt belt and heat
shrinking rollers.Santex offers various automation stages for this machine, as well as a final
inspection unit for the finished fabrics.Further improvements were demonstrated on the
Santastretch-Plus hydroextraction, impregnating, and width-stretching machine, and the
Santashrink-Standard shrinkage relaxation dryer that offered a 15 percent higher drying capacity
and less residual shrink values.According to the manufacturer, the hot seller at ITMA was the new
Santaset thermofixation machine for tubular knitwear, offering a pre-treatment that really
works.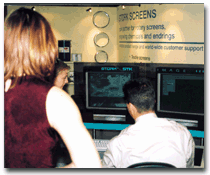 Stork, Holland, introduced its Amethyst digital production printer. The company also
presented, for the first time, the Pegasus Twin Drive machine.Each printing position now has its
own servo motor and direct drive, where the screens are directly driven by their own ring
motors.This printing machine has one motor to drive the printing blanket and a second motor
(electronically linked to the first motor) to drive the printing positions.The Rhea paste sampling
kitchen, the CFL laboratory coater and the CFT coatingandfinishing machine were other Stork
novelties. Stork also introduced the advanced texture mapping software packages for the Image 4000
system, which allows pasting of the print designs onto existing photographs, drawings, etc. The
company announced a world-wide strategic partnership with the French company, Lectra Systs, one of
the world leaders in computer aided design (CAD) and manufacturing systems for apparel, industrial
and other textile applications.
(See K/A News, ATI June 1999). New Wastewater TechnologySucker Mueller Hacoba
GmbHandCo. (Moenus Textilmaschinen Group), Germany, presented the new innovation of the
Electrochemical Reduction Dyeing Equipment (ERDE) for a nearly wastewater free dyeing process. This
includes the electrochemical reduction of reactive dyestuffs, indanthren, sulfur and indigo for
package dye machines, piece dye-, full width- and warp-dye machines. The Electric Dyeing equipment
can be connected to existing machinery of any brand without constructive alterations, according to
the company.Sucker Mueller Hacoba also presented the new Multicut MC-5 pile cutter for a wide
variety of applications (polishing, tigering, shearing), with higher speed. It allows pile cutting
without Moirffect.The company promoted an improved version of the TWIN trI 24.2 double drum roller
raising machine with improved economical aspects. There are now more raising rollers in contact
with the fabric which allows a higher output and better quality than conventional
systems. Airflow AFTTHEN Maschinen und Apparatebau GmbH, Germany, introduced its new
high-temperature jet dyeing machine, Airflow AFT. The AFT has a larger vessel than its
predecessors, and has now has the jet within the dyeing compartment. It features a Teflon bottom,
frequency controlled winch drive, a large filter in the air and injection circuit, and a special
blower for the fabric drive.The company says that machine maintenance and cleaning is even easier.
The unit can achieve extremely good liquor ratios also in the case of small batches. The risk of
crease marks is eliminated. The machine can also be used as a tumbler.THEN also introduced the
Thenjet II, a horizontal high-temperature dyeing machine for delicate and lightweight knitted and
woven fabrics. It offers the best possible relaxation and high pressure with speeds up to 600
meters per minute. The capacity is up to 170 kilogram per storage cell; machines with up to four
storage cells are available. The sophisticated Dynamic Quality Control (DQC) System allows highest
quality and repeatability of the dye process. The company further promoted its Then Dyehouse System
(tdS) for complete dyehouse control, and the Color Kitchen Manager AMC-CMK with automatic chemical
dispenser CHD and automatic dissolving station ADS.Zimmer, Austria, introduced its Rotascreen-V
printing machine with 26 print stations that work simultaneously, or in the flying change mode.
This allows for the machine to print one pattern while a new pattern is set up on the machine. The
flying change can be automatically switched between the two patterns without operator assistance.
Also new for the company is a printing blanket cleaning system with Rotor-Washer for this printing
machine that is totally maintenance free. The Rotascreen-G-Can-Bus features a completely
re-designed closed-bearing print-head with three standard roller bearings on the inside and three
on the outside. It also features a new belt-drive system.Also new at the Zimmer booth were the
sample printing machine Midi-II-R for rotary screen printing, and the end-ring gluing machine EMG
for the adhesion of end-rings to rotary screens. Fabric FormingGrob Horgen AG, Switzerland,
showed its Grob healds with Optifil thread eyes measuring 5.5 x 1.2 mm and 6.5 x 1.8 mm.These
healds are now available with a thread eye of 8 x 2.5 mm for heavier yarn counts and industrial
applications. This new dimension lets technical fabrics, wool and denim weavers benefit from
Optifils advantages including reduced friction during shed change, optimal guidance of the warp
yarn and less size abrasion.A new Grob warp-stop motion for terry towel weaving machines was also
introduced. It offers improved function and ease of handling, according to the company. In
addition, Grob Horgen exhibited its well-known heald frames, leno harness frames and entire heald
assortment.Comez SpA, Italy, emphasized crochet machines at ITMA. The company showed 15 machines of
which eight were crochet machines. The new Comez machines have the ability to handle lengthy
patterns, repeats.The Comeztronic CT-8 was shown and is the fastest, most productive electronic
crochet machine, according to the company. It is completely automatic and has eight electronically
driven weft bars. The machine is designed to produce rigid and elastic, laces and bands.The company
also showed its CMX mechanical needle looms and CMJ jacquard needle looms for weaving ribbons,
laces, intimate apparel articles and technical ribbons.Jacob Muller AG, Switzerland, showed as a
revolutionary concept study of its electronically controlled warp crochet knitting machine with
weft insertion. It is called the MDR 42. This machine presents a completely new principle of the
weft insertion. It features patented linear motors which can drive up to 24 weft bars. The exact
stroke control allows it to eliminate empty spaces between the single tapes.A new feature is one
electronically controlled warp placing bar for open and closed stitches. The form and function of
the very small thread guides mounted on the weft bars are such that they never touch, no matter
what type of weave. It is possible to choose any shog movement. The back weave is created by
patented weft feeders that catch the pre-positioned weft ends and guide them under the crochet
needles. The small, comb-like feeder allows a small stroke of the crochet needles. The weft bars no
longer have to move vertically. Bearded needles as well as compound needles can be used.The weft
ends are beaten against the cloth fell by a movement of the weft feeder, which is another new
technique applied on this machine (a similar method is used for weaving machines). Therefore it is
possible to produce articles with a much higher density.Muller did not release the machine for sale
at ITMA but officials mentioned that if will be offered to clients next year.Further novelties at
the Muller booth were a new run/stitch-proof on the Raschelina RD3 crochet knitting machine with
weft insertion, the rapier label weaving machine with vario speed and new rapier heads for speeds
up to 750 picks per minute, and the air-jet label weaving machine with enclosed Jacquard and
harness feature for significant noise reduction. The machine is capable of insertion speeds up to
1,400 picks per minute.Schonherr Textilmaschinenbau GmbH, Germany, introduced its new Alpha 300
double-gripper carpet weaving machine with a weft-insertion capability of 1,162 meters per minute.
With the company's single gripper weaving machine carpet qualities with 750,000 pile loops and more
per square meter can be produced. Another novelty on the Schonherr booth was the application of the
new electronic Stli LX2490 Jacquard machine with the patented three-position device that permits
new versatility in carpet weaving.Sucker Muller Hacoba GmbHandCo. (Moenus Textilmaschinen Group),
Germany, showed its new wet-in-wet sizing principle.The Wetsize size vat can be retrofitted to any
existing sizing machine and offers up to 50-percent less size in the fabric, easier wash-out, and
higher weaving machine efficiencies, according to the company. Sucker Mueller Hacoba also showed
the latest version of the Toptronic 2000 sectional warping machine, and the TT-2000 Creel with new
thread tensioning device. SpinningArmstrong Textile Products GmbH, Germany, promoted its new
generation of Acotex soft cots with several hardness degrees. Depending on the preferred yarn
structure, fibers, blends, and counts; Armstrong can provide the cot with the most suitable
surface. The company promoted the new J-470 series, which the company says provides excellent yarn
quality and extended cot life. Belmont's Rototwist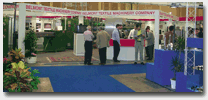 Belmont Textile Machinery Co., Mount Holly, N.C., demonstrated its complete line of yarn
twisting and yarn dyeing technologies for the carpet industry. The company introduced the Belmont
Rototwist Process for twisting two- to six-ply yarns in one step. Rototwist offers exceptional
economical advantages over conventional methods of combining yarns. The machine can run two
three-ply yarns or three two-ply yarns for added styling flexibility.An accumulator allows for
continuous operation. Belmont already has one Rototwist machine installed and running.The company
also showed its new AD27, a new multi-end winder for use with Suessen heatsetting machines.In
addition, Belmont showed its MDS III continuous yarn dyeing system for carpet yarns. The MDS III
yarn dye applicator offers full eight-color capability with production rates of more than 12,000
pounds per day, according to the company.The MDS III system microprocessor and operator interface
panel can store up to 15 complete patterns, which can be retrieved in as little as five seconds.
The MDS III can also produce solid shade yarns without any manual alteration of the machine.Hacoba
Textilmaschinen GmbHandCo. (Moenus Textilmaschinen Group), Germany, showed for the first time its
new cross winding machines the H 2000 for random winding, and H 2200 P for precision winding. The
H2200 P has individual spindle drive, frequency inverter controlled AC motors. The H 2000 has a
conventional grooved drum. Both have a straight yarn path with almost no deflection for sensitive
yarns.Hacoba also introduced its new generation of sewing thread winders: Thread Master 1050 C for
conical spools with mechanical or electronic pattern control, Thread Master 1150 K for king spools
with electronic pattern control, and Thread King 1250 C for cones with automatic
doffing.Hollingsworth On Wheels Inc., Greenville, S.C., introduced its new doffer and worker wire
for cards. The uniquely shaped wire has a beak on its top allows wider settings, provides maximum
stripping, and improves transfer efficiencies. It further improves the CV value and enables
immediate start-up after installation without grinding. The new Cleanmaster CCL is a patented
carding system that replaces the conventional flat top assembly and was shown on a Rieter C50 card.
The company claims an amortization period of less than 12 months.Hollingsworth also promoted its
Recyclemaster fiber reclamation system, which is a versatile, compact textile waste processing
machine.The company also showed the Lintmaster, a high-performance opener and cleaner for raw and
bleached cotton. The Mastercard is designed for nonwoven applications and is available in single
and tandem versions. Sonoco Shows New Tool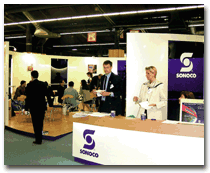 Sonoco, Hartsville, S.C., showed its complete range of technologically advanced textile
carriers. The company also demonstrated its latest technology developments including a tube that
can handle winding speeds of up to 8,000 meter per minute and a proprietary I.D. stiffness
measuring capability.This new measurement technology gives the company a powerful new quality
control tool that is more precise and scientific than previous methods.By designing the technology
and instrumentation to measure radial crush, our scientists have extrapolated what paper properties
are needed to build tubes that wont fail, said Linda Hill, vice president, Global Technology for
Sonocos vertically integrated industrial products and paper businesses.This technology breakthrough
gives our customers a competitive advantage by reducing core failures, downtime in textile winding
and spinning operations and customer complaints.The companys subsidiary Sonoco Crellin
International, Greenville, S.C., unveiled three new products at ITMA: two new dye tubes and an
interlocking head feature for dye springs and tubes.SSM, Switzerland, presented its new PSD-D
Precision Assembly Winder for assembling staple fiber yarns at speeds up to 1,200 meters per minute
on packages with high winding density. It features extremely gentle thread laying with
counter-rotating blades.The machine layout is single- or double-sided with five individually
controlled spindles per section, in sizes from 5 to 60 winding positions (double-sided 2 x 30). The
high winding density allows longer running times in twisting and longer knot-free lengths.The DP2-C
Digicone Perciflex Aircovering machine was also shown for the first time. The machine is laid out
for a new and creative yarn production, for high performance, and automation. The type DP2-S/CS is
for covering with staple fiber spun yarns, while the DP2-C is for filament yarns with elastomeric
components.SSM also showed many incremental improvements on models of its existing product
line.Toyoda Automatic Loom Works Ltd., Japan, exhibited several innovations in the spinning area
including the newly developed DX8S-LT single-delivery drawframe with a new auto-leveller that has a
high accuracy in measuring sliver conditions and real-time correction.Toyota says that the layout
is suitable for single- or twin-delivery, and the maximum production speed is quoted as 1,000
meters per minute. Quality is enhanced through a newly applied geometry to the sliver condensing
parts and the use of a parabolically curved tube.Other important improvements were exhibited on the
VC5 Comber, the newly developed high-speed FL100 Roving Frame with the new CWC (Clearer Waste
Collector) dust and waste collecting system, and the enhanced RX240S Ring Spinning Frame for
synthetic fibers up to three inches in fiber length.With the addition of the RX240 S model, the RX
series has extended its application to cover a wide range of fiber lengths, from cotton, to wool,
to synthetics. The machine features various high-performance devices, such as a waste yarn clearer,
and auto roving stop. Man-Made YarnsICBT Groupe, France, showed its new AT 900 air texturing
machine with individual working positions and automatic doffing completely monitored through
computer. Its drawing zones use motorized hot godets. The machine was shown with four positions,
each processing a different type of yarn (polyester, nylon and polypropylene).The company also
introduced the JD 1200 high-speed, air covering machine for nylon, polyester and elastomeric yarns.
It features an individual position concept and electronic control of all parameters. The machine
has a straight yarn path for optimum quality and can produce yarn at about 1,100 meters per minute,
according to the company. ICBT also showed the DT 360 E high-speed, take-up, two-for-one twister,
the G 316 EM single covering machine and the CDDT 510 ST E direct cabling machine for carpet yarn,
as well as other machines.Menegatto Srl, Italy, presented the new Drawinder VSP-DW-DGT, which is
capable of speeds up to 4,000 meters per minute. The company claims that this winder can produce
absolutely constant thread tension on the spool. Also new is the DGT Spandex covering machine for
natural fibers, other staple fibers, or filaments. In addition, Menegatto showed new machines and
technical developments like the Maverick Air Jet 2000 air covering machine, the texturing machine
TMA 2/3/J, and the new bobbin winder HP with speeds up to 2,500 meters per minute for single- and
multi-filament texturized yarn winding.OMM Srl/Fillattice Group, Italy, presented the new BB/VE
winder for flanged spools and single yarns, which is designed for constant yarn tension. The latest
generation of OMMs spindles feature vibration-free high speeds and a control device to deposit the
yarn perfectly onto the spool. Machine settings can be adjusted from a keyboard.OMM showed a new
retrofit kit for customers that have already OMM machines to convert from mechanical to electronic
traversing. The kit provides all the latest electronic and quality features to the customers.The
company also showed a new prototype of its motorized spindle for the ELX/SM covering machine.
Initial technical data claim speeds up to 30,000 rpm, and yarn spool weights up to 330 grams.Lurgi
Zimmer AG, Germany, presented a completely new spinning system for nylon 6, nylon 6.6 and PET
industrial yarns. The BN 210 covers all applications, from air bag yarn to tire cord. Key features
are a rectangular spinneret shape and cross flow quenching, bottom loading of the spin packs by
means of a semi-automatic spin pack handling device, pneumatic opening/closing of the annealer, and
a monomer suction system which is also effective during spinneret wiping.Highlights included
further the modified polymers for high-speed spinning processes, a new PTT process jointly
developed with Shell Chemicals, advanced performance spinning systems for filaments and staple
fibers and modularized filament spinning units. Quality ControlDent Instrument Ltd., UK,
introduced a new creel bar sensor for warping and beaming applications. This creel bar sensor is a
contact-less device that can respond to broken ends in 10 milliseconds.In the event of a yarn
break, it stops off the machine and indicates the position of the break using flashing red
lights.The company also showed its new Reflex sensor which can detect yarns as small as five dtex
at very low speeds.In addition, Dent introduced a first break detection system for multiple-end,
take-up winders that includes self diagnostics for early warning of problems. The first break
detector was developed in response to a customer request, according to the company.Elbit Vision
Systems (EVS), Israel, showed its I-Tex 2000 automatic inspection system with shade variation
analyzer (SVA) which the company says can inspect fabrics up to six meters wide at speeds up to 300
meters per minute.EVS also showed its loomtex automatic on-loom inspection system that can detect
defects as they occur on the loom. Loomtex also allows the user to have full central computer
control through a single computer with a link to the mills mainframe.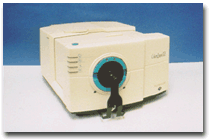 HunterLab, Reston, Va., introduced its new ColorQuest XE color measurement spectrophotometer
for the textile industry.It features diffuse/8° geometry and measures both reflectance and
transmittance. The instrument uses double beam optics and a long life xenon lamp, which, the
company says, virtually eliminates lamp replacement.The company also announced the addition of
Adaptive Clustering capability to the Taper function available for its EasyMatch software. The new
Adaptive Clustering feature automatically groups pieces or rolls of fabric similar in shade
together. It is a method to shade sort samples into a small number of groups where the samples in a
cluster are visually acceptable to each other.Lawson-Hemphill Inc., Pawtucket, R.I., demonstrated
its complete line of testing and quality control equipment. The big news here was Lawson-Hemphills
partnership with Mansco Products to provide man-made fiber producers with in-line viscometers.The
Mansco Products Torsional Oscillatory Viscometer (TOV) system has been manufactured by Mansco for
the past three decades but was distributed only to the DuPont Co. as part of secrecy and
confidentiality agreements. Now Mansco has a worldwide licensing agreement with DuPont and is
offering this technology to fiber producers. The key benefits of these devices are accuracy,
sensitivity, cost effectiveness and reliability.Some TOV Viscometer Systems have been operating
continuously at DuPont for more than a decade without interruption, according to Mansco
Products.Additional new equipment on display included the FST-2000 (Forced Shrinkage Tester), a new
instrument to measure simultaneously shrinkage and shrink force of yarn, tire cord, synthetic
staple yarns and others. This unit has been developed in conjunction with one of the leading U.S.
staple fiber producers. The company also showed its Package Density Analyzer. A prototype was shown
during ITMA 95 in Milan, and the complete product is now being sold worldwide. Also Of
InterestFortechnology Inc., Norwood, Mass., showed its new compact moisture analyzer its Fort600
system and a working model of an automatic conveyor system for bales, pallets and cartons. The
companys moisture/weight measurement systems instantly calculate, display and record the true
percent moisture and maximum allowed commercial weight for cones, cartons and bales.LTG Air
Engineering Products GmbH, Germany, introduced its new air diffuser for all types of circular
knitting machines. It is designed to keep the feedwheel units clean for better quality and better
machine efficiency. An air stream is directed specifically towards the friction box and the thread
pulleys.A further advantage is the air flow through the machine which keeps the entire knitting
machine cleaner, reducing cleaning and maintenance requirements.LTG also introduced its new
Compacting Power Screw, type CPS, for compacting and discharge of dust and short fibers in
connection with separators, such as cyclones, tubular filters, and other filters. It features a
compacting ratio of 3:1, continuous operation, high material capacity, and sturdy construction.In
addition, LTG promoted the latest version of its VersaDrum Filter type VDF16, which offers high
filter capacity, high air permeability, compact design, and low maintenance.Loptex Srl, Italy,
displayed its Jet Sorter. It detects and rejects contamination in natural fibers as they pass
through ductwork in the opening room. As fibers pass through the measuring field, they are
illuminated from both sides by standard fluorescent lights.Two arrays of photosensors detect the
difference in brightness and color between contamination and normal fiber. The contaminated
material is then ejected into a waste container by means of high-speed pneumatic valves.Ph. Welker
GmbH Machinen-Und Anlagenba, Germany, showed its Vapofix yarn conditional/humidifier and yarn
steamer in a vertical orientation. The machine comes in several versions including a conventional
horizontal orientation.Its features include self-generated, saturated steam from a satellite energy
vessel; high-performance conditioning and steaming; simple and compact design; moderate energy
consumption; and low maintenance costs.Neuenhauser Maschinenbau, Germany, introduced its new
products for spinning and weaving mills including its brand new overhead cleaner TopDuct 2.The
TopDuct 2 offers an enormous increase in air flow, a new drive concept, smooth running especially
around turns, decrease of overall height, and reduced maintenance.The new Center Batch Winder
allows winding on wagons with removable batch roller; this directly at the weaving
machines.Additionally shown was the Conti Winder, a batch winder designed as a tangential winder.
The constant fabric tension is controlled by a control unit with integrated torsion spring.For the
first time shown at an exhibition was the Cantrac transport automation for sliver cans in spinning
mills, as well as the roving bobbin transport system Textra.The Checkn Flow is the new yarn package
test unit where the yarn packages are checked continuously in regard to the programmed package
characteristics like weight, diameter, material mixture, yarn reserve tail, and shape and
symmetry. Superba Shows AutomationSuperba S.A., France, presented as its grand innovation, the
fully automated Winder-unloaderandPacker type KLP. The system automatically picks up the package,
finds the loose end and attaches the loose end to the correct position on the package. It further
prints and attaches a label to the package and finally packs it into a box or places it onto a
pallet.This system allows an immediate connection to two winders with automatic doffing. The
company says that for the first time this process is totally automated through robots, can handle
up to 200 packages per hour, and saves labor with predicted increases in quality.Brand new is also
the Ecodye Dyeing Line DL5 for carpet yarns. This new line is 500 mm wide, and features twice the
capacity of conventional lines, from 200 to 400 kilograms per hour. According to the company, the
new line is suitable for dyeing of nylon, polyester, polypropylene, BCF and spun yarns, and also
woolen blends. The high-capacity steaming modules allow short cycle times of only a few
minutes.Superba also showed for the first time its Multi Color Yarn Space Dyer for carpet yarns
with CDM solid dyeing option. Depending on the set-up it can provide different effects, from solid
dye to a knit-de-knit appearance, to a long-space dyed appearance.
August 1999