B
urlington Worldwide (BWW), a business unit of International Textile Group Inc. (ITG), Greensboro, N.C., has launched the Cooltec™ line of woven moisture-management, quick-drying polyester fabrics featuring performance that is engineered into the fiber. Burlington Labs, the
company's research and development division, developed the fabrics for apparel uses including men's dress casual, golf and other activewear pants and shirts, as well as uniforms.The proprietary yarn is made with filaments that have an x-shaped cross section with concave "conducting slots" that create a siphoning effect. The yarn quickly channels the moisture away from the body and diffuses it through the fabric to evaporate very quickly as well, leaving the wearer cool and comfortable. The engineered performance, including both vertical wicking and absorption, is permanently built into the fabric. Other performance properties, such as odor control, soil
release and ultraviolet protection, can be applied to the fabric without affecting the inherent properties.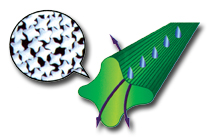 The x-shaped cross section of Cooltec™ filaments enables the yarn to quickly channel
moisture away from the body and diffuse it through the fabric.

"We could blend Cooltec with different technologies to create a smorgasbord of technology in a single fabric," said Peter M. Baumann, senior vice president Merchandising, BWW. "The technologies could be yarn-related or chemistry-related."
Bauman said the fabrics are targeted to brands and private-label retailers that want to offer high-performance apparel that has a lower price point than the top-of-the-line goods as well as superior performance compared with apparel featuring a moisture-management finish. The fabric is produced in China and finished at BWW's Jiaxing Burlington Textile Co. Ltd. dyeing and finishing plant, and supplied to downstream apparel and careerwear manufacturers in Asia, many of which supply the U.S. market.
"We have developed several different styles for the Spring 2012 season and are able to replicate anything else in our line, including heather colors," Baumann said. The fabrics are constructed using Cooltec in either the warp or the filling and another polyester yarn in the other
direction. That proportion of Cooltec is sufficient to provide the performance and helps to keep the cost of the fabric within the desired range, Baumann explained. It also allows BWW to blend Cooltec with a range of other yarns in the various styles.
Cooltec's very quick-drying property can also help reduce energy usage during the drying cycle when it is laundered. "This could be especially relevant for commercial laundering of a load of uniforms," Baumann said. Theoretically, a garment "powered by Cooltec" also could help shorten drying time in a mixed load because of the way it performs.
---
For more information about Cooltec™, contact +336-379-2855.
---
January/February 2011