D
etermined to surpass its Asian competition in the global marketplace, Tuscarora Yarns Inc., a Mount Pleasant, N.C.-based spinner of custom specialty yarns, has patented two processes to
produce heather, mélange and mock-twist yarns in 100-percent cotton to superior quality standards. Tuscarora's Five Star Brand combed cotton ring-spun (RS) and open-end (OE) yarns are found in
apparel from major design houses and upper-end retailers.The company sells its yarn domestically and abroad, primarily in the Caribbean Basin Initiative (CBI) and North America Free Trade Agreement (NAFTA) regions, said Peter J. Hegarty, global vice president of sales and marketing, Tuscarora, and president, American Textile Export Co. (AMTEC), an export/import company in which Tuscarora holds the majority interest. Tuscarora's foray into global markets brought it face-to-face with the high-quality heather yarns spun in Asia and prompted the development of Five Star Brand yarns as a competitive alternative.
"This truly world-class product was created by American ingenuity, innovation and resourcefulness, and we're extremely proud of it," said Bud Willis, Tuscarora's president.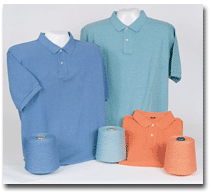 Five Star Brand heathers are seen in apparel from top designers and upper-end
retailers.
A combination of special combing and spinning techniques produces a very supple yarn that is comparable to mercerized yarn, but not as pricey, according to Willis. The yarns are going largely into knits, but they are beginning to be seen in wovens as well. The fabrics are very smooth and lustrous, with a cashmere-like hand and homogenous color created by a more "intimate" blending than is seen in mercerized yarns.
Typically, heather yarns tend to appear somewhat gray, but, Hegarty explained, "We are producing more and more color in heathers, and some take on almost a fluorescent appearance." He noted the vast array of colors in heathers now seen in certain top designers' lines. The process is used as well to spin an impressionistic mélange yarn that is a very smooth blend of several colors.
Hegarty noted in particular the uniqueness of the Five Star Brand fully combed OE yarn. " Very few spinners can offer a fully combed open-end product," he said.
Tuscarora works closely with apparel and fabric manufacturers to develop customized colors and fiber blends. The company's research and development laboratory, a mini-factory in itself, can match a customer's color standard and return a submit within 24 hours. Once the specifications have been met, Tuscarora can deliver the final RS product in five to six weeks, and OE in three to four weeks.
Combining this collaborative relationship and customization capabilities with its experience in export markets, Tuscarora strives to offer added value to its customers as they develop new product lines.
---
For more information about Five Star Brand combed cotton yarns, contact Peter J. Hegarty (800) 849-6527.
---
August 2002