Woolrich Inc., Woolrich, Pa., established in 1830, is the nation's oldest, continuously operating apparel marketer and manufacturer. Specializing in men's and women's outerwear and accessories, the company recently developed TechnoWool™, a line of wool fabrics whose protective and comfort properties compare with those of other performance fabrics. The fabrics are woven at the company's mill in Woolrich.
TechnoWool fabrics build on wool's natural functions of moisture and vapor management, breathability, shape retention, insulation, air impermeability and water repellency, which result from the fiber's structural features, including its protein basis, natural crimp, resiliency,
hollow core and scaly surface. Special techniques are employed to produce a tightly woven fabric having improved air impermeability and insulation and creating a comfortable microclimate next to the body, according to Woolrich.
The Products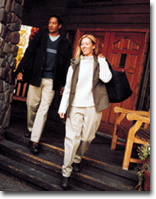 TechnoWool is currently available in four styles, with other styles in development. TechnoWool X is a 16.3-ounce fabric designed for extreme outdoor activities including mountain climbing and backpacking. The crimped yarn creates loops in the tightly woven, textured fabric, which is sponged
to raise the nap. The fabric is wool blended with a bit of nylon to provide additional abrasion
resistance and durability.
Softness is the defining feature of the TechnoWool S series. Made from a blend of merino and lamb's wool, the sponged and sheared 9-ounce fabrics are soft and drapeable, making them suitable for sportswear as well as outerwear, "casual, but a little bit more dressed up than fleece,"
according to Paula Kosmatka, product design director for Woolrich.
Other styles include the O series of "quiet," sponged bouclé wool/nylon/polyester fabrics, which have added water and soil repellency and burr resistance for outdoor activities such as
hunting; and the W series of machine-washable wool/nylon fabrics. A wind-resistant laminate that combines a hydrophilic mesh and a collapsible, breathable cell membrane with TechnoWool X or S fabric will be introduced in early 2002. Also in the works are an X-series stretch wool with Lycra® and a washable wool fleece.
Garments made from TechnoWool appeal to consumers who prefer natural fibers over man-made. " Wool looks nicer and is more classic," Kosmatka said. In addition, she said, wool is an eco-friendly, renewable resource that is free of dependence on petroleum resources.
---
For more information about TechnoWool™, contact Woolrich Inc., (800) 995-1299.
---
November 2001