Comez S.p.A., Italy — a producer of crochet knitting, warp knitting and narrow weaving machinery
— now offers the DNB/EL-1270 double-needle-bed warp knitting machine for making a wide range of
fabric styles including technical, medical and apparel.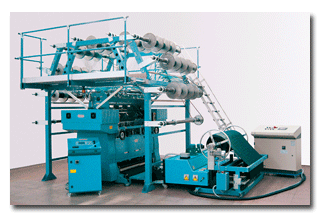 Features include: 1,270-millimeter working width; individual latch needles; five to 18
needles-per-inch gauges; 12 electronically controlled pattern guide bars, allowing creation of
different structures without stopping the machine; electronically controlled thread feeders,
allowing varying stitch density, as well as differing weft and warp feeding; and Comez's new Data
Control Controller. The machine is compatible with any yarn, and knockover sinker groups are
available if specified.
The DNB/EL-1270 can be fed by creels or beams, or both. Floor-standing external electronic
yarn feeders can be used, or it can be equipped with electronic yarn feeders. Finished product
collection systems can be tailored to specific requirements.
Using two needle beds and the pattern guide bars, the machine can produce double-faced
fabrics. Spacer fabrics also can be produced. Rigid and elastic products can be created in flat or
tubular configurations to form netting-type products that range from simple, open structures to
more complex structures.



November/December 2009