At Cotton Incorporated, Cary, N.C., color and fabric trends for Autumn/Winter 2014-15 fashion and
home textiles are divided into five groups. There are seven shades for apparel plus four for
interior fabrics in each range. Most of the fabric ideas are inspiration for future fashion
fabrics, although several might turn up covering a sofa or softly framing a window.
The first group, Sacred Spaces, is described thus: "Execution, Confidence and Innovation are
emboldened as we are nurtured by the craft instead of the exploits of tradition."Apparel colors are
offbeat, combining Bird's Nest (yellowed olive), Peacock, Coffee Bean, Evergreen, Magnetic (very
dark gray), Rose (browned coral) and Zest (daffodil yellow). The first home shade is a very soft,
pale coral called Delicate. It is followed by three blackened shades — Emerald, Brun (dark grayed
brown) and Licorice.
Fabrics shown in Sacred Spaces include knitted stripes using a silver yarn. They could be
used in a dress or top. There are a heavily brushed and slubbed pinstripe, and a knit in a luxury
blend of cotton/cashmere.
Apparel colors in the Share group are bright oranges and reds combined with deeps and soft
neutrals. Orange Peel, Plummy, Blackened Blue, Hearty (bright red), Sunset, Safari (sand) and
Tempered Silver are the colors. For the home, it's Silver Fog, Pink Peppercorn, Cinnabar (red plum)
and Limbo (very dark brown).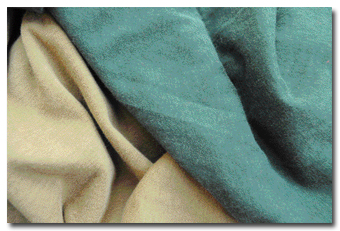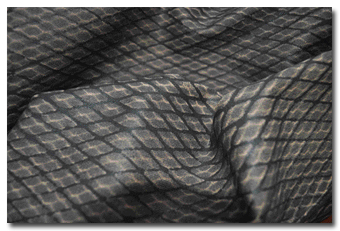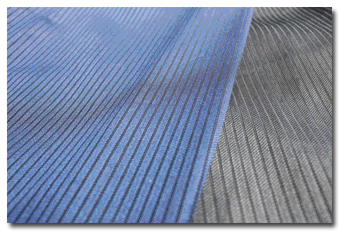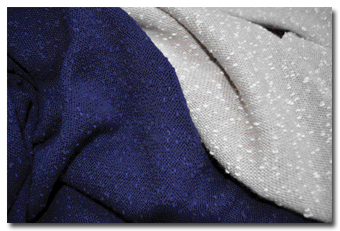 Top to bottom: Cotton Incorporated's 2014-15 trend groups include
Sacred Spaces,
Share
, Improv and
Underworld
; as well as Extreme (not shown).
Share fabrics include a chambray shirting that has a rainbow yarn peeking through it, a
cotton double knit with a spongy hand, and a black lattice pattern over a tan lattice pattern that
is described as a modernized snakeskin.
Underworld is described as "private, futuristic and in the shadows." Apparel shades are
browned neutrals enlivened with blue. Russet is followed by Crushed Pearl (browned off-white),
Ecru, Thicket (olive that is slightly darker and browner than Bird's Nest), Buried Treasure
(gray-brown), Delft Blue and Trap Door (dark red-brown). Home colors are Duckling (yellowed
off-white); Auburn, Dimmed (pale coral) and Sand Dune (olive gray).
Underworld fabrics are dark and mysterious. There are raised stripes on textured knits,
woodgrained prints on felted canvas and sweater knits that have a pilled appearance through the use
of slubbed yarns.
Improv is spontaneous and unregimented. Colors for apparel include two blackened darks —
Arctic Night (teal) and Bittersweet (plum); three very pale shades — Unbleached, Violet Candy
(off-white) and Icicle (aqua); plus two brights — Ginger and Purple Sapphire. For the home, there
is a pale gray, Breeze, which is followed by Teal, Herbal (flax), and Background (navy).
Fabric suggestions include mini geometric printed shirtings with the look of texture and
dimension created by using speckled yarns and high/low woven stripes that create a feeling of
movement.
The last group, called Extreme, is "a study in contrasts." There are "exuberant brights" plus
classics and gray and white shades. Apparel colors are Stormy Grey, Deep Navy, Magenta, Muted
(white), Scream (neon green), Smirk (hot pink) and Cerise (bright red). Home colors combine four
brights — Glistening Sage, Amethyst, Fervid Coral and Infernal (orangy yellow).
Small geometric patterned men's shirtings, textured knits and coated denims in burnished
tones are Extreme fabric suggestions.
July/August 2013