It is not likely that many textile companies have embraced the concept of product development
with more vigor than Sapona Manufacturing Company in Cedar Falls, N.C. But then, perhaps not many
companies have had to endure so much change while finding a way to remain profitable. Sapona has,
over the course of its long history, been a cotton ginning and spinning operation, a weaving
company, a silk spinner and a manufacturer of nylon hosiery yarn. On more than one occasion, the
company has had to suddenly shift gears as the proverbial rug was jerked out from under it.Perhaps
that situation goes a long way toward explaining the companys near obsession with experimentation
today. There are some days, quips Steele Redding, the companys CEO, that I think Im just in the
sample business.A typical day at Sapona finds Redding, President Dean Lail, Vice President of
Manufacturing Johnny Knowles, Plant Manager Joe Kearns, and Research and Development Manager Walt
Sweeney looking at various ways to combine new yarns, blends, textures and techniques to come up
with unusual properties that fit specific needs in the market. To determine the knitting properties
of the new products, particularly in the growing seamless market, Sapona maintains its own Santoni
SM8 circular knitting machine (See New Generations In Seamless And Sliver, ATI, October 2000).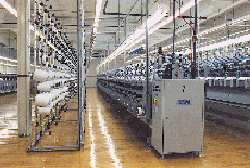 Many of the experimentations undertaken by Sapona are the result of specific requests by
customers. Others, though, are for the companys own internal use in the quest to develop new yarns
and combinations.Today, the company could perhaps best be described as a solutions provider for
hosiery, seamless bodywear and other knit and woven applications. Sapona processes mid- to
fine-denier synthetic yarn, including textured nylon and covered spandex. Process options Sapona
makes available to its customers include stretch or set, false-twist texturing, package-dye tube
winding, cone winding, assembly winding, air covering, ring twisting and two-for-one twisting.
Various options of yarn type, ply, twist, air entanglement, finish and dye are
available. Joint Venture With Celanese AcetateAn example of Saponas product development
efforts can be found in the recent announcement of a joint product development effort with Celanese
Acetate. The resulting yarn, called Celanna®, is an unusual combination of cellulose acetate
air-entangled with various other fibers, resulting in enhanced physical properties and fashion
design features, Lail said.Within the Celanna brand concept, according to Lail, initial offerings
will include blends of Celanese acetate and nylon fibers. These blends, he said, will create
aesthetically pleasing knit and woven fabrics that offer comfort and performance; feel smooth
against the skin; and have a luxurious, flattering drape and a soft, fluid hand.In addition, Lail
said, Celanna is breathable and moves moisture well. The addition of nylon to the mix yields a
strong, extensible fiber that is easy to process.For extra stretch, Celanna is offered as an
air-covered yarn with spandex, Lail said. Plus, Celanna blends open new markets for acetate such as
seamless bodywear because they are washable in some constructions. Other end-use markets for
Celanna knits and wovens include softly tailored womens and mens sportswear, dresses and mens
contemporary shirts, sweater knits for men and women, and upholstery.Under agreement with Celanese
Acetate, Sapona will be the sole source for several acetate blends under the Celanna trademark.
Sapona has put forth extensive development effort and capital expenditure to produce new Celanna
quality yarns. Customized SSM high-speed precision winders are employed to air-entangle the various
blends. Sapona and Celanese are teaming up to develop yarns, fabrics and processes that will help
speed up the introduction of a broad range of new knit and woven apparel products.In addition to
the Santoni knitting machine and the SSM winders used for Celanna, Sapona also employs SSM
air-covering machines; Rieter/ICBT autodoffing texturing machines; Rieter/ICBT covering and
air-covering machines; Rieter/ICBT two-for-one twisters; and Barmag texturing and twisting
equipment. Overall, Sapona has spent more than $12 million for new equipment in the past few
years.Despite the intense quest for new products, more than 50 percent of Saponas business remains
in hosiery, and the company goes to considerable lengths to ensure the needs of those customers are
met daily.We know you are supposed to keep as little inventory as possible, Redding said. But we
have established a relationship with our customers in which they have come to rely upon us for
immediate shipment of what they need. So we try to anticipate that demand and always have product
ready. Adds Lail: As a customer-driven operation, Sapona offers same-day or next-day shipment for
stock yarns and immediate action on special orders.Obviously, knitters make up a large portion of
Saponas customer base for its products. Often, knitting mills will approach Sapona with the
opportunity to solve a specific challenge. But the company is also marketing directly to the
designer and retailer.Our objective is to get people closer to the end of the selling cycle excited
about what we are doing here, Lail said. Sapona's HistoryKeeping people excited has been on
the Sapona agenda for many years. The company was the first textile plant in Randolph County, N.C.,
and among the first in the South. The original company was established by an act of the North
Carolina General Assembly on Feb. 1, 1829. Among the founders was an ancestor of current CEO Steele
Redding.The original plant was built on the north side of the Deep River. Machinery was shipped by
rail to Greensboro and hauled by horse-drawn wagons to Cedar Falls, which is a few miles from
Asheboro. Manufacturing did not begin until 1836. The current plant was completed in 1896. It was
originally a cotton-weaving plant equipped with 100 looms.During the early years, the only power
available was water power from the Deep River, which was diverted into a raceway leading under the
plant to a huge water wheel. The motion of the wheel was conveyed to the plant by a system of ropes
and pulleys that were connected to looms by leather belts.In the 1940s, weaving became unprofitable
for Sapona, and management decided to sell the looms and convert to a silk-throwing operation.
AcmeandMcCrary Hosiery Mills in Asheboro was using large quantities of silk, giving Sapona a ready
market for the new product.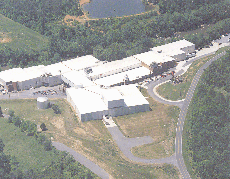 From 1936 until 1941, the use of silk by AcmeandMcCrary Hosiery increased at a rapid rate,
and the facilities were expanded to meet the growing need. Then, in August of 1941, as World War II
engulfed more and more nations, disaster struck the hosiery industry when an embargo was placed on
the importation of Japanese silk. Thus, the hosiery manufacturers were deprived of their basic raw
material.After World War II, Sapona, thanks in large part to the technical knowledge the company
had gained in nylon processing during the war, was among the first plants in the world to be
selected by DuPont to process nylon. New equipment had been purchased and plans drawn for a large
addition to the mill. This foresight was soon justified because the unique heat-setting properties
of nylon resulted in the gradual replacement of full-fashion stockings with the no-seam variety. In
the 1950s, a nylon thread was devised that was capable of stretching to twice its original length
and, in 1954, a new machine became available that combined several steps into the false-twist
method of producing stretch yarn. Using this method, Sapona developed a customer base of knitters
of socks and tights that has taken the company through to the current day. Throughout its history,
Redding said, Sapona has enjoyed a reputation of superior service and quality. The company was ISO
9002-certified in 1999.We have three specific goals, Redding said. Number one is to provide our
customers with what they need when they need it. Two is to continuously improve quality,
productivity and versatility. Three is to develop and motivate our co-workers.This past year,
Sapona enjoyed an on-time delivery rate to its customers of 99.4 percent. Less than .05 percent of
product was returned as defective.For Sapona, adds Redding, the most important thing is to remain
focused on innovation. This company has been nestled alongside the Deep River since 1836. Weve
maintained that longevity by both anticipating and adapting to the changing needs of the
marketplace. Knitters, designers and retailers can continue to look to Sapona Manufacturing for
innovative solutions that add value to their products.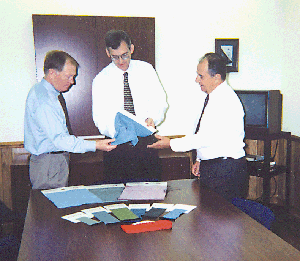 CEO Steele Redding, President Dean Lail and Vice President Johnny Knowles examine fabrics
made from new blends developed by Sapona.

January 2001