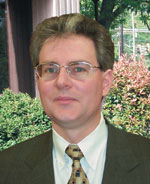 By Jim Borneman, Editor In Chief
As 2019 quickly approaches, a hectic textile show calendar is about to start, and for some, may have already started. It is an unusual collision of quadrennial, triennial, biennial and annual show cycles across a number of events.
Techtextil North America takes a break from Atlanta and heads to Raleigh, N.C., at the end of February. The venue's proximity to North Carolina State University's Wilson College of Textiles as well as the college being named the show's first ever official academic partner should present some unique opportunities.
INDA's IDEA®19 will have the latest in nonwovens heading to Miami in late March to the newly renovated Miami Beach Convention Center. Last held in 2016, INDA reported a gathering of more than 7,000 attendees, and 550 exhibitors from more than 65 combined countries.
Recently Messe Frankfurt reported that with just about six months until the opening of the Techtextil/Texprocess shows in Frankfurt that the floor space is almost fully booked. Techtextil, to be held May 14-17, has approximately 1,000 companies from 54 countries registered as of early November. Organizers are expecting "…a significant increase in the fields of technology and fibers and yarns. Also very well represented are suppliers of woven fabrics, coated textiles and functional apparel textiles." Texprocess, with more than 250 registrations already received from 31 countries, features textile processing technologies from design, cutting, making, trimming, textile digital printing, dressing and finishing, to textile logistics and textile recycling. According to the Messe Frankfurt, limited exhibition space is still available.
Of course, the 800-pound gorilla in the room is ITMA 2019 in Barcelona. Plans are in the works for attendees and exhibitors alike with the show arriving quickly June 20-26. According to organizers, the show floor was sold out as of mid-August which prompted CEMATEX President Fritz P. Mayer to say: "The response for ITMA 2019 is so overwhelming that we have not been able to meet the demand for space despite adding two more exhibition halls. ITMA is a show for the industry, by the industry. Hence, we are of the opinion that
ITMA should feature a wide spectrum of cutting-edge solutions from as many solutions providers as possible, whether established or new-to-market."
"Currently, we were only able to accommodate some 1,660 exhibitors from 47 countries on the show floor," said Charles Beauduin, chairman, ITMA Services. "We have to put many applicants on the waiting list."
And there are many other shows and meetings of significance in the works.
It looks like 2019 will produce some tough choices as time and money costs are seemingly on the rise. On the other hand, a strong U.S. dollar and growing economy puts a premium on U.S. textile firms to scout out new ideas and opportunities worth investment.
TW editors will have no shortage of content to offer regarding the latest developments from the conference and show floors. The production value of the shows has been good, and the organizers need to deliver on the promise of the latest and greatest technologies and products.
It looks like 2019 shows will have something for everyone.
November/December 2018