It is becoming increasingly apparent that the U.S. man-made fiber industry is being buffeted by the
same forces that have driven so much garment and made-up article manufacturing offshore. Man-made
fiber production does not suffer from excess labor costs. Rather, the industry has successfully
reduced costs to become internationally competitive but cannot compete against politically
fostered, unending international pressures including, but not limited to, financial crises,
appallingly low wages, government subsidies and working conditions long since banned in the United
States. Fiber production in the United States cannot exist on efficiency and process improvement
alone; it must search for and work with new markets, products and/or customers for future
sustenance.In the past,
Textile World has commented about the industrys need to explore new markets with existing
products, as well as the need for new products. In this issue,
TW delves more deeply into what the industry has done and is doing to create new products
to replace the commodity items surrendered to international suppliers. In recent issues, a
number of polymer developments designed to position the industry in new areas have been reviewed.
To date, most of these developments remain small players in the multi-billion-pound U.S. market,
but a few appear to display characteristics needed for expanded production and distribution. Most
of these improvements address penetration into home fashion and industrial markets areas less
susceptible, but not immune to, import pressure.Comments are limited to pure, new polymeric
innovations, but occasionally have included items that are more accurately described as polymer
improvements. Often, these are as valuable as truly new chemistry and worthy of discussion.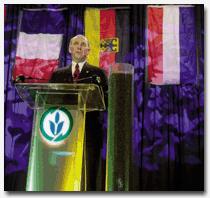 Randy Howard, president and CEO, Cargill Dow, said, "We are not a niche player. We are
global. We are a reality and we are here to stay," as he addressed the crowd at the opening of the
first global-scale polylactide production facility. NylonIt appears that development of
polymer variants for traditional nylon distribution has slowed in the past several years. The
reorganization of the DuPont fiber activities, of which nylon is a major, if not the major part,
signals a bleak future for traditional nylon products. It should be noted that Kevlar® and Nomex®,
para-aramid cousins of nylon, remain in DuPont. Potential in optical fiber reinforcing; circuit
boards; and brake linings, belts and hoses in increasingly harsh automotive under-hood environments
offer opportunities to turn these fibers from niche players into markets.PolyesterPolyester
producers feel particular pressure to diversify, since polyester staple has felt the wrath of
imports more than any other fiber. KoSa, Houston, announced several developments last year, adding
Type 55 Celbond to its family of nonwovens-targeted fibers. Type F55 is a bicomponent fiber with a
polyester core in a polypropylene sheath for improved performance in airlaid nonwovens. Polyester
provides the strength, durability and recovery, while the olefin sheath bonds at a low melt
temperature. Among its offerings and brands for hospitality, healthcare and home furnishing
end-uses, KoSa continues to offer ESP® stretch fibers and Microtherm® microfibers, and supports a
licensing program for its Avora® FR brand of inherently flame-resistant fabric. A recent
introduction is Imbue antimicrobial yarn with built-in properties to eliminate odors and protect
against bacterial growth.Wellman Inc., Charlotte, N.C., has added Sensura to its family of fibers
(See Quality Fabric of the Month, ATI, December 2000). The material reportedly has a
polyester heritage, but is formed from several different comonomers. Wellman describes the fiber as
a low-pilling, optically brightened, disperse-dyeable staple fiber with properties making it a
viable cotton competitor. The company feels the product is sufficiently different to qualify as a
new generic fiber class. Italy-based Gruppo Bonazzi, producer of the Aquafil family of textile
yarns, recently introduced a polyester-based, ceramic-containing fiber that is designed to block
the suns rays and provide comprehensive protection from heat and ultraviolet rays. In strict terms,
it is a polymer addition, not a polymer variant, but it is designed to accomplish the same end open
a new market and replace commodity materials with products that offer the customer added
value. Polytrimethyl Terephthalate (PTT)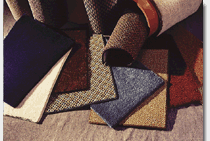 Using a precursor material from Houston-based Shell Chemical, KoSa has begun producing
Corterra fibers for carpet, apparel, home fashion and automotive end-uses. Strictly speaking,
Corterra is not a recent development, but rather an ongoing development that slowly is gaining
adherents in the fabric industries. Shell and KoSa tout softer hand, easier dyeing, color
retention, and better stretch and recovery as important features of their materials. As might be
expected in the United States, development of apparel fabrics has been limited, although
considerable effort has been expended on apparel fabrics in Europe and the Far East. While
worldwide capacity for fibers is limited, Shell remains actively interested in supplying the
polymer precursor. The barriers to entry for other fiber producers have been reduced by raw
materials, but here, the fiber producer can concentrate on fiber production and distribution and
leave the polymer chemistry to Shell.In addition to supplying the polymer to KoSa in the Western
Hemisphere, Shell has supplied quantities to a number of offshore producers. Polylactide
(PLA)The newest fiber on the horizon is the NatureWorks polylactide (PLA) family of materials from
Cargill Dow LLC, Minnetonka, Minn. Cargill Dow does not spin the fiber; it is, and intends to
remain, the supplier of precursor polymer. While introductory market tests are being handled by
market-wise producers, here, as with PTT, low barriers to entry hinder added fiber-producing
capacity from joining the fray. Based on an annually renewable raw material resource corn the
fibers, according to the company, offer better skin sensitivity, thermal insulation, breathability
and absorbency characteristics than polyester.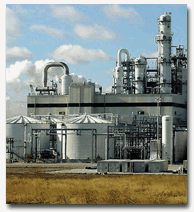 Cargill Dow recently opened a facility in Blair, Neb., which will produce more than 300
million pounds of NatureWorks PLA annually. Additionally, because corn is the raw material,
NatureWorks is merchandising the materials as truly biodegradable natural fibers. Pilot plant
production is in market tests at Fiber Innovation Technology (FIT), Parkdale, Unifi, Interface and
several international partners. Cargill Dow recently announced another production capacity that,
when completed, is expected to provide 140,000 metric tons (more than 300 million pounds) of
polymer, half fiber grade and half for packaging and molding. AntimicrobialOne of the hotter
(pun intended) areas of fiber development is production of antimicrobial fibers. In addition to
several proprietary processes, two prominent techniques are used to achieve antimicrobial
properties: the combination of ionic silver and fiber polymer, a the AgION process; and the use of
Triclosan, a chlorinated phenoxy compound. Nylstar®, the joint venture of Rhodia S.A., France, and
Snia S.p.A., Italy, uses a proprietary material to produce Meryl® Skinlife; Foss Manufacturing Co.,
Hampton, N.H., uses AgION materials and Sterling Fibers uses Triclosan in their acrylic fibers. A
major advantage of antimicrobial fibers, vis-is topical treatments, is property permanence through
multiple wearings, washings and cleanings in a variety of apparel, home fashion and industrial
end-uses. To name a few wipes, socks, healthcare fabrics, filters, uniforms, sheets and
towels. PolyethyleneHoneywell, Morristown, N.J., and its predecessor, AlliedSignal, long have
manufactured limited quantities of polyethylene fibers. Linked to Allieds traditional industrial
nylon position, Honeywell recently announced a capacity doubling of Spectra® polyethylene fibers to
offer additional lightweight, strong fibers to armored vehicles, body armor, cordage, sailcloth,
cut-resistant gloves and sporting goods. Honeywell is the sole polyethylene producer in the United
States. Hoechst produces Certran in Europe; Dutch State Mines (DSM) makes Dyneema® in Europe, while
Toyobo owns the label and produces Dyneema in Japan. Fire RetardantsMany roads lead to
flame-retardant/flame-resistant (FR) fibers, and virtually an equal number of roads, led by product
liability concerns, lead away. Many firms have tried and dropped FR; the remaining are extremely
careful of their warranty status. KoSas Avora FR brand of inherently flame-resistant fabrics has
already been mentioned. Other fibers follow:It is expected that FR for industrial and home fashion
end-uses will increasingly dominate fabric development. U.S. textiles was dragged kicking and
screaming to the FR altar but, in retrospect, the marriage has been comfortable and profitable.
There is no reason to expect fewer FR regulations, particularly if you do business in Europe.Glass
fibers, once used extensively in window treatments, are inherently FR, but their difficulty in
processing, poor flex resistance and severe employee concerns necessitated development of safer
alternatives. Current materials include the old standby, Nomex, from Dupont. Aramid-based,
supplemented with proprietary FR technology, it was introduced in the late 1960s and is focused on
protective clothing, high-performance hoses and high-temperature electrical end-uses. From the
original one-fiber offering, it now is available in a series of variants designed for specific
markets. BASF, Mount Olive, N.J., provides a melamine-based fiber, Basofil®. Basofil combines a
unique polymer technology with non-round and variable diameters, which create insulative pockets in
the fabric, adding thermal protection to the garment. Germany-based Celanese offers
polybenzimidazole materials under the brand PBIGold®. End-uses include all sorts of heat-resistant
and protective industrial apparel; such as that worn by firefighters, industrial workers and
race-car drivers. Pump packing, gaskets and brake components are other end-uses. Acrylic producers
have manufactured significant amounts of modacrylic fibers (usually containing a bromine component
to impart FR) for apparel and home fashion end-uses. One of the best known is Sunbrella® Firesist
awning, an umbrella and marine fabric from Glen Raven Mills, Glen Raven, N.C. Rhodia produces
Kermel®, a polyimide-amide fiber for European markets and periodically has distributed minor
quantities in the United States. Engineering PolymersSeveral traditional engineered polymers
are finding their way onto extruders to be tried as specialty fiber materials. None yet are market
saviors, but several hold considerable promise, and
TW plans to monitor their progress periodically throughout the coming year. Polyethylene
naphthalate (PEN), a cousin of polyester and PTT, is being tried in industrial end-uses for
improved creep resistance in specialty hoses, belts and tires. United Kingdom-based Zyex Ltd.
produces limited quantities of monofilament polyether-etherketone (PEEK) fibers, interesting for
their abrasion-resistant, lightweight characteristics. The fibers are hollow to offset the
relatively high cost of the polymer precursors. Fluropolymer (PTFE) fibers are produced in Europe
by Austria-based Lenzing AG, and in the United States by W.L. GoreandAssociates, Newark, Del.
Highly specialized materials, they are used primarily in valve and bonnet packings and filters for
hot-gas filtration. After many years away from the synthetic side of the man-made fiber business,
Eastman Chemical Co., Kingsport, Tenn., has resurfaced with a precursor polymer for polycyclohexane
dimethylene terephthalate (PCT) fibers. Stated advantages are soft hand and excellent compression
recovery for pillows and cushions. Eastman also has introduced Eastar Bio, a copolyester completely
biodegradable in normal composting conditions
(See Quality Fabric Of The Month, TW, this issue). Capacity is noted at 15,000 metric tons
per year.Two additional engineering polymers, polyphenylene sulfide (PPS) and polybutylene
terephthalate (PBT), continue to attract attention for specialized markets. It is claimed that
linear PPS provides an excellent combination of thermal, mechanical and chemical resistance
properties. It is inherently flame-retardant, passing the Underwriters Laboratory type flammability
tests. It is being researched for flue gas filters and high-temperature hazardous liquid materials
filtration, with a possibility of significant application in ozone filtering and scavenging. Work
continues to try to take advantage of PBTs natural properties of high strength and toughness with
low creep, even at elevated temperatures. PBT is being positioned between polypropylene on the low
temperature end and PPS for extra-high temperatures in oil and automotive filters. The fibers fine
size and excellent wettability make it a natural for the growing field of blood filtration.Based on
the number of fiber variants investigated, it appears that the imaginative and innovative sectors
of the man-made fiber industry are healthy. The key question, however, involves the financial
arithmetic surrounding each opportunity. The industry has seen many fibers come and go, many with
properties equivalent to or greater than some of those listed here. This analysis suggests that,
given the right raw materials, industrial textiles can enjoy substantial growth. It looks as though
development is ready to lead.
May 2002