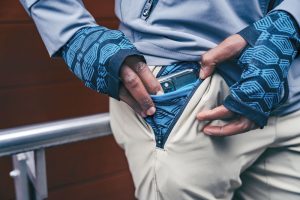 Hemp Black is a new company researching and commercializing applications for hemp in textile and industrial products.
By Jim Kaufmann, Contributing Editor
While the advent of legalized hemp in the United States has brought much attention to the use of cannabinoids in medicinal and homeopathic applications (see "Hemp: A Reintroduction To One Of the Original Textile Inputs", TW, this issue), Greensboro, N.C.-based Hemp Black Inc. is exploring alternative routes for hemp including products featuring hemp derivatives targeted towards performance-driven technical and industrial applications. A business unit of Ecofibre — an Australia-based industrial hemp company with U.S. headquarters in Georgetown, Ky. — Hemp Black is the offspring of Ecofibre's initial research collaborations with Thomas Jefferson University (see "A Study in Collaboration," TW, September/October 2020), which was strengthened by the recent acquisition of TexInnovate, a portfolio of high-performance textile businesses led by founder Jeff Bruner. Collective efforts to date have resulted in an array of technologies and concepts on the cusp of being introduced to, or already found in, consumer and industrial products.
TexInnovate, previously Hemp Black's preferred manufacturing partner, brings not only technical and manufacturing capabilities, but an established customer base that they will continue to service and support. In addition, the company brings a rather large, diverse list of industry contacts.
"This acquisition was a very strategic move for us," stated Eric Wang, Ecofibre's CEO. "Over the last few years, we have worked with TexInnovate to develop intellectual property and product concepts, while capitalizing on their development, and technical and manufacturing capabilities. Not only has this allowed us to accelerate and expand the introduction of Hemp Black's initial product offerings, but especially given today's COVID-influenced climate, we were able to quickly pivot to develop and produce the Hemp Black face mask and gaiter line of personal protective equipment, with more items coming soon."

Bruner — a textile industry veteran known for his innovative, forward thinking and constant eye towards the future — now serves as Hemp Black's president and is excited about advancing its technologies. "I was first introduced to Hemp Black's concepts, research and patent efforts in 2018, and was so intrigued that I quickly inquired about becoming a shareholder in Ecofibre in 2018," Bruner said. "There is strong commercial potential for these technologies, not only to solve existing customer issues, but more importantly to initiate a step function shift in textile performance across a wide range of industries and applications. I believed it was like getting in on the ground floor of plastics in the first half of the 1900s, and my excitement and enthusiasm continues to grow."
Spend any amount of time speaking with Bruner, Wang or Mark Sunderland, Hemp Black's chief innovation and sustainability officer who also serves as vice president of Innovation and Technology at Thomas Jefferson University where he was intimately involved in the Ecofibre sponsored collaborations with Jefferson, and you quickly realize that Bruner's initial assessment of the technologies in development at Hemp Black is spot on, if not possibly a bit reserved. "It's really become a great example of university research meets industry investors, marketing exercises, creating product and culminating in market opportunities, the result being Hemp Black," said Sunderland who also coined the company's name. "Three-and-a-half years from our first introductions to transpire into the opportunities we now have has been an amazing ride."
Hemp Black's unique stable of technologies, with the hemp plant as a primary constituent, were developed with two specific areas of input focus: full spectrum hemp flower extract (FSHE) and activated carbon black. In addition to working with local hemp farmers to develop new plant strains with a higher level of consistency and aligned with their technical goals, Hemp Black has developed proprietary in-house processes for incorporating the extract and then from the remaining hemp biomass — basically whatever unused portion of the plant is left over — producing a carbon black that is purely sustainable.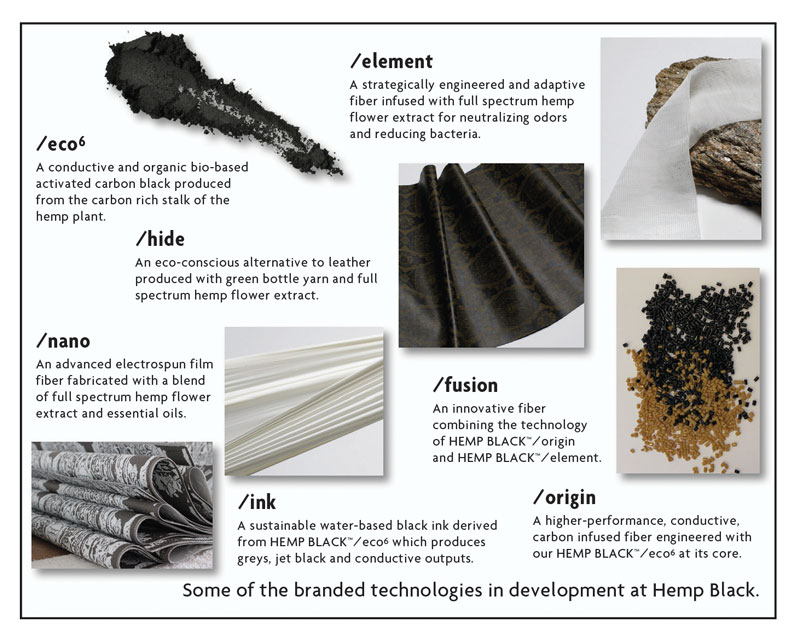 Full Spectrum Hemp Flower Extract
Full spectrum hemp flower extract — or the "golden oil" as some may refer to it — as the name implies is the pure extract from the hemp flower, which in this state contains all of the cannabinoids — 113 different ones identified to date — including cannabidiol (CBD), and other compounds found in the plant. Ananda Hemp, a separate Ecofibre business unit, produces a variety of nutraceutical products aimed at promoting health and wellness from the extract, CBD and its derivatives, but Hemp Black has taken a different approach. With the acquisition of TexInnovate whose broad capabilities, all of which were included in the acquisition, comprise of polymer compounding and masterbatch production, polymer extrusion into filament yarns for industrial and bio-medical applications, innovative knit fabric manufacturing, man-made turf yarn manufacturing, and custom textile machinery solutions, a variety of industrial and technical possibilities emerge.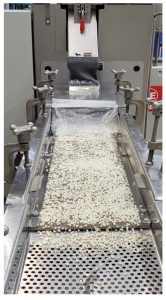 Given TexInnovate's processing capabilities, the usual questions naturally arose: "Can we make a polymer and masterbatches incorporating the extract and extrude it into a yarn?" followed closely by, "If we can create a yarn incorporating the extract, what type of properties and characteristics might it have?" Shortly thereafter, the questions became, "What else can we incorporate into the polymer compound to either enhance the resultant attributes or generate unique new attributes?" This is where Bruner and his colleagues from TexInnovate excel and it turns out the answers were "yes," "yes" and "a lot," with still much more to explore!
Hemp Black is able to successfully incorporate the extract into several different polymers resulting in a textile yarn exhibiting unique properties. According to Bruner: "The full spectrum hemp extract works better than just CBD oil for us. Think of it as a multivitamin compared to a specific single vitamin. The extract blends well with no indication of chemical interference so far. Inclusion of the FSHE during the compounding process where it can be evenly dispersed, is homogeneous, literally becoming part of the DNA of the polymer being used. We've also seen that it actually helps to make the yarn spin better. We've had positive results with nylon, polyester, polypropylene, polylactic acid and urethanes so far, but the higher processing temperature polymers are yet to be tested." They've also had success extruding polymer and extract combinations in trials with bi- and trilobal filament structures and various cross section configurations.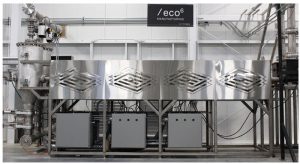 The resulting yarn variants have demonstrated natural odor-neutralizing properties, and initial testing has shown them to also exhibit antimicrobial and antibacterial characteristics, where testing and evaluations are ongoing, allowing for the distinct possibility of being able to solve multiple problems with a single yarn. "With the various other additives available to us, we believe new yarns can be developed with diverse properties and characteristics that could be really interesting," Bruner stated. "Imagine outdoor or hunting clothing that is naturally bug or tick resistant; floor coverings, wallpaper and possibly furniture that is naturally antimicrobial and antibacterial; masks and other PPE, even yoga or workout clothing that are anti-odor as well and don't have to be washed every time they're worn. These properties would be ideal for military apparel, especially in socks and other next-to-the-skin applications."
"Another positive is that the active ingredients do not appear to dissipate," Sunderland added. "We've tested items after 50 washings and the properties do not change. Hemp is a highly effective natural anti-microbial and biopesticide, so we are preparing the documentation and testing for submission to the EPA hopefully in 2021 in order to register, certify and approve our technologies."
Hemp Black is currently selling 3D-knitted protective masks and gaiters produced in-house that incorporate a version of this yarn. According to Wang, "We are working with CVS and many independent pharmacies to sell the masks through their locations."
"We had the yarn already built for athletic apparel, so when COVID hit we were able to go from concept to a fully integrated mask product in less than four weeks," Sunderland noted "In addition to the masks and gaiters, our next generation of branded 'advanced performance wear' incorporating this technology and designed in-house was recently introduced and is now available to purchase on the Hemp Black website, with other new clothing options and a fashion line coming out soon."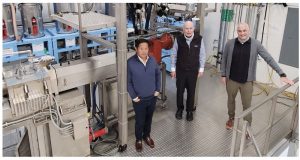 According to Sunderland, Hemp Black has developed several other technologies that employ the extract in order to benefit from its attributes. "We now have Hemp Black™/nano, which combines the extract with specific essential oils and other ingredients through an electro-spinning type process to produce an advanced film fiber construction that can be bonded to different fabric types providing wind and water protection, as well as odor-neutralizing and insect-repellent properties," Sunderland said. "We've also introduced Hemp Black/hide as a sustainable, vegan replacement for eco-friendly man-made leather. We create a polyurethane coating using the extract, which is then backed by fabric made with REPREVE®, a performance fiber produced from recycled bottles. This allows Hemp Black/hide to be produced using 90-percent less energy and 80-percent less solvent than conventional man-made leather while maintaining its enhanced performance characteristics. It's currently going through California Certification studies and is targeted for use in automotive, truck and bus seating; office furnishings; and high-traffic area public seating applications."
Carbon Black
Carbon black, historically used for reinforcing rubber products and as a colorant in inks, paints and plastics, is generally produced by burning petroleum products. Hemp Black, after two years of research, has developed a proprietary process that exposes the hemp biomass to extremely high heat, resulting in a sustainable methodology for fully carbonizing the plant remnants, allowing the company to produce a naturally sourced, activated carbon black. The process has been awarded a Platinum Level Material Health Certification by McDonough Braungart Design Chemistry as well as meeting the Cradle to Cradle Certified™ Products Program requirements, which represents the highest level of Material Health Certification. According to Hemp Black, its carbon black is the first carbon black to be certified in this manner.
"As a company, we're very cognizant of sustainability and being environmentally friendly," Wang said. "It's important to our future, especially with millennials being the workforce of the future and being rather mindful of their workplace environment." Wang oversaw the recent completion of Ecofibre's new Leadership in Energy and Environmental Design (LEED) Platinum-certified 50,000 square foot U.S. headquarters facility, the first such facility in the United States.
Using its proprietary process, Hemp Black has been able to reduce the carbon black particle size to the micron level, making it ideal for multiple applications. The resultant carbon black product, now branded as Hemp Black/eco6, is not only finding use as a colorant for inks, dyes and pigments for various polymers, but also exhibits the ability to conduct electricity.
"Creating a micron-level particle size, which is also lightweight and low density, was really important," Sunderland stated. "It allows for a more even and consistent dispersion in inks and colorants and also makes it ideal for incorporation into polymers allowing the potential creation of electrically conductive yarns, which is planned for 2021." And this conductivity property creates additional product opportunities for Hemp Black. With compounding and extrusion capabilities — not to mention the assortment of additional additives available including luminescent and magnetic variants that can be combined with the conductive carbon black — and the possibilities are bordering on limitless for integration in high-performance textile, industrial and fashion products. According to Bruner: "Hemp Black/eco6 will first be incorporated into yarns branded as Hemp Black/origin. We know Hemp Black/eco6 conducts current, now it's about engineering the micron powder and the yarn types and geometries necessary to create new textile product realities. The year 2021 largely will be devoted to the electrically conductive development for textile yarns when our new equipment is started up in the second quarter."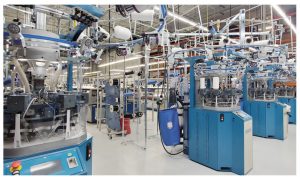 An Eye Towards The Future Of Textiles
Several additional proposed applications based on Hemp Black's evolving yarn technologies are in development that may become rather interesting realities. The first application, according to Bruner, involves creating a pocket liner for clothing made from the antimicrobial and antibacterial elements of the yarn technology. "Imagine if you could put your cell phone into your pocket, or you had a sleeve in your backpack or briefcase, where after a few minutes when you next took it out, the pocket/sleeve fabric had effectively cleaned and essentially sanitized your phone," Bruner mused. Another application, based on the conductivity of the carbon black inclusion involves creating a textile-based phone charger that could be plugged into a car, home outlet, or maybe a backpack or briefcase where the fabric configuration could not only charge the phone using the yarn's conductivity, but also clean the device.
Other possibilities for the technology include activewear and other clothing with electronics incorporated into the fabric construction; radio-frequency identification technology embedded in the yarn or fabric structure; or as a pigment additive in dyes, paints or resin systems including injection molded parts or components. Not to mention the possibilities for smart clothing, active camouflage, or fabrics with luminescence or glow-in-the-dark attributes that could be turned on and off with the touch of a sleeve. All of these ideas may be developed with realistically no recognizable changes to the current textile or product supply side.
"You need to think about the real world and commercial world as the research is being done," Sunderland said. "We're doing our own science and making our own products. We've filed several patent applications to date, five have been issued so far, with more in process. It's exciting to be part of something that is wholly crafted in the U.S.A., but in today's business climate, you really need to keep the ball moving in different directions and keep inventing your own products to keep others at bay. It makes it harder for competitors to extract what's really going on."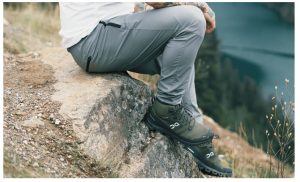 It is refreshing and exhilarating to see the numerous real and saleable possibilities ahead for Hemp Black as it continues to develop and explore the technologies provided by hemp-based extract and carbon black. Aside from launching its own branded line of products, Hemp Black's biggest challenges essentially come down to where do you start and who do you partner with? "We don't really know what all the end uses should or could be yet," Bruner said. "Where do we start? Do we make something novel, something that wasn't previously possible and see where it goes? We want to focus on value added applications based on performance opportunities, but given these technologies, the opportunities are virtually limitless."
Hemp Black's desire is to identify a partner or partners in many industries and end-use applications where all parties benefit. "An interesting set of potential partners comes from the west coast, the tech folks — someone who wants to change the game," Wang offered. "Blending textiles with the next level of high tech would be really interesting for us. A commodity producer selling on price is not for us, but others looking for a differentiator that might be a game changer? We have the capabilities to support that. Connect the problem solvers with creative solution providers, that's where we are. We just need people to tell us what the problems are that they need solved."
Bruner added: "It's about opening minds to the possibilities. Start with the future, totally reimagined. Here's the answer first. Now go backwards to figure out how to tell the story that gets us there. Right now, we're just scratching the surface."
One thing does in fact lead to another, and for Hemp Black, given all of the different opportunistic paths in front of them, one can only wonder where its next development will lead. Parent company Ecofibre's website states the company's vision is "to become the global leader in hemp technologies by providing innovative solutions that address emerging health and resource sustainability issues." Judging from the list of innovations and product offerings that Hemp Black is generating, one can easily say they're off to a pretty good start in fulfilling that vision!
November/December 2020