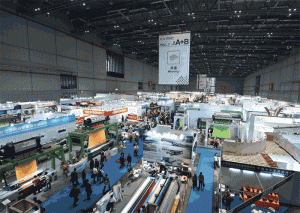 ITMA Asia + CITME 2016 organizers report pleasing exhibitor, attendee figures from Shanghai show.
TW Special Report
ITMA Asia + CITME 2016 was held recently at the new National Exhibition and Convention Center in Shanghai.
Since the combined show's debut in 2008, ITMA Asia + CITME 2016 attracted the largest number of exhibitors to date, according to show organizers the Beijing Textile Machinery International Exhibition Co. (BJITME) and co-organizer MP Expositions Pte. Ltd.
The show is owned by the European Textile Machinery Manufacturers Association (CEMATEX), and its China-based partners the Sub-Council of Textile Industry, CCPIT (CCPIT-tex); China Textile Machinery Association (CTMA); and China Exhibition Centre Group Corp. (CIEC). The Japan Textile Machinery Association also was a special partner of the show.
ITMA Asia + CITME 2016 recorded more than 100,000 visitors from 102 countries and regions. While still mostly a regional show, some 20 percent of the visitors came from outside China including attendees from India, Japan, Korea, Taiwan, Indonesia and Bangladesh.
Exhibitor numbers rivaled those at ITMA 2015 with 1,673 companies from 28 countries and regions taking part in the trade show. More than 170,000 square meters of gross exhibition space was occupied by the exhibitors.
"We are delighted that this was our largest show since its launch back in 2008," said Fritz Mayer, CEMATEX president. "The majority of our visitors were serious buyers, and as a result our exhibitors are very happy with the overall quality. We are looking forward to another successful presentation of the next combined show in 2018."
Wang Shutian, China Textile Machinery Association (CTMA) president, also was upbeat about the show. "The combined show continues to be a must for textile machinery manufacturers and their customers, and we are delighted to present the very best technologies from both east and west to Chinese and other Asian buyers," Shutian said.
The next combined show will be held at the National Exhibition and Convention Centre in Shanghai October 26-30, 2018, and will be organized by BJITME, and co-organized by ITMA Services.
November/December 2016