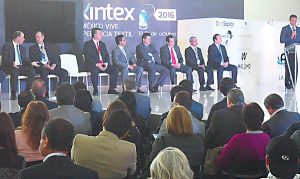 The 20th edition of Exintex carried the motto, "Mexico lives the textile experience."
By Dr. Virgilio L. González, Latin America Correspondent, Textiles Panamericanos
Held at the Exhibition Center of Puebla, in the area called Los Fuertes, Mexico, October 18-21, Exintex 2016 exceeded expectations, with more than 800 exhibitors occupying more than 28,000 square meters of exhibition space. The trade show is establishing itself as one of the most important textile fairs in Mexico focusing on the latest in technology and machinery for textiles and fashion.
José Antonio Gonzalez Quijano, president, Camara de la Industria Textil Puebla-Tlaxcala (CITEX), Miguel Brito García Teruel, as well as important people from local government, business executives and Mexican organizations, opened the event October 18. During speeches the executives emphasized the need to make Mexico's textile products more competitive, by, among several options, using established international commercial alliances.
During the event, more than 3,000 meetings between national and international exhibitors and buyers took place, looking to achieve the goal of expanding sourcing for the textile and clothing sector.
Exintex 2016 exhibitors included manufacturers of textile machinery and materials from countries such as Germany, Spain, Italy, France, Switzerland,  Turkey, China, Korea, Japan, India, Argentina, Brazil, Canada, Chile, Colombia and Peru, among other countries. The main items exhibited were fibers, fabrics, printed fabrics, finished goods, machinery, textiles and clothing, inputs for the different sectors, complete packages, spare parts, solutions and miscellaneous services and technical textiles.
Seminars
For the large number of attendees at EXINTEX, seminars were on offer. Researchers and executives who actually have investigated and revolutionized the different areas of the textile chain, shared important experiences. Sessions included:
"Innovation and the Market Criteria" presented by Ricardo Perret, Mind Code;
"Developments in Textile Printing" presented by Jorgen Lindahl, SPGPrints
"The Color in Your Favor" presented by Carmina Iturriaga, Color Kits;
"Sustainability in the Textile Industry" presented by Alona Starostenko, Universidad de las Americas Puebla;
"Dying Without Water" presented by Saul Arboleda, Satex Ltda;
"Digital Technology Applied in Textile Sublimation" presented by Jorge Camacho, Epson;
"Materials Testing — Expertise, Safety and Performance Certifications" presented by Valério Izquierdo, CTT Group;
"Evolution and Treatments of  Denim" presented by Franco Zaccaria, Tonello S.r.l.;
"Blue Technology — A View to the Future" presented by Rolando Sierra, Jeanologia;
"The Environmental Cycle of Cotton" presented by Jaime Flores, Cotton Incorporated;
"Evolution of Textile Art" presented by Nadia Albertini, an embroidery and fashion designer; and
"Business Model of Fast Fashion" presented by Lourdes Pérez of [TC]2 Mexico.
EXINTEX featured fashion shows that highlighted the latest clothing, fabrics and colors. On display was a mixture of local styles and the latest international fashions. The fashion shows highlighted the work of Denisse Kuri, SGA (Virtus/Motion Pro), Children of our Town, Lydia Lavin, Mallimo Atelier, Aida Walls,  Moda Incluyente/Isabella Springmuhl, Adriel Cervantes, José Farelas, IBERO Santa Fe, Hilario México and Juan Manuel Bautista.
Without doubt, EXINTEX 2016 was the perfect stage for buyers and sellers to carry out business. Mexican and foreign visitors significantly contributed to the reported increase in participation. EXINTEX will return to Puebla in 2018.
November/December 2016