I

TM 2009, the International Textile Machinery Exhibition, took place in Istanbul, Turkey,
in June. Despite the world financial crisis, most globally focused exhibitors reported better
feedback than expected, with even some sales and new projects. Show organizers Tüyap Tüm Fuarcilik
Yapim A.S. and Teknik Fuarcilik, Yay. Tic. Ltd. Sti., and supporting partners the Turkish Textile
Machinery and Accessories Association and Turkish Textile Employers' Association reported nearly
1,000 exhibitors from 26 countries and 31,000 visitors from 59 countries attended this year's ITM.
In recent years, textile machinery and related equipment sales dropped remarkably in Turkey,
but exports of Turkish textile machinery grew by 31 percent to $312 million last year, thanks to
increased investments in Syria, Egypt, Bangladesh and Uzbekistan; and also to good pricing
policies. The sector is optimistic European purchasers will return to Turkey and expects a revival
in the domestic market despite a projected 10-percent drop in exports in 2009.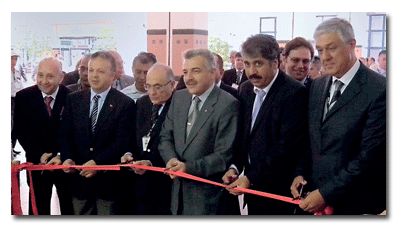 Playing up the slogan "Textile Exhibitions in a Textile Manufacturing Country," ITM 2009
officials cut the ribbon to signal the exhibition's opening in Istanbul, Turkey.

Quality Visitors

Most exhibitors were positively surprised regarding ITM. Rudolf Meier, Switzerland-based
Rieter Textile Systems' head of sales, Europe/Africa, reported some interesting visits. But he also
said it was strange to be at a show without any machines, adding it should be mandatory for an
exhibitor to present machinery.
Osman Balkan, owner of Balkan Textile Machinery, Turkey, was pleased with visitor feedback,
as was Fred Maletschek, division manager, Karl Mayer Textilmaschinenfabrik GmbH, Germany. But Iris
Biermann, head of markets and products strategy, Oerlikon Textile Components, Germany, was not
happy, with one exception: Oerlikon Textile presented a new store concept to push spare parts
sales.
Harold Hoke, executive vice president, Uster Technologies Ltd., Switzerland, said some
visitors are discussing new projects. Customers want to keep or even improve product quality, both
to get new customers and to keep existing ones. Some 80 percent of ITM visitors came from Turkey,
but there also were a lot from Iran, Syria and Egypt. Visitor quality was judged as good. Erwin
Devloo, marketing communications manager, Picanol NV, Belgium, said Picanol representatives talked
mostly to decision-makers.

Important Turkish Market

Turkey is a very important market for textile machinery manufacturers. Meier said it is
Rieter's most important market and will remain stable. Devloo believes if the global economy picks
up, Turkey again will be a dominant textile products supplier.
Mehmet Saracoglu, managing director, Sarteks Tekstil, Turkey, said Uzbekistan, Turkmenistan
and neighboring countries are also important. Syria, Iran, Iraq and India are important for
everybody; and Syria and Iran are very important for local producers.
All over Turkey, there are discussions about projects that were postponed because of the
recession. In spinning, Turkey is doing quite well, with compact spinning at full strength, and
rotor at 60 to 70 percent. But, Meier said, many countries are upgrading their production levels,
so Turkey must move fast to offer added-value products. In the next 10 years, Saracoglu said,
technical textiles and nonwovens will play a very important role in Turkey. Only top-quality, niche
products "Made in Turkey" will survive. Biermann also sees slow but steady positive trends.
September/October 2009