C
ontinuing cost containment could well be behind much of the 2007-to-date tolerably good
mill performance. Indeed, with both industry fiber and labor outlays not that much different from
last year's levels, domestic textile companies are managing to hold their own in today's
competitive one-world marketplace. Look at fibers first: While there have been some cost advances
over the past year in a few man-mades — most notably polyester — most other man-mades have either
eased a bit or not moved at all.

Not surprisingly then, Uncle Sam's official man-made producer price index remains pretty much
where it was last summer. Moreover, there is little to suggest any appreciable near-term upward
drift. That's because of today's huge man-made fiber capacity glut. Backing this up, the Fiber
Economics Bureau — citing the June 2007 issue of Fiber Organon — notes that the global utilization
rate for these fibers is now hovering at the extremely low 75-percent level.
And another 2.8-percent increase in production potential is anticipated by the end of next
year. Coming next to cotton: True, quotes here have moved higher over the past 12 months — with
some further inching ahead possible this summer, before the new crop is harvested. Nevertheless,
there is little statistical evidence to indicate any significant runup — even with this year's
reduced US plantings. For one, US cotton stocks — both overall and expressed as a percentage of
usage — are expected to remain well above the levels of recent years through the 2007-08 marketing
year. Also reassuring, the International Cotton Advisory Council's latest production forecast puts
global ouput in the new marketing year just getting underway at or even slightly above that of the
previous 12-month period.

No Labor Cost Pressure Either


Wages, the other mill cost, haven't been causing any serious problems for US mills either.
This can best be appreciated by comparing the industry's current hourly wages with those reported
12 months ago. In the case of basic mills, the pay increase over the past year has only been
something in the order of 3.5 percent. And the comparable wage boosts are even smaller when it
comes to more highly fabricated textile mill products like home furnishings and carpets. Moreover,
those numbers tend to exaggerate the industry's costs because they are being offset by productivity
gains. Bottom line: Adjust for these efficiency gains, conservatively put at nearly 3 percent per
year, and you end up with basically flat unit labor costs — and that's the true measure of mill
payroll pressures.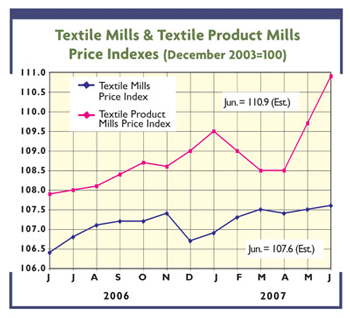 Overall Costs – Another Perspective


Further confirmation of the lack of any overall cost pressures comes from recent estimates of
combined material and labor cost totals — just released by economic consulting firm Global Insight.
Adjust these cost totals for the modest decline in domestic mill production activity that has
occurred over the 2006-07 period, and resulting material and labor cost outlays — now on a
unit-of-production basis — remain virtually unchanged from last year. And this encouraging trend is
likely to continue, with Global Insight analysts suggesting these costs on a unit basis might even
show a fractional decline in 2008.
In any event, this lack of any major mill cost pressure could be one reason why industry
earnings and margins — while by no means robust — still remain positive and, even more important,
pretty much unchanged from last year's levels.

The Economy Should Help, Too


Meantime, continuing gross domestic product (GDP) gains could put a floor under apparel
demand and hence overall textile mill operations. To be sure, these GDP increases have slowed down
a bit, but they'll still be fairly impressive, judging from a recent Wall Street Journal survey of
60 leading business economists. Their prediction: The economy should grow at an annualized rate of
2.6 percent in the July-December period — and at 2.9 percent in 2008. That's not much lower than
the 3.3-percent rate recorded for all of last year. Combine these projected increases with
continuing advances in worker take-home pay, and it's almost a sure bet consumer spending totals
will keep rising. More importantly, with auto sales likely to remain on the sluggish side, the new
projections would seem to assure still-strong consumer purchases of apparel and other software
items. Hence, our latest domestic apparel manufacturing estimate sees industry revenues rising to
nearly $38 billion this year — up more than 2 percent from 2006 levels.
---

August 7, 2007