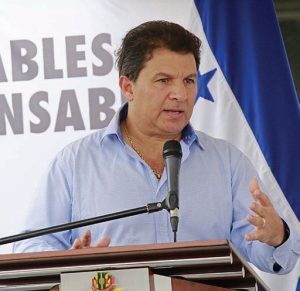 AAPN's Mike Todaro chats with Jesus Canahuati, general manager, Honduras-based Elcatex
By Mike Todaro
The Atlanta-based Americas Apparel Producers' Network (AAPN) is hosting the Apparel Summit of the Americas in San Pedro Sula, Honduras, November 27-29, 2018. This supply chain event will include a program of speakers and plenty of networking opportunities as well as tours of brand new state-of-the-art mills built to address the need for agile manufacturing.
Honduras has a country development program, known as Honduras 2020. This private sector initiative is complemented by the public sector and was developed to grow the country both socially and economically. Honduras 2020 focuses on six strategic areas of the economy, one of which is textiles and apparel. One of the goals for the textile sector is to increase annual exports to $7.4 billion and add 200,000 jobs to the country's existing 150,000 jobs by the year 2020. Another goal is to surpass Indonesia and Mexico to become the United States' fifth most important apparel provider.
Honduran textile companies are ramping up synthetics output in Honduras. One such company is Elcatex, a company dedicated to producing knit fabrics, cut parts and full-package programs. Founded in 1984, the 500,000-square-foot mill has a capacity of 2 million pounds per week. In addition to its textile manufacturing investments, Elcatex operates Latin America's largest above-ground photovoltaic generator that has a capacity of 7.5 megawatts, and also uses other forms of renewable energy including biomass.
Ahead of the Apparel Summit of the Americas in Honduras, AAPN's Mike Todaro chatted with Jesus Canahuati, general manager, Elcatex, about his company and the Honduras 2020 initiative.
Mike Todaro: Why are you working in this industry?
Jesus Canahuati: I was born into this industry. In 1959, my father, Juan Canahuati, and his wife traveled to the United States where they met the brand Lovable. That same year, he obtained the line's distribution rights in Honduras.
In 1965, he took the first step from distribution to actual production in what would become his own factory, Lovable of Honduras. Seeing the need for raw material within the country, in 1984 he created the company Elásticos Centroamericanos y Textiles, or ELCATEX.
I was born, raised and went to high school here in Honduras. I was fortunate to be accepted into the Georgia Institute of Technology in Atlanta where I earned my engineering degree in 1987. When I returned to Honduras, my father encouraged me to build a small textile company within Elcatex in order to supply the fabric needed in his sewing facilities.
Todaro: Can you name a person who has had a tremendous impact on you as a leader?
Canahuati: My father, of course. On a trip to Asia, he saw the need to make the industrial parks come true in Honduras.
In 1989, with the law of Industrial Processing Zones, he created the first industrial park in the country, Zip Choloma S.A. In 1990, he signed the contract and proceeded to build the fourth building of Zip Choloma, where the brand HBI remains to date. In 1992, ELCATEX moved to Choloma, where it currently produces 1.6 million pounds of fabric a week.
Todaro: How did you build your knowledge of the U.S. market?
Canahuati: Our customer base today includes highly recognized companies such as JC Penney, SanMar, Nordstrom, Dickies and HBI. We manufacture a range of products including basic T-shirts, underwear programs, fleece sweatshirts with hoods and zippers, and polo pique shirts for men, women and children. Honduras has grown into an epicenter of high-volume production of blanks and underwear for the giants of that market in the US. They arrived with a full package business model and we have learned from working beside them and supplying them for decades.
Today, Honduras has very impressive trade numbers:
Honduras apparel exports to the United States are up 13 percent in Jan 2018 over the last year, same period;
U.S. yarn exports to Honduras up 2 percent for 2017 over 2016;
Demand is way up, investor traffic robust; and
Sourcing volumes are increasing.
Todaro: How do you compete as a supply chain? What links of the chain are you involved in, or are collocated in-country?
Canahuati: We are able to produce full package programs today for polo shirts, t-shirts, briefs and boxers. We perform the knitting dyeing, finishing, printing, cutting, sewing, packaging and logistic entirely within our enterprise.
Just within Elcatex, we maintain 99 sewing lines producing 78,000 dozen garments per week. The input fabric comes from the 500 knitting machines we operate, producing 2 million pounds a week. Dyeing is done in our 43 dyeing machines.
Another example is Stretchline. We invested in this Sri Lanka-based company, which is the world's largest and only branded narrow fabric manufacturer. This 150-year-old company supports major fashion brands in eight countries on three continents. This gives Honduras true global brand power.
Todaro: What on-going investments are being made in your supply chain?
Canahuati: There are two answers to that question. First let me answer on behalf of our country. Our Honduras 2020 project seeks to generate 600,000 jobs and sharply boost exports by expanding and adding value to the key textiles, manufacturing, tourism, and business services sectors. The development plan was partly drafted by global consultant McKinsey. It is a country development program, which emerges as a transformational initiative from the private sector, being complemented and strengthened by the public sector in order to foster the socio-economic growth of our country.
The plan is completely comprehensive — public and private sector funding programs in education; housing; infrastructure; energy; construction; port expansion; everything. There is no national plan like it in this entire hemisphere.
Within the Elcatex enterprise, we are building a new $73 million synthetic yarn production plant we have named United Textiles of America (Unitexa) Co. Several of the largest textile groups in the region have joined forces to create this new synthetic yarn production plant that will add a capacity of more than 25,000 tons per year.
This will be the first production plant of its size and nature in Central America opening Honduras' doors to a new textile segment, attracting more specialized manufacturing industries, especially in activewear. The draw texturized yarn will then be used for the production of synthetic garments, sportswear, clothing resistant to stain, among others.
Because of the need for a greater specialization in the production of synthetic yarn, Unitexa will continuously seek to develop the personnel it employs, generating a total of 250 direct jobs and approximately 300 indirect jobs.
Todaro: In addition to your proximity to the United States, what are the other factors in your speed to market, such as front-end pre-production infrastructure through to production, logistics and transit times?
Canahuati: Many buyers are consolidating their accounts because of the recession. Our customers want to place their orders with fewer contractors to reduce manufacturing costs and still get good prices, fast delivery and great quality. This presents an interesting opportunity that Honduran textile companies can exploit because of other advantages the country offers.
Honduras' advantages are apparent when we compete with Pakistan and other Asian countries. In addition to proximity to the U.S. market, which reduces the time and cost of product delivery, Honduras offers competitive wages and just-in-time delivery, an inventory strategy technique much in demand these days. Orders placed for goods produced in Honduras take 12 weeks to reach U.S. stores, compared with four months for orders placed with companies in China and Pakistan. Honduran textile products account for almost 6 percent of the market share in the United States currently.
These advantages include:
Vertical integration;
Free trade agreements with the United States, Canada, European Union and the Central American region; and
Strategic location — only three days away from the most important ports in the southeast coast of the United States.
Todaro: How do you compete on costs?
Canahuati: We compete on costs by owning the costs. We've made significant investments in yarn spinning, textile facilities, apparel sewing plants, Industrial Free Zones, a biomass steam facility, hydroelectric facility, and thermal cogeneration plant.
Several years ago, we got a program out of the blue. A brand member of the AAPN contacted the organization for help bringing a high needle program back from Asia. We got that business.
After three months of production, AAPN asked the brand member how it was going. Their answer was that sourcing from Honduras was easier, better, faster and even cheaper because there was less product in the pipeline.
Todaro: How easy is it to do business with your company?
Canahuati: Elcatex started operations in 1984 with the objective of becoming an integrated textile center that would offer products of high quality to both national and international markets. Every step we made from the start was to get it right from the start. We invested, we studied, we partnered, we innovated and above all else we asked questions.
We're in the same time zone as our U.S. customers, we speak English and we were educated in the United States. Our values, cultures, management beliefs and leadership values are the same as those held in the United States. Since Honduras is one of the most bi-lingual nations in this hemisphere, we understand our suppliers, our customers and our industry.
Todaro: Give examples of leadership in social compliance and sustainability?
Canahuati: We are WRAP certified and also certified by Hohenstein as a company that fulfills the specific requirements for product class II of Oeko-Tex Standard 100.
We have from the start been innovative, which is why we are a pioneer in the region for energy generation thru renewable process, like the biomass and water recycling process better known as Dyeclean, an innovative process that helps to reduce water consumption by up to 80 percent and chemical consumption by up to 50 percent.
We were able to reduce 30,000 tons of carbon dioxide per year with the Biomass Steam Generation facility, which produces 30 tons of steam per hour. We have also been a key player on three hydroelectric projects with a capacity of 8 megawatts with a future expansion to 26 megawatts. Today, I am the CEO of two new companies — Honduran Green Power Corporation and Sula Valley Biogas — built to generate 43 megawatts of energy with biomass and 5 megawatts with biogas.
On the social front, we contribute to the social housing program of the Honduran government, with the project of building 2,000 houses, and plans to expand in the future. In fact, as you drive past our biomass energy plant on a new paved two-lane road, you quickly arrive at a development of 1,500 new houses. These are bought by our workers under very favorable terms.
My parents instilled in me a strong belief in social responsibility and community work. I have served on the Board of Directors of the Saint Vincent's Foundation for more than 23 years. This foundation manages various centers that protect the livelihood of orphans, youth, seniors, terminally ill patients and recovering alcoholics. Furthermore, the foundation provides education and physical health services to low income families through a school and a clinic.
Todaro: Where does Honduras stand in risk assessment?
Canahuati: Honduras is no different than the United States or any other country caught in the emotions of populism. Still, Honduras follows its rule of law. For example, during the presidential crisis on September 2009, when a former president attempted to take over his former office, the entire country — including the legislature, courts, government and even his own party — followed our laws.
The best way to stop migration and deter crime is work. Nothing stops a bullet like a job and Honduras 2020's goal is to create 600,000 jobs, 200,000 of them in our textile/ apparel sector. Clearly, we are well on our way.
Todaro: When it's all over, how do you want to be remembered?
Canahuati: My driving force is my family, having the complete support of my wife and our five lovely children. Professionally, I want to be known as a visionary who saw an opportunity and raised a commitment to be the best in this hemisphere.
I want to be known as someone who helped give a broad range of options to our customers, outperforming the competition in quality, technology, production and export of the same, and with better working conditions and quality of life for our staff.
In fact, every goal of Honduras 2020 is a goal of mine and our company.
---
Editor's Note: Mike Todaro is the managing director of the Atlanta-based Americas Apparel Producers' Network (AAPN). AAPN is a private sector, non-profit, members-only apparel industry business network of more than 600 company owners and senior executives from 200 companies across the apparel supply chain.
---
July/August 2018