TW Special Report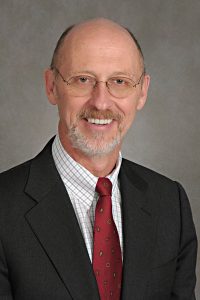 Dr. James A. Hayward has more than 20 years of experience in the biotechnology, pharmaceutical, life science and consumer product industries, and currently serves as president and CEO of Stony Brook, N.Y.-based Applied DNA Sciences — a provider of DNA-based supply chain, anti-counterfeiting, authentication, genotyping and anti-theft technologies. Hayward is involved in the global effort to help assure quality and authenticity of products and protect global supply chains from mislabeling, counterfeiting and diversion. He received his Ph.D. in molecular biology from the State University of New York at Stony Brook.
Textile World: You have unique methods to determine species and the origin of cotton as well as other textiles—fiberTyping® and SigNature® T DNA. Can you explain the difference?
Hayward: Recently, one of the world's largest cotton manufacturers, located in India, has been accused by a U.S. retailer of mislabeling products as 100-percent Egyptian Cotton.
Subsequently, a number of cotton retailers have launched formal audits of their products obtained from the same manufacturer, which now admits "a failure" about "the provenance of the fibre (sic)." Applied DNA Sciences had previously warned that brands and consumers seriously question Egyptian textile claims. In prior surveys, Applied DNA Sciences examined the genetic content of retail products labeled 100-percent Egyptian or 100-percent Pima cotton using fiberTyping — a patented DNA test to determine if a product contains Gossypium barbadense DNA — extra long staple (ELS) cotton — Gossypium hirsutum DNA — Upland cotton — or a blend of both. It is a powerful tool to help the cotton industry ensure that products that are labeled as 100-percent ELS or 100-percent Pima are compliant with label claims. FiberTyping can help diagnose if a product is blended or contains upland cotton, when it should be 100-percent Pima, but it cannot tell you exactly where it came from — such as that it was grown in the United States, for example — and by the time you test a finished product and find out it's not pure, it's too late to do anything about it. So the only workable solution is to tag the product itself at the source.
Trademarked as SigNature T for textiles, the core technology uses a unique molecular tag that tags cotton fibers en masse in the gin that are subsequently checked at every step of the supply chain as it is made into yarn, fabric and finished goods. In addition to SigNature T, all cotton is fiberTyped, which quantifies the native DNA within cotton fibers by species prior to ginning to ensure the original cotton species is present. It can be authenticated anywhere within the supply chain, allowing for traceability from land to brand.
A unique, uncopyable signature can be provided to each customer, batch or even lot. It is designed to have no impact on the quality or performance of the textile being marked and easily integrates with existing manufacturing processes.
TW: How do you effectively prevent blending from occurring in the supply chain for textiles? How pervasive is this problem?
Hayward: We conducted two studies across an array of goods in both home textiles and apparel. The studies showed that more than 80 percent of the items claiming to be 100-percent Pima were not.
The problem is pervasive and the industry is starting to address the issue. I believe the most effective method of preventing mislabeling in the textile industry involves being able to track and trace a specific type of material at any point along the supply chain. In the case of Pima cotton, the use of a forensic identity tag has been very effective in ensuring products labeled as 100 percent Pima.
As shown in Figure 1, once SigNature T DNA tagging was implemented — including the strict storage and labeling protocols, along with inspections and frequent DNA testing — the level of DNA compliance rose quickly to 100 percent. Data were obtained by APDN from commercial samples.
What the tag does is nothing short of amazing. It provides a means for the consumer to know where their "stuff" comes from with proof, and it turns out the grower can also know who is buying their product. In addition, tagging gives the opportunity for everyone in the supply chain to receive a fair return for producing a quality product. The certainty that is provided to the supply chain translates to a more transparent and trusted supply chain.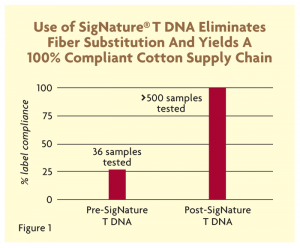 TW: What advantages does using DNA have?
Hayward: Our botanical-based SigNature DNA platform is proven at the highest levels because of our programs with government, law enforcement agencies as well as commercial partners in textiles, microelectronics, pharmaceuticals, to name a few partners. We have patented and proprietary systems to create an infinite quantity of unique DNA tags that cannot be copied. Some might claim they have ways to mark items; however, they are often not unique, can easily be replicated and are generally not secure.
The strength of SigNature DNA resides with the ability to be stable and compatible in a wide range of chemistries. For our crime prevention applications where stolen cash is marked with an indelible DNA-ink, we can provide forensic evidence that links the crime to the criminal right down to the date, time and location of where the cash was stolen. For textiles, we have subjected our DNA to different temperatures, pH levels, surfaces and are able to authenticate our SigNature T DNA tag from raw fiber to dyed yarns and fabrics and finished goods.
TW: While working with some of your clients, what kind of conclusions have you found as far as their product quality? Were many of the products you tested true to their label claims?
Hayward: When it comes to quality, the answer is this: if you have great raw materials or ingredients to start with, by tagging it at the source, you are protected with the knowledge that everything is now traceable to the original material.
Unfortunately, many supply chain and sourcing systems rely too heavily on a paper trail to prove origin. In the past, consistency in product quality and performance was the primary objective to sourcing, but today solutions that address traceability and proof of origin are critical to ensure quality, authenticity and sustainability within supply chains. A great example is our partnership with Techmer PM, a polymer additive and master batch colorant manufacturer. Its products are trusted and relied on by top designers and brands in the athleisure industry. Working in collaboration with Techmer, we were able to successfully SigNature T tag nylon master batch resins and authenticate the samples as they were extruded and made into finished product.
TW: Over the past year, you have seen a rapid increase in your textile/apparel sector, with shipments of millions of pounds of cotton. What's next for the company?
Hayward: The certainty that our forensic solutions offer to supply chains extends beyond cotton to wool, cashmere, synthetics and for consumer goods as well as industrial applications. We also have seen an uptick in interest to protect specialty fabric coatings that have specific performance claims. Our clients are interested in product differentiation through innovation and this is where our technological expertise in working with different chemistries and substrates is most sought after. As we often say, certainty is only a molecule away.
November/December 2016