AMD Introduces Moving Spool Winder
Alternate Mechanical Drives (AMD), an Atlanta-based industrial original equipment manufacturer, has introduced a moving spool winder suitable for spooling flat materials such as lace, ribbon, tape and others that might twist when traversed onto a spool.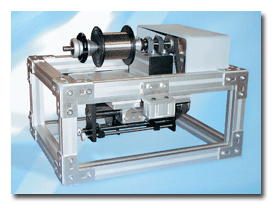 According to Tom Dahl, AMD's president, the winder uses a rolling ring traverse from Aston, Pa.-based Amacoil Inc. to move the spool back and forth on the carriage, allowing layers to build up smoothly and evenly across the core. This method eliminates lateral stress and pulling, and minimizes waste and production stoppages.
AMD can build winders to suit specific requirements. Options and accessories are available to optimize machine efficiency and function.


October 2004
Advertisement