Set For Success
Based on demand for quality wool yarns, Amtex opens custom spinning plant serving world market.
Virginia S. Borland, New York Correspondent
Spinning TrendsBy Virginia S. Borland, New York Correspondent Set For Success Based on demand for quality wool yarns, Amtex opens custom spinning plant serving world market. S ince its inception in January 2001, Amtex (Yarn) Manufacturing Inc., Mississauga, Ontario, has been running at near capacity, with an annual production of 1.5 million pounds of wool yarn. In a world market where global suppliers of innovative products that offer quality and service to niche markets are the leaders, Amtexs future looks bright.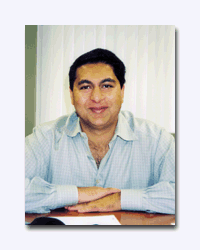 Zein Dawood, president, built the new facility because of an increasing demand for quality wool yarns for the sock, sweater and weaving industries. Until he started this new venture, Dawood worked with his father, Yakub Dawood, at Dawtex Industries, also located in Mississauga. Both companies are family- owned. Dawtex produces acrylic and cotton/acrylic yarns. We wanted to separate the wool and acrylic processing because we did not want to run into problems with contamination due to acrylic fly, Dawood said.Amtex purchases natural, solid- dyed and heathered wool top from world markets and sells coarse to ultra-fine-spun yarns to knitters and weavers around the world. Heavy-count wool for socks comes from the United States, extra-superfine merino from New Zealand and Australia. Most of the wool top is dyed in the United Kingdom. Amtex spins single- to five-ply yarns.Amtex is a wool licensee for Total Easy Care®. Along with wool, the company spins blends. Alpaca, cashmere, silk, nylon, polyester and Lycra® are in current production. Wool/polyester blends are going into thermal underwear, wool/polypropylene is for socks, and a blend of lambs wool and alpaca is going into upland hunting socks manufactured by the Columbia Sportswear Co.®Merino wool/silk twisted with Outlast® microthermal fiber is being spun for ski socks. Amtex has a five-year contract to produce merino wool sock yarns for Smartwool, Steamboat Springs, Colo. Wool/nylon is being spun for McGregor Hosiery, Toronto.Currently, 80 percent of production is going into socks, 15 percent is for sweaters, and 5 percent is going to the weaving trade. We have the equipment to weave ultra-fine- count yarns, especially yarns for the suit market, Dawood said. A small amount of yarn is sold to the home furnishings market.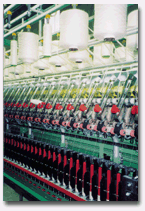 We think of ourselves as a custom spinner, said Dawood. We run a basic range with 30 colors in stock. Most of our yarns are dyed and spun exclusively for each customer. We work as their partner, developing the right yarns and colors for them. We can match a color in two weeks and deliver a sample yarn two weeks after a color is approved. We are flexible and offer colored yarns in any grade of yarn or fiber content.The Amtex mill is a ring-spinning operation on the worsted system, using the latest state-of-the-art equipment. The company has Suessen EliTe® spinning frames that can make compact yarns. Suessen EliTe-spun yarns are less hairy than conventional yarns, Dawood explained. They are softer and stronger. We are the only spinner in North America with this equipment.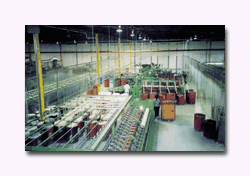 The newest winding and finishing machines are in place as well. Along with conventional Cognetex equipment, Amtex has purchased Savio Orion and Obem equipment to wind, set and relax yarns.Touch this sweater, said Dawood. It has the look and feel of a cashmere blend, but it is 100-percent merino spun on our Suessen EliTe equipment. We are able to offer a better product at the same price. The EliTe equipment originally was developed for spinning cotton. It has been modified for long-staple fibers. From fiber to yarn, Amtex runs stringent testing. Our plant manager and quality-control personnel are highly technical and have a long history in the textile market in regard to the spinning of merino wool, Dawood said.When the fiber first comes into the mill, we test the fiber for oil content, color and quality. We test throughout the entire process. We have Uster Tester 3 equipment to analyze the yarn for hairiness, strength, thickness, moisture, among other factors. We have Uster Classimat equipment to check that the yarn is setting properly on winders. Our final tests are of the finished cones.Amtex was built to be versatile, flexible and efficient. We have room for expansion, Dawood explained. We can increase our production to 5 million pounds. It is our intent to constantly update and improve. We are constantly looking at new technologies and equipment. We want to produce the most innovative and highest-quality yarns in the market.In the United States, Amtex yarns are available through MS Sales Co. Inc., Commerce, Calif.; and Pembroke Textile Associates, Greensboro, N.C.
March 2002
Advertisement