T

he National Textile Association (NTA) has given US government officials a detailed white
paper outlining piracy of design and copyright problems the textile industry is facing. The
information, which was requested by trade officials at the US Department of Commerce and the
Customs Service, outlines nearly a dozen recommendations for combating the problem.
A survey of more than 200 textile companies shows problems with knock-off patterns, designs
and trademarks are widespread, as more than half of the companies responding said they have
experienced "some" or "a lot" of theft. These companies reported overseas manufacturers have
profitable, ongoing businesses that continually violate their intellectual property rights (IPRs).
The Department of Commerce recently estimated IPR violations cost US textile manufacturers $100
million annually.
The white paper also says countries where piracy is taking place pay little or no attention
to the problem because trade is lucrative business. While the subject is likely to be addressed in
the World Trade Organization (WTO) negotiations currently underway in Geneva, and all of the major
textile associations have urged the US government to press for more IPR protection, there is not
much hope that other countries will be interested in doing anything about it.
In calling for action on the problem, the NTA paper says, "[O]ne of the few edges we have
left is our intellectual property, and foreigners are trying to steal that." NTA says because so
many countries are anxious to have greater access to the US textile market, trade negotiators need
to impose "fundamental standards" of IPR protection as part of any future trade agreements.
Some of the textile industry's recommendations will require legislation, but others call for
actions that can be taken under existing laws and regulations. NTA says, for example, the US
Customs Service must become more diligent and devote more resources to seizing illegal shipments,
and it suggests that customs agents become more involved in trade shows, where many violations are
uncovered in the early stages. One problem with these suggestions is that the Customs Service has
been forced to devote more and more of its resources to helping with homeland security.
NTA also calls on Congress to pass new laws strengthening penalties for violations,
including criminal penalties. Noting that other countries make extensive use of non-tariff barriers
to address trade problems, NTA says the US government should consider a non-tariff barrier of its
own and require all fabric imports to be accompanied by a form stating that the product does not
embody a copyright infringement. The report also recommends a stepped-up education program in the
United States and abroad to highlight violations including greater use and publicity for "sting"
operations — unannounced raids on suspected offenders.
Customs and Commerce Department officials are circulating the white paper throughout their
organizations to see what can be done.

FTAA Has Big Problems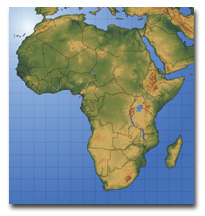 The Bush administration's ambitious plan to create a Free Trade Area of the
Americas (FTAA) faces many problems, not only where textiles are concerned, but also with other
industries and agriculture. US Trade Representative Robert B. Zoellick made a bold move to
jump-start negotiations by making an offer to 34 countries to eliminate 65 percent of US industrial
and consumer goods tariffs and non-tariff barriers immediately upon completion of an agreement, and
the remainder by 2015. In the case of textiles and apparel, he offered to move even faster — to
zero tariffs in just five years. In both cases other nations would have to reciprocate.
It's difficult to ferret out just how this ambitious plan in the end will dovetail with
other free trade agreements in the Western Hemisphere, and what it will mean for textiles. The
United States already has preferential trade agreements under the North American Free Trade
Agreement (NAFTA), the Caribbean Basin Trade Partnership Act (CBTPA) and the proposed Central
American Free Trade Agreement (CAFTA). In each of these cases, there is a yarn-forward country of
origin rule that generally satisfies the US textile industry, although the industry is not pleased
with the Tariff Preference Levels (TPLs) that permit imports from non-participating countries up to
specified levels. The US textile industry will press for the same rule of origin in the FTAA
agreement, with no TPLs, although US importers of apparel insist they need them in order to have
adequate sources of supply.
Zoellick says FTAA is designed to mesh with these other agreements, but no one is quite sure
how or if that can be done. There are wide disparities in the size and economic development of FTAA
countries. For one thing, FTAA involves much larger countries that have issues other than those in
the countries involved in the other preferential trade agreements. Brazil, for example, has high
tariffs and non-tariff barriers of major concern to US textile manufacturers, and it, in turn, has
serious concerns about US barriers to agricultural imports such as sugar. Zoellick recognizes this,
but at this point says negotiators will tackle the easy problems first and then approach more
sensitive issues such as sugar and other agricultural commodities "at different speeds."

Textile Research

Funding Survives Budget Cuts


Despite budget cuts in many areas for the current fiscal year, federal funding for textile
research projects at the National Textile Center (NTC) and the Textile/Clothing Technology Center
([TC]2) will remain at the same level as last year.
Due to a five-month budget impasse, funding for the current fiscal year, which started last
October, was not approved until February. When Congress finally got around to approving this fiscal
year's expenditures, which are designed to improve the competitiveness of the US textile and
apparel industries, NTC was granted $10 million and [TC]2 $3 million. This means that the research
centers can continue to move forward on projects in a number of areas.
Research at the eight colleges that comprise NTC is centered in four areas — chemicals,
materials, fabrication and management systems. Some of the work in these areas will support the new
homeland security efforts, as scientists are looking at fabrics and fibers that are resistant to
chemicals. In addition, researchers are working on innovative ways to improve fabric and fiber "
functionality," and they are studying the chemistry of new dyeing and finishing processes. Textile
companies participating in the selection and management of projects at NTC are at an all-time high
of 41.
[TC]2 is working on both textile and apparel projects. Some of the most promising areas
involve changes in the way patterns are created and how they can be revised to require less labor
in the production of clothing. Research shows that human body measurements used in creating sizes
and styles have changed and must be updated. This is part of [TC]2's Size USA project. In addition,
researchers at the center are working on ways to improve quality control and to reduce or eliminate
production problems.
April 2003