T

he array of stretch fibers has expanded to include a new product from Dow Fiber Solutions
(DFS), Midland, Mich., a new business within The Dow Chemical Co.'s Polyolefins and Elastomers
portfolio. DFS has introduced DOW XLA™, a cross-linked elastic polyolefin fiber preliminarily
designated by the Federal Trade Commission as "lastol," a new subclass of olefin fiber. Branded as
The Freedom Fiber™, XLA provides low-elongation stretch to woven fabrics.
DFS has engaged several development partners worldwide to produce the fiber and create new
products. In the United States, spinner R.L. Stowe Mills Inc., Belmont, N.C., is adding it to
cotton and cotton/polyester corespun yarns.
Dan River Inc., Danville, Va., has woven a cotton chambray shirting fabric and is developing
other stretch fabrics using XLA.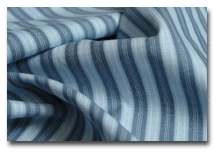 Shirting fabrics are one targeted end-use for DOW XLA™.

Pictured above is a XLA stretch fabric from French weaver Emanuel Lang.
DFS developed XLA using Dow's polyolefin INSITE™ technology, by which resins can be designed
at the molecular level to offer superior mechanical performance for specific applications. The
combination of catalyst and process capabilities enables development of new polymers for these
applications. For XLA, performance requirements included heat and chemical resistance in an elastic
fiber. These properties make it practical for use with cotton and polyester, which often are
processed under extreme conditions.
"XLA is basically inert to chlorine and caustic," said Mike Slocumb, vice president of
marketing, R.L. Stowe. "This is particularly significant in processing denim. If a denim
manufacturer wants to distress the fabric, the process won't degrade the XLA fiber."
Slocumb said the fiber's heat tolerance to greater than 220°C makes it suitable for
piece-dyed bottomweight fabrics, such as khaki or poplin, that are thermosol-dyed.
XLA offers comfort stretch rather than power stretch. Slocumb doesn't see it replacing
spandex, but rather opening up new stretch woven applications, such as workwear. "It provides just
enough give for comfort, and it withstands industrial laundering conditions," he said.
Linwood Wright, vice president of quality and development, Dan River, concurs. "We've got
the potential to do some things with stretch that we've not been able to do with spandex — for
different uses of fabric, different styling techniques," he said. "For example, I think we'll be
able to yarn-dye XLA. And with chambray, we can give it a heavy bleach and get the whole plethora
of indigo looks, while maintaining the stretch and recovery. Also, there's very little, if any,
elasticity if it's properly conditioned prior to weaving, so it's easy to handle at the loom."
Dan River is actively pursuing adding stretch to its "identity" yarn-dyed oxford cloth,
chambray and lightweight denim shirting for uniforms. "We are also looking to put it into
polyester-rich fabrics for uniforms," said Wright. He anticipates seeing men's and women's apparel
containing XLA in retail stores by Fall 2003.
---
For more information about DOW XLA™, contact Dow Fiber Solutions (800) 441-4369;
www.dowxla.com.
---
December 2002