PerformanceScrubs.com — a company of Nashville, Tenn.-based Performance HealthCare Products Inc., a designer and manufacturer of medical scrubs/uniforms and sleepwear, as well as sportswear — has invested $4 million to move its Cullman, Ala., manufacturing operations to a 50,000-square-foot, high-tech manufacturing facility in Florence, Ala. The company is offering all of its Cullman employees jobs at the new facility, and hopes to have at least 50 to 60 positions filled by the end of the year.

PerformanceScrubs.com designed a high-tech, on-demand manufacturing system at the facility that automates and integrates almost every component of the manufacturing process, from order entry through delivery, and allows for on-demand customization. According to the company, its proprietary workflows and complex software will enable it to manufacture millions of garments in any quantity on-demand while reducing inventory costs and streamlining the supply chain. While the facility initially will be focused on manufacturing scrubs and sleepwear, PerformanceScrubs.com says the factory model can produce any type of garment.

"We've spent years planning and designing our comprehensive system that has the potential to revolutionize how clothing is made," said J. Kirby Best, CEO, PerformanceScrubs.com. "The rich history of garment manufacturing in Florence/Muscle Shoals makes this the ideal location to launch a state-of-the-art facility. The overwhelming warm welcome by so many makes it feel like home — we are delighted to be here."

PerformanceScrubs.com's medical scrubs and sleepwear feature moisture-wicking, antimicrobial material and are resistant to wrinkles, stains and fading, the company reports. All of its garments, including components, are 100-percent Made in the USA.

The Florence facility is expected to begin operations in July.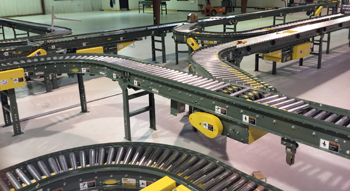 Conveyor lines are being installed at PerformanceScrub.com's Florence, Ala., facility, as part of its on-demand manufacturing process and systems.

June 17, 2014