WASHINGTON, N.C. — February 10, 2014 — The Board of National Spinning Co., Inc. has unanimously elected James (Jim) Booterbaugh President of National Spinning Co., Inc., effective immediately. Booterbaugh succeeds James (Jim) Chesnutt, who will retain the titles of Chief Executive Officer and Chairman of the Board.
In making the announcement, CEO James Chesnutt stated, "Jim has shown extraordinary talent and delivered strong results in his time with National Spinning. We could not have picked a candidate with a stronger track record of leadership, skill, and industry knowledge." Chesnutt added, "Jim will help us continue to support our core businesses while responding to new opportunities and challenges."
Booterbaugh, familiarly known to many as "Boot," has been with National Spinning since 2004. His most recent position was Chief Operating Officer. Additionally, he serves as corporate Secretary.
Prior to joining National, Booterbaugh worked at Harriet & Henderson Yarns, The Institute of Textile Technology, and Milliken & Company. He holds a BS from Virginia Tech and an MS from the Institute of Textile Technology.
Booterbaugh is a former President and Chairman of the Southern Textile Association, and has served as advisory board member for the North Carolina Textile Technology Center. He currently sits as industry advisory board member for the TATM Department at North Carolina State University.
Booterbaugh resides in Chapel Hill, NC with wife Ann and son Grant. Their two daughters Maggie and Hayley attend university in North Carolina.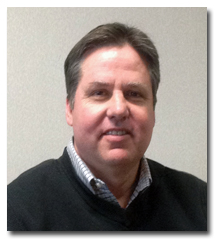 Booterbaugh
Posted February 14, 2014
Source: National Spinning