Burlington, Greensboro, N.C., a division of International Textile Group Inc. (ITG), recently celebrated its 90th anniversary. The company was founded in 1923 by J. Spencer Love, who had purchased his uncle's textile mill in Gastonia, N.C., and moved the machinery and equipment to Burlington, N.C. The company first produced cotton fabrics and later, rayon fabrics, soon becoming the leading rayon fabrics producer in the United States.
Burlington expanded by acquiring and reopening shuttered textile mills. It moved its headquarters to Greensboro in 1935, and by 1936, it operated 22 plants and had revenues totaling $25 million. It was listed on the New York Stock Exchange in 1937. During World War II, it produced military textiles and developed parachute cloth made with nylon, which was invented in the 1930s and was used in place of silk and rayon.
After the war ended, Burlington continued to grow and also to develop nylon fabrics for apparel, furniture, home furnishings, hosiery, industrial and specialty applications. By 1973, it operated 169 plants globally and employed 88,000 workers. However, an influx of imports stymied its growth, and it turned its attention to product specialization and plant modernization, and implemented more efficient processes to enable it to compete in a global market.
In 1987, Burlington defeated a hostile takeover attempt, and subsequently downsized and became a private company. By 1992, it re-emerged as a public company, but continued import challenges and incurred debts forced it to restructure in 2003. At that time, it was acquired by WL Ross & Co. and made a part of ITG.
Today, Burlington has eight production sites in the U.S., Mexico and China; and specializes in technical fabrics for outdoor active, casual, military and uniform apparel; as well as for automotive, barrier, fire protection and contract hospitality applications. The Burlington Labs division was founded in 2006 as a R&D center and knowledge bank.
"Burlington's successes came from its innovations with new products, new machinery, and new branding strategies, and we congratulate the men and women of Burlington, both today and generations before us, for their contributions to this great brand," said Joseph L. Gorga, CEO, ITG.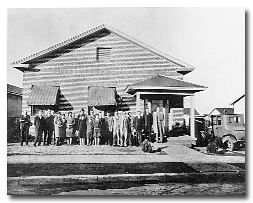 Burlington employees pose in front of Pioneer Plant, Burlington's first plant, in the 1920s. At the far right is founder J. Spencer Love.

January/February 2014