Glen Raven Inc., Glen Raven, N.C., has promoted Glen Raven Custom Fabrics LLC President Leib Oehmig
to corporate COO as part of its long-range strategy to bolster its global operations. In his new
position, Oehmig will work with Glen Raven President and CEO Allen E. Gant Jr. and the company's
Executive Committee to establish strategies including a leadership succession plan under which
Oehmig will become president and CEO upon Gant's retirement in four years. At that time, Gant will
continue as chairman of the company's Board of Directors.
Gant joined Glen Raven in 1971 and became president and CEO in 1999. He represents the third
generation of his family to lead the company, which was founded in 1880 as Altamahaw Mills. Under
his leadership, Glen Raven has expanded into Europe, Asia and South America; and its Sunbrella® and
Dickson® fabric brands have become well-established in the outdoor furniture, marine and awning
sectors.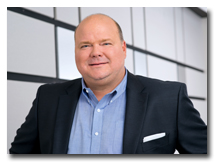 Leib Oehmig
Oehmig joined Glen Raven in 1989. He helped plan and build the company's Sunbrella
manufacturing facility in Anderson, S.C., and served as the plant's site manager before his
promotion to president of Glen Raven Custom Fabrics in 2009. He will be the first non-family member
to serve as Glen Raven's president and CEO.
Dave Swers, current vice president and assistant general manager, Glen Raven Custom Fabrics,
has been promoted to president of the business unit.
November/December 2013