Goulston Technologies Inc., Monroe, N.C. — a formulator and manufacturer of spin finishes and other
specialty chemicals for man-made fiber, nonwovens and downstream production; and a wholly owned
subsidiary of Japan-based Takemoto Oil & Fat Co. Ltd. — broke ground this week on an expansion
of its manufacturing facility in Monroe. The company is investing $8 million to expand the building
and install additional state-of-the-art highly automated processing equipment that will enable the
company to extend both its capacity and its capabilities, and create seven to ten additional
manufacturing jobs.
"This investment will ensure our competitiveness, and create future opportunity and jobs as
well as expand our overall manufacturing capacity and capability," said Fred Edwards, Goulston's
president and COO, in remarks during the groundbreaking ceremony to guests that included
representatives of the City of Monroe, Union County and local economic development interests.
According to Edwards, the expansion represents the first significant investment the company
has made at the Monroe site in more than 20 years. He noted parallels in the wider U.S. textile and
textile-related industries, as companies invest in bringing manufacturing back to the United States
in a reversal of the offshoring trends of a few years back. "It's by no small chance that we're
having our groundbreaking in October, which is also Manufacturing Appreciation Month," he said.
"We're completely committed to manufacturing in the United States."

Goulston was established in 1937 in Monroe and was acquired by Takemoto in 1988. The Monroe
site, which currently comprises 250,000 square feet of manufacturing and warehouse space, is
Goulston's only manufacturing location. The company exports some 50 percent of its product to
customers in 40 countries worldwide.
The expansion is expected to be completed in the third or fourth quarter of 2014, and
production in the expanded area is projected to begin no later than November 2014.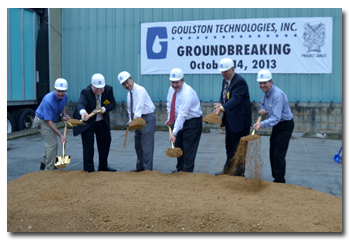 Members of the Goulston management team and local government officials break ground on
Goulston's $8 million expansion project (left to right): Goulston Maintenance & Engineering
Manager Bruce Robinson; Union County Commissioner Frank Aikmus; Goulston CEO Takahiko Yamashita;
Goulston President and CEO Fred Edwards; City of Monroe Mayor Bobby Kilgore; and Goulston Director
of Operations Dale Stoller.
October 15, 2013