Maylasia-based Ramatex Textiles Industrial has placed an order with Germany-based Saurer
Schlafhorst, a Saurer Group business unit, for compact ring spinning equipment. The order includes
eight Zinser 670 roving frames and a FlexFlow roving bobbin transport system, which will supply
50,400 spindles on a Zinser 351 Impact FX spinning machine featuring CoWeMat 395V. The spinning
frame will be linked directly to 30 Autoconer X5 machines. Ramatex also ordered a Plant Operation
Center to record production and quality data.
Ramatex is a fully vertical company with plants in Singapore, Malaysia, China and Cambodia.
The company will use yarns spun using the new equipment in its in-house knitting mills.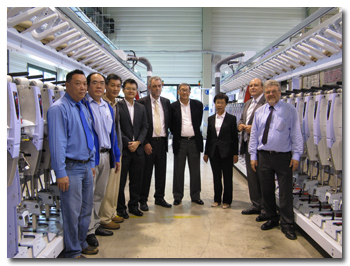 Ramatex Textiles Industrial employees meet with Schlafhorst employees on a recent visit to
Germany.

Left to right: Eng Soo Kuan (Ramatex), Cheo How Chai (Ramatex), Lock Wee Kiat (Ramatex),
Keith Ma (Ramatex), Henri Wiggers (Schlafhorst), Harry Fung (Schlafhorst Agency TAC), Nancy Sim
(Schlafhorst Agency TAC), René Bucken (Schlafhorst), Ralph Pascher-Roik (Schlafhorst)
August 13, 2013