Highland Industries Inc., a Greensboro, N.C.-based industrial and automotive textiles manufacturer,
recently celebrated the 50th anniversary of its Cheraw, S.C., manufacturing facility, which
includes fabric forming and aqueous finishing capabilities and is said to be the largest airbag
manufacturing facility worldwide. Festivities included a traditional southern barbeque that was
attended by employees, company leaders and community officials.
Highland Industries was founded in 1940 as Burlington Industries Industrial Fabrics Co., and
the Cheraw facility was built in 1961. In 1988, the company and the plant were acquired by Takata
Corp. — a Japan-based manufacturer of automotive safety systems including airbags, seat belts,
interior parts, electronics and other related products — and was renamed Highland Industries.
According to the company, the cooperative spirit of its employees and a commitment to innovation
and technological advances have helped it survive the challenges brought by lower-cost competition
in other countries. In addition, the leadership of Takata Corp., including Juichiro (Jim) Takada
and his son, President and COO Shigehisa Takada, has been very important to Highland Industries'
success.
"The personality of Cheraw is one to be held up and admired," said Shigehisa Takada in an
address to those attending the celebration. "Since I first came here nearly a quarter-century ago
when my father first purchased the facility, the consistent things I see are the people, some I
recognize still here today. The building and the machines have changed, but many of the people have
remained. This stable and dedicated workforce is a unique trait, and that togetherness and
commitment has helped to make you the success you have become. Combining individual pride with a
commitment to teamwork is a winning combination, and that is what Cheraw represents."
As part of the celebration, Cheraw Mayor Andy Ingram presented Takada with a key to the city
of Cheraw and declared April 10 to be officially recognized each year as Takata Day in Cheraw.
"This has been a tremendous day for all of us," said David Jackson, president and COO,
Highland Industries. "What made it extra special was we celebrated this milestone appropriately
with our company's corporate leaders in attendance — especially Mr. Shigehisa Takada. Plant
leadership, employees, and the community representatives have all worked together over the years to
make Cheraw a shining example of what can be accomplished through constant teamwork. It has been
said that in order to succeed, your desire for success should be greater than your fear of failure.
"We have had a very strong and dedicated team with tremendous leadership over the years who
are undaunted by challenges," Jackson continued. "That type of dedication is what has kept us
moving forward over the past half-century, and is what will drive us to the challenges of the next
50 years."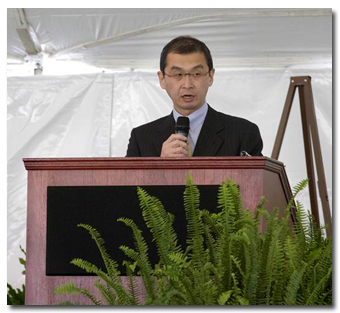 Takata Corp. President and COO Shigehisa Takada addresses attendees at Highland Industries'
Cheraw Plant's 50th anniversary celebration.


May 8, 2012