ATLANTA — April 24, 2012 — SABIC's Innovative Plastics business is showcasing here at Techtextil
North America (booth #1950) its broad, deep and growing portfolio of high-performance materials for
the technical textiles and nonwovens industries. These high-tech solutions, based on SABIC's
world-renowned Ultem*, Valox*, Lexan*, and Noryl* resins, greatly expand performance, processing
and aesthetic options for customer textile applications with properties ranging from outstanding
heat and chemical resistance and colorfastness to exceptional loft and light weight. The SABIC
materials also help customers comply with regulatory mandates, provide greater end-product
differentiation and give textile manufacturers, fiber converters and OEMs the ability to enhance
existing product lines and/or expand into new performance fiber and fabric markets. These
thermoplastic-based technologies further underscore SABIC's proactive approach to meeting the
changing needs of its customers and spotlight the company's role as a leading supplier to the
textile and fiber industries of some of the most advanced cutting-edge products on the market
today.
"Today's technical textiles and nonwovens applications range from filtration media to
aircraft interiors and are diverse, demanding, highly specialized, and rapidly evolving," said
Michael Gilbert, general manager, Innovative Plastics. "SABIC is helping to meet growing demand for
these products by focusing on the ever-changing needs of our customers in this space and meeting
their specific requirements by collaborating with them to develop new fiber technology solutions.
These solutions represent a significant value-add to an array of fabric systems and continue to
show how our resins provide customers with innovative, new options for product differentiation and
tailored performance."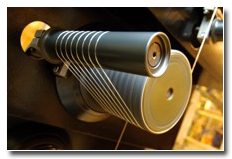 SABIC's Portfolio of High-performance Materials for the Textile and Nonwoven Industries
Include Fibers Using Their Ultem*, Valox*, Lexan* and Noryl* Resin Families


Multiple Solutions for Woven and Nonwoven Textiles



Ultem Fiber Based on Ultem Resin

SABIC's Ultem resin is an amorphous thermoplastic polyetherimide (PEI) resin that offers
outstanding elevated thermal resistance, high strength and stiffness, and broad chemical
resistance. This work-horse technology features its signature flame, smoke and toxicity (FST)
performance; Federal Aviation Regulations (FAR) 25.853 capability; and Ohio State University (OSU)
65/65 compliance.
Ultem fiber is based on Ultem resin and also provides these properties along with exceptional
light weight and excellent aesthetics for many flame retardant (FR) applications in aerospace, rail
and home fabrics – including carpets, kick panels, seating and wall coverings, curtains and bedding
materials. This fiber can also be used to create a variety of non-woven solutions for the
transportation industry, including insulation blankets, wicking felt, seat fire blockers and
cushions.
Woven fabrics incorporating Ultem fiber, such as those used in safety and protective
workwear, can be colored using conventional exhaust dyeing techniques, resulting in exceptional
colorfastness and resistance to ultraviolet (UV) light. For example, Japan Wool Textile Company, a
division of NIKKE Group, is blending Ultem fiber with wool and other materials to produce yarn,
fabrics and garments that offer a unique combination of comfort and protection, including
permanent, non-halogenated flame retardance and excellent UV resistance.
Fibers made from Ultem resin are softer and less abrasive than those made from conventional
aramids, giving converters better control over system costs by reducing the stress on textile
machinery. Plus, PEI fiber can be blended with other natural and synthetic fibers to provide OEMs
with an optimal balance of performance and economics.
Valox and Valox iQ* Resins and Fiber

The Valox family of thermoplastic polyester resins are semi-crystalline materials based on
polybutylene terephthalate (PBT) and/or polyethylene terephthalate (PET) polymers. Valox iQ resins
are created with PBT-based polymers derived from up to 60 percent post-consumer plastic waste to
promote environmental responsibility and require less energy and yield less carbon dioxide (CO2)
during manufacturing than traditional resins.
Valox resins enable soft yet resilient monofilaments, staple fibers and continuous filament
yarns for woven and nonwoven fabrics. Valox fiber, derived from Valox resin also provides excellent
dyeability and colorfastness, extremely favorable stretch and recovery when compared to PET resin,
and high chemical resistance. This fiber can be used to develop filtration fabrics, performance
apparel such as swimsuits, stretch fabrics and monofilaments.
Valox iQ 2205HV resin is used as a critical additive to textiles to provide improved
permanent stain resistance (vs. standard PET fiber) and strong, consistent color, and to maximize
post-consumer recycle content. Valox iQ 2205HV resin is also highly effective in dispersing pigment
throughout the polymer melt to produce consistent, vivid colors – what the flooring and carpet
industries call "color pop" – with lower loadings of expensive colorants.
Lexan Resin and Fiber

Lexan polycarbonate (PC) resin is an amorphous engineering thermoplastic characterized by
outstanding mechanical, optical, electrical and thermal properties. The Lexan portfolio provides
broad design versatility through its wide range of viscosities and product options such as:
environmentally conforming FR, scratch resistance, toughness, heat resistance, weatherability,
biocompatibility, optical quality, and compliance with stringent Food and Drug Administration (FDA)
and United States Pharmacopeial (USP) requirements.
As a fiber, with its inherent anti-static properties and excellent loft, Lexan resin can be
used in the development of filtration fabrics for industrial air filtration and automotive cabin
air filters.
Noryl Classico Resins as Fibers

The Noryl Classico family of modified polyphenylene ether (PPE) resins combine the inherent
benefits of PPE resin – high heat resistance, good electrical properties, excellent hydrolytic
stability and the ability to provide non-halogenated FR solutions – with excellent dimensional
stability, good processibility and low specific gravity.
Noryl Classico fibers offer a good balance of mechanical and chemical properties, and target
a wide variety of fiber applications where insulative and electrical properties are important, such
as filtration media, battery separators, electrical fabrics, industrial fabrics and
high-performance papers.
For additional information on SABIC resins for fiber and other textile applications, please
go to www.sabic-ip.com. For technical product inquiries, please contact us at
www.sabic-ip.com/prtechinquiry.

Posted on April 24, 2012
Source: SABIC