Luigi Omodeo Zorini, founder and president of Italy-based Costruzioni Meccaniche Zorini Comez, died
Dec. 24, 2010, at the age of 86.
Zorini was born May 25, 1924. In 1953, in partnership with his brother Mario, he founded
Comez as a producer of crochet machinery. Under his leadership, the company received more than 50
patents for innovative machinery to meet the demands of the market.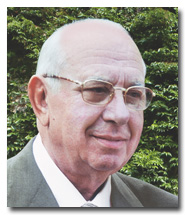 Luigi Omodeo Zorini


He received several awards from the Pavia Chamber of Commerce, recognizing his achievements
in foreign trade, his commitment to employment and economic progress, innovation, and excellence.
In 1976, Zorini was made a Commander of the Order of Merit of the Italian Republic, by Decree of
the President of the Republic. Other awards included Rotary International's Paul Harris Fellow
award; and, in recognition for his patents, an honorary degree in mechanical engineering from the
Universitas Internationalis Studiorum Superiorum Pro Deo, New York City.
Health problems had recently caused Zorini to limit his activities, and he appointed Dr.
Paolo Banfi to lead Comez as his successor.
January 25, 2011