Kurt Scholler, CEO of Charlotte-based American Truetzschler Inc., will retire at the end of this
year after 21 years of service to the U.S. subsidiary of Germany-based spinning and nonwovens
machinery manufacturer Trützschler GmbH & Co. KG.
Scholler, who earned a masters degree in business administration from the University of
Cologne, Germany, had been associated first with the Germany-based Bayer Group, which sent him to
the United States in 1970 to work for one of its subsidiaries in the areas of finance, accounting
and administration. Around 1981, he left Bayer to join Villeroy & Boch, where he had sales and
marketing responsibilities.
Scholler joined American Truetzschler in 1989, replacing Otto Beck, who had led the company
since it was founded in 1969. The two men worked together at the company for several years prior to
Beck's retirement in 1994.
"Originally, American Truetzschler was a three-man outfit that sold spinning preparation
equipment from bale opening through carding. Then we widened our product palette, adding draw
frames and getting into the nonwovens area," Scholler said, referring to Trützschler GmbH's
acqusition of nonwoven machinery manufacturers Erko and Fleissner in the mid-2000s. "We have been
trying to get quite a bit involved in the nonwovens industry because it's one industry that hasn't
been moved totally to China," he added. The company's focus today is not only on the manufacture of
machinery and equipment, but also on services it can provide to the industries it serves.
Despite the difficulties the U.S. textile industry has faced in recent years, American
Truetzschler has remained successful and now has 141 associates in two locations. "We've had some
difficult times to overcome. The last 10 years were not really a cakewalk, but it looks like
there's some light at the end of the tunnel," Scholler said.
Earlier this year, Trützschler acquired the U.S. business of Greer, S.C.-based textile
equipment supplier John D. Hollingsworth on Wheels Inc.. The company has expanded that operation,
which makes wire products, as well as its Charlotte operation, where it is expanding a production
building to provide additional card wire manufacturing capacity.
In addition to his responsibilities at American Truetzschler, Scholler has served in various
capacities with industry trade associations, including as chairman of the American Textile
Machinery Association from 2001 to 2003. Upon his retirement, he will continue his involvement with
American Truetzschler as a member of the Board of Directors and also will continue to be involved
with various industry associations.
Scholler will be succeeded in his leadership role at the company by Stefan Engel, vice
president finance and administration; and Detlef Jaekel, vice president sales, production and
service.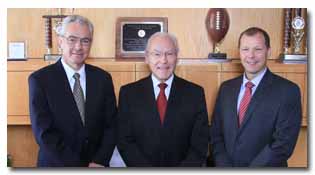 Left to right: Detlef Jaekel, Kurt Scholler and Stefan Engel




November 16, 2010