ZWEVEGEM, Belgium – Bekaert is continuously investing in new technologies that advance our
customers' competitive edge. One of our latest accomplishments that benefits the textile industry
is the production of the SiroLock® doffer and worker wire for non-woven and long staple roller
cards. This highly efficient card wire is provided with a unique step (figure 1) which brings fiber
control to a whole new level, improving both web quality and the productivity of the cards.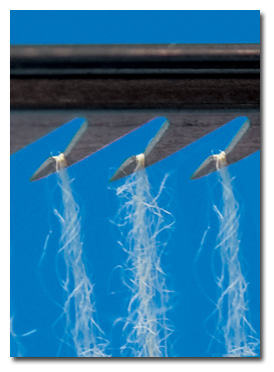 Figure 1: SiroLock® controls the fibers at the step at the front of the wire which enables
it to take more fibers than conventional wires.
A step up in fiber control
The concept of the SiroLock® wire was developed by Ken Atkinson of The Commonwealth
Scientific and Industrial Research Organisation of Australia (CSIRO) and executed by the technical
team of Bekaert .
SiroLock® performs best on workers and doffers of the breast section and of the main
cylinder. (As an example see roller 7, 5, 11, 13 and 15 of the card lay-out shown in figure 2). The
wire takes up to 50% more fibers compared to any conventional card wire (figure 3). As a results
there is less recycling of fibers on the cylinder, which leads to higher card productivity. Less
recycling causes less loading of the cylinder wire, meaning less cleaning time required of the
cylinder roller. In addition the improved fiber control leads to the reduction of fly, which
reduces the cost of the raw materials and leads to a more regular web. As SiroLock® wire also
creates higher carding spaces, it allows for wider settings and better blending which also
contributes to a higher web quality.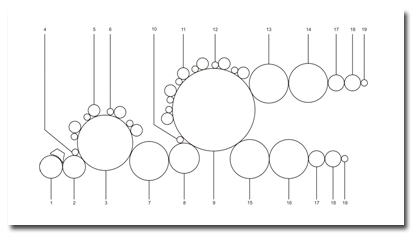 Figure 2: Example of a modern nonwoven card (Fiber flow from left to right hand side; 1:
feed roller, 2: lickerin, 3: breast roller, 4 & 10: fly stripper, 5: breast workers, 6: breast
strippers, 7: breast or intermediate doffer, 8: transfer roller, 9: main cylinder, 11: main
workers, 12: main strippers, 13 & 15: random rollers, 14 & 16: main doffers, 17 & 18:
condenser rollers, 19: take-off roller)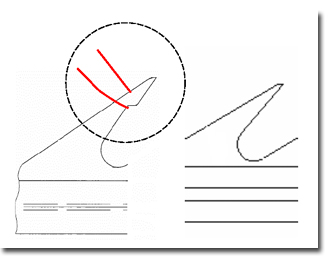 Figure 3: Sirolock® card wire (figure at the left) and conventional wire (figure at the
right)

Flexible processing of various fibers and blends
The first industrial results with SiroLock® in the non-woven industry have already shown very
positive improvements in both quality and productivity. This has also to do with the versatility of
the product: SiroLock® can be used to process a wide range of fibers and even special fibers and
blends like hollow fibers, siliconized fibers, aramid fibers (para- or meta-aramid), high
percentage of melt fibers and a broad range of fiber densities (dtex). One customer even uses
SiroLock® to card goat hairs in combination with 150 dtex uncrimped polypropylene. No other wire
was capable of handling coarse and uncrimped fibers, but SiroLock® managed the job perfectly.
SiroLock® in practice – crosslapping and direct way applications


• The benefits of SiroLock® in crosslapping applications – a few examples:
Sioen-Nordifa

Belgium
Application: technical needle felts, including filtration fabrics

Sioen-Nordifa is processing a wide range of fibers (polyester, viscose, acrylics, low melt
fibers…) and fiber densities (4 – 15 dtex). Sioen-Nordifa uses SiroLock® on workers and doffers
on a Thibeau Excelle card
Result:

• Improved web regularity and web appearance

• Even colors

• Improved web tensile strength

• Increased production of 20 to 40% (depending on fiber blends and final
product)

• Elimination of dust formation in the card thanks to the improved fiber
control and reduced fiber recycling on the cylinder.
Domo

Belgium
Application: needled carpets

Domo uses Thibeau and Spinnbau cards to process 3.3 – 15 dtex fibers. SiroLock® is mounted on
the workers and doffers of the breaker and the finisher cards.
Result:

• Increased production speeds of 20%

• Less fibers load on the card ⇨ Less card cleaning⇨ Reduced downtime
Elco Solutions Pty Ltd

Australia
Application: Needle punching
Elco Solutions is a producer of geotextiles and geosynthetic products for a wide range of
applications like highways, railroads, coastal protection, waste containment, mining and sports
field applications. While looking for a way to upgrade both productivity and the quality of their
products, Elco Solutions decided to mount V20 SiroLock® wire on their doffers. These were their
findings:
"Soon after installing SiroLock® we noticed that our productivity rates went up
dramati¬cally. Furthermore the quality of our products exceeded all expectations. Calculations
showed that at this rate of production the investment pay back was just three months. The
performance of SiroLock® is exceptional and we will continue to use this technology." – Mr. Brendan
Swifte, Chairman of Elco Solutions Pty Ltd
• The benefits of SiroLock® in direct way applications – a testimonial:
Textor Textile Technologies

Australia
Application: Spunlace production for wet wipes
"Initially we used the SiroLock® wire on the workers and over time this permitted a 30%
increase in capacity as well as an improvement in web picture. We have just installed a finer
version of the SiroLock® wire on a new card and the fiber pick up was so great that the stripper
wires now have to be upgraded. In our mill, we believe that SiroLock® will be a valuable tool to
increase productivity and web quality over the coming years. It is not a simple solution as there
is considerable card tuning necessary. It forces you to understand the science of carding. We are
producing web weights and qualities that are world class and at rates which increase each year.
Without SiroLock® we would not be in this position". – Mr. Phillip Butler Director of Textor
Textile Technologies
About Bekaert

Bekaert (www.bekaert.com) is a global technological leader in its two
core competences: advanced metal transformation and advanced materials and coatings, and a market
leader in drawn wire products and applications. Bekaert (Euronext Brussels: BEKB) is a global
company with headquarters in Belgium, employing 23 000 people worldwide. Serving customers in 120
countries, Bekaert pursues sustainable profitable growth in all its activities and generates annual
combined sales of € 3.3 billion.
Bekaert: the reliable partner for your card wire needs

Bekaert reinforces its status of independent and recognized leader in the card clothing
business through partnerships with textile machine builders and customers world wide. Thanks to our
technical know-how, our in-house developed machinery, our careful wire rod selection and our
thorough understanding of the drawing, shaping, punching and heat treatment processes we can create
a card wire that meets your expectations.
Posted on August 3, 2010
©2010 NV Bekaert SA