An investor group led by New York City-based WL Ross & Co. LLC has agreed to purchase the
assets of West Point, Ga.-based home textiles manufacturer WestPoint Stevens Inc. The group also
includes holders of a majority of the company's senior credit facility.
WestPoint Stevens filed for Chapter 11 bankruptcy protection in June 2003, and filed a
reorganization plan with the bankruptcy court in January 2005. It now also has filed an asset
purchase agreement as an alternative to that plan, according to Lorraine D. Miller, senior vice
president, finance and external communications, WestPoint Stevens. The agreement calls for
distribution of equity in the new company to holders of outstanding senior secured debt and a
rights offering to raise $207.5 million of equity capital. Among other details, the companys'
common stock would be cancelled with no payment, and the company would emerge from bankruptcy
debt-free.
The agreement also sets a closing date of no later than July 31, 2005. Ross's group is
positioned as the stalking horse in an open bidding process that must be approved by the bankruptcy
court. A $5 million breakup fee will be payable to the group if a higher bidder prevails. The
WestPoint Stevens acquisition would be WL Ross's third textile acquisition in the United States,
following purchases in late 2003 and early 2004 of Greensboro, N.C.-based Burlington Industries
Inc. and Cone Mills Corp., which were consolidated into the International Textile Group (ITG).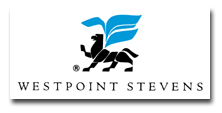 WestPoint Stevens' history mirrors the story of today's textile industry, in which
consolidation, acquisitions and mergers, and refocused manufacturing strategies have become
necessary in order to compete successfully in the current global market. The present company is
itself the product of mergers and acquisitions involving textile giants West Point Manufacturing
Co., Pepperell Manufacturing Co. and J.P. Stevens & Co. Inc. While West Point was formed in the
South just after the Civil War to bring economic opportunities to the region and foster competition
with Northern manufacturers, both Pepperell and J.P. Stevens were founded some years earlier in New
England and later built mills in the South, which offered lower labor and other costs. This
situation can be likened to the present-day shifting of manufacturing operations to and product
sourcing from lower-wage countries.
"We expect that WestPoint would expand its business and would supplement its highly efficient US
manufacturing with manufacturing in other lower-wage-cost countries," said Wilbur L. Ross,
chairman, WL Ross, commenting on his vision for the company's future. Asked whether the company
might one day be consolidated with ITG, he added, "[T]heres no obvious synergy between the two.
Each is a large enough company to be independent."
April 2005