Globaltex Inc., Davidson, N.C., has moved its entire production operation from Mexico to
Martinsville, Va., to take advantage of shortened lead times and proximity to its suppliers and
customers. Founded in 1994 as a manufacturer of chenille yarns for US upholstery fabric
manufacturers, the company benefited from the North American Free Trade Agreement (NAFTA) by using
US-supplied polypropylene, acrylic and polyester to produce the yarns in its factory in Mexico.
Early this year, it opened a facility in Martinsville, taking over a former VF Activewear plant
that had closed the previous year. Globaltex plans to invest more than $5.2 million in its
Martinsville operation over a 30-month period, ultimately employing 154 workers there. It also has
received more than $600,000 in government grants and job training funding.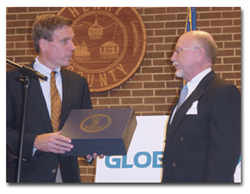 Governor Mark Warner (left) presents a Commonwealth of Virginia flag to Jose Antonio
Diaz-Llaneza.

"We have always bought our materials in the United States, and we are firm believers in NAFTA
because it works both ways," said Jose Antonio Diaz-Llaneza, president and CEO, Globaltex, "but
being closer to our suppliers and customers is a big advantage, and Virginia is a great place to do
business." He said the company's polypropylene supplier, Drake Extrusion, is located just two miles
from the new plant. "We have reduced our lead times from five weeks to three, and to just one week
if there's an emergency," he added.
"The availability of experienced textile workers from VF Activewear and Pillowtex [which went
out of business last year] also has helped us a great deal," he said, "as has all the help from the
Commonwealth of Virginia with training."
Diaz-Llaneza said Globaltex is proceeding on schedule with its US plan, and expects its
workforce to total more than 50 by early September. The plant in Mexico is now closed, and its
machinery and equipment are being installed at the Martinsville plant.

September 2004