Los Angeles (LA)-based global investment company Platinum Equity has agreed to acquire
Frankfurt-based textile dye manufacturer DyStar from its current owners: Germany-based BASF AG and
Bayer AG, and Hoechst AG – a Frankfurt-based subsidiary of France-based Aventis. Financial details
of the transaction, which is subject to regulatory approval, have not been disclosed.
"We are excited about the opportunity to acquire this business," said Tom T. Gores, chairman
and CEO, Platinum Equity. "DyStar is already a leader in the textile dye industry, with a
well-deserved reputation in servicing the textile and fashion industry. We have enormous confidence
in its future potential."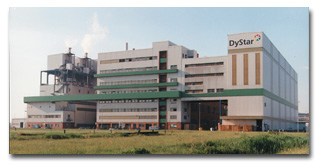 DyStar operates production facilities in six countries worldwide. Shown above is its plant
in Brunsbuttel, Germany.

Bayer and Hoechst established DyStar in 1995 and expanded the company with the inclusion of
BASF's textile dye business in 2000. In 2003, DyStar a global company with a workforce totaling
approximately 3,900 employees reported sales of approximately 800 million euros.

July 2004