Germany-based Degussa AG has begun production at a new polyether manufacturing plant at its
Hopewell, Va., site. The plant has an annual production capacity of 14,000 metric tons of
polyethers used in surfactants in products such as polyurethane foam, coatings and inks.
Over the past two years, Degussa has invested approximately $30 million in the Hopewell site,
part of its Goldschmidt Chemical Corp. subsidiary. The site employs 210 people, and the company
plans to add 25 more as a result of its recent investments.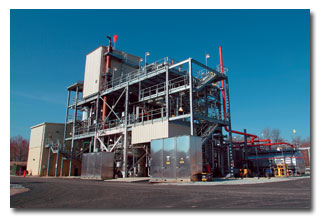 The new facility is the latest in a series of strategic investments at the Hopewell site,
said Utz-Hellmuth Felcht, Ph.D., chairman of Degussa's Management Board. "[W]e are now able to
offer our tailor-made system solutions to NAFTA [North American Free Trade Agreement] customers
more efficiently throughout North America."
Degussa's 2003 sales in the NAFTA region totaled approximately $3.1 billion, or 23 percent of
sales worldwide.

July 2004