Batson Group Inc., Greenville, has signed an exclusive agreement with Italy-based SMIT S.p.A. to
represent SMIT's entire line of weaving equipment, spare parts and service in the United States and
Canada. SMIT's products include the economical G6300 rapier weaving machine and its latest
generation, the GS900, as well as the G6300F terry weaving machine and the JS900 air-jet weaving
machine. The JS900, introduced at ITMA 2003, is built on a common platform, which allows for a
variety of configurations and, therefore, can be adapted to a variety of weaving situations,
according to SMIT.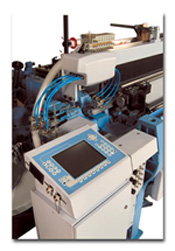 SMIT's JS900 features a terminal with a multilingual keyboard and display.



May 2004