During its annual briefing to Congress, the National Textile Center (NTC), Spring House, Pa.,
recognized US Rep. Barney Frank (D-Mass.) for his outstanding leadership and support.
NTC – a research consortium of eight core universities including Auburn, Clemson, Cornell,
The Georgia Institute of Technology, North Carolina State, Philadelphia, University of California
Davis and University of Massachusetts (U Mass) Dartmouth – is funded by a grant from the US
Department of Commerce. It has requested $13 million for fiscal year 2005 to allow it to increase
its interaction with industry experts and its emphasis on homeland security-related research.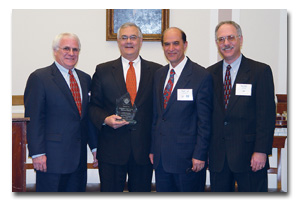 Left to right: Gerry Mauretti, president, Engineered Yarns Co.; Congressman Frank; Farhad
Azadivar, dean, U Mass Dartmouth College of Engineering; Martin Jacobs, executive director, NTC



April 2004