LaGrange, Ga.-based Milliken Carpet, Commercial Markets, has introduced TractionBack, a
high-friction coating applied to the backing on its modular carpet tiles. The coating allows the
tile to be installed without using wet glues or peel and stick adhesives. It is available on all
modular carpet products manufactured by Milliken.
"Carpets with TractionBack will not move on the floor, but can easily be removed to access
underfloor wiring and cabling, replace damaged tiles or change carpets to reconfigure the space,"
said Bill Gregory, director, new products and technologies.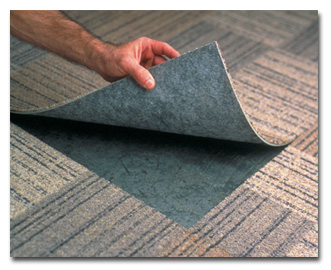 Milliken & Company's TractionBack high-friction coating

According to Milliken, by eliminating the adhesives, TractionBack reduces installation and
move-in time, and improves indoor air quality.
The Tucson Convention Center, Tucson, Ariz., and Pfizer Inc., Kalamazoo, Mich., are two
facilities Milliken selected for pilot programs to test the carpet. According to Gregory, the tiles
exhibited no movement under wheeled traffic or at transition points.
Milliken guarantees the backing will not react with old adhesives, and provides a Lifetime
Floor Compatibility Warranty on Carpets with TractionBack.

April 2004