Ludlow Textiles Co. Inc., founded in Ludlow, Mass., in 1868, has operated continuously for 135
years. In its early days, then-Ludlow Manufacturing Associates employed 5,000 people in 1.5 million
square feet of space and was known as the largest jute mill in the world. Prior to World War II, it
produced jute gunny sacks and grain bags; cotton baling, twine, webbing and yarn; and linen
threads. Ludlow came under its current ownership in 1983. Today, it operates out of one of the
original factory buildings as a state-of-the-art facility, manufacturing industrial cords, tapes,
threads, twines and yarns. The company was the first industrial thread manufacturer to achieve ISO
9001 registration for its entire process.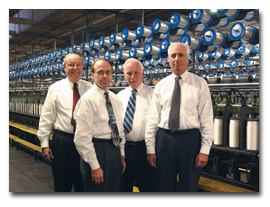 Left to right: Martin A. Lower, chairman and CEO; Mark J.Wandzilak, president; Edward T.
Stevenson, vice president, administration and international; and Joseph J. John Jr., executive vice
president, Ludlow Textiles Co. Inc.
Its research department is involved in improving and developing products made
with a wide range of man-made fibers that are braided, cabled, plied, twisted, coated, dyed or
otherwise processed to provide various performance attributes; as well as linen cords, threads and
yarns; and jute cord and webbing.Our long-standing philosophy of total product support has made
Ludlow the preferred supplier of twines, threads, cords, tapes and yarns to nearly 1,000 customers
worldwide, said Joseph J. John Jr., executive vice president. Our engineers often partner with
customers in research and development, and they really appreciate our willingness to go the extra
mile.
January 2004

January 2004