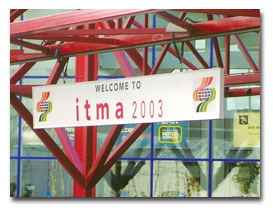 view ofITMA 2003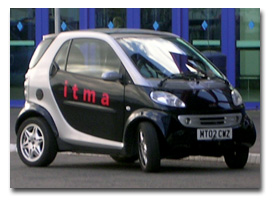 The opening days of ITMA 2003 exceeded the expectations of many exhibitors and attendees. The
14th edition of the international textile machinery exhibition initially was mired in conflicts
related to the shows move to Birmingham, England, and the withdrawal of several key exhibitors.
Expense and logistics were on the minds of exhibitors and visitors, but their concerns were
outweighed by the overall magnitude and international flavor of the event.Global textile machinery
producers and suppliers to the textile industry gathered at the National Exhibition Centre to
showcase their latest innovations to a reported 25,000 visitors on the first day of the event, and
a similar number of visitors on the second day. Reports from the show floor were generally
positive, with a number of exhibitors reporting sales of their latest technology. With 20 percent
of the visitors during the initial days coming from Asia and almost 10 percent reported from the
Middle East, the impression of continued investment in Turkey, India, Pakistan and throughout Asia
is extremely significant. One US textile executive voiced concern over the lack of US visitors and
the current climate for investment, given the crisis among US firms. However, US visitors were
present, and there were early indications of investments by US firms.As with other ITMAs, the show
floor covered a massive area. According to Marketing Birmingham, a visitor stopping at every stand
for an average time of 10 minutes would need 13 days to cover the show.ACIMIT, the Association of
Italian Textile Machinery Producers, reported 27,000 square meters of exhibition space were
dedicated to Italian firms an area comprising 25 percent of the exhibition floor space. Alberto M.
Sacchi, ACIMIT chairman, said, ITMA 2003 represents a chance to show that the Italian machinery
industry is able to compete internationally, thanks to characteristic qualities based on the
dedication and ability of management, and the high level of skill of the Italian workforce. The
Italian textile machinery base consists of approximately 350 companies employing 25,000 people and
manufacturing product worth more than 3.4 billion euros, with exports totaling 2.4 billion euros.
ACIMIT export figures for 2002 show an even distribution among spinning, weaving, knitting and
finishing machinery, but export areas tell the story. Forty-one percent of Italian textile
machinery exports were delivered to Asia, 19 percent to the European Union (EU), 16 percent to
Europe beyond the EU, 8 percent to Eastern Europe, 4 percent to Africa, 5 percent to Central and
South America, and 7 percent to North America.New ForumTitled New Frontiers In Textiles Moving
Markets and Strategic Innovations, the inaugural ITMA Forum added a new dimension to the
exhibition, offering opportunities to hear firsthand the challenges facing the global textile
industry. The first forum session, titled China, began with a keynote address by Minister Du
Yu-Zhou, president, China National Textile Industry Council, in which he outlined the progress of
the Chinese textile economy. The forum presented a heated debate with little room for achieving a
solution to the current crisis other than face-to-face communication of positions.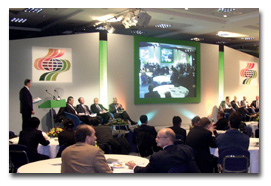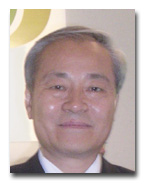 Offered for the first time, the ITMA Forum gave exhibitors and visitors a chance to discuss
issues affecting the industry. The first session, titled China (above left), featured a keynote
address by Minister Du Yu-Zhou (above right), president, China National Textile Industry
Council.Additional forums offered reflected the various aspects of change confronting the industry.
During the general assembly of the European Committee of Textile Machinery Manufacturers (CEMATEX),
owner of ITMA, Bernard Terrat, CEMATEX president, announced that the German Engineering Federation
(VDMA) Textile Machinery, will organize ITMA 2007, to be held in September of that year at the new
Munich fairgrounds. Heinrich Trutzschler, chairman of the German delegation, voiced his
appreciation for the unanimous support from the nine CEMATEX member associations. Comments among
exhibitors were positive, as many of the machinery companies are able to travel by car and truck to
Munich, and the location is easily accessible to the Turkish market, an industry hotspot. The
location also provides the opportunity for exhibitors to arrange local mill visits for clients who
attend the exhibition.The ITMA 2003 flash report presents images from the exhibition floor from the
opening days of the show. Future issues will spotlight technical information from the show,
highlighting the latest innovations by industry segment.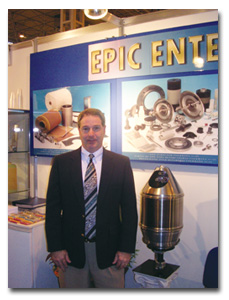 Mark Warren, international sales manager, Epic Enterprises Inc.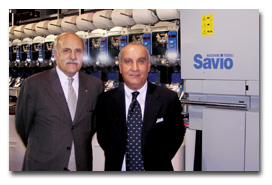 Rino Morani (left), member of the board; and Paolo Puntoni, marketing and overseas branches
manager, Savio Macchine Tessili S.p.A., with the FlexiRotorS3000.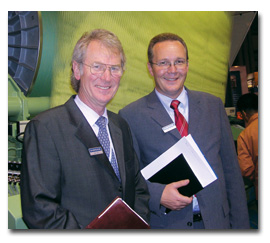 Egon Wirth (left), marketing communication manager, Lindauer Dornier GmbH; and Peter A.
Brust, executive vice president, American Dornier Machinery Corp., with Dorniers ATVF 8/J
ServoTerry® air-jet weaving machine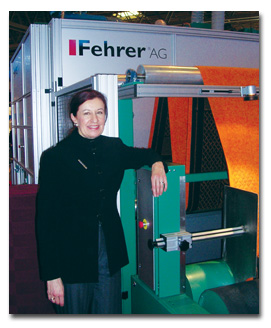 Mag. Monika Fehrer, president, Fehrer AG, with the the companys new CarpetStar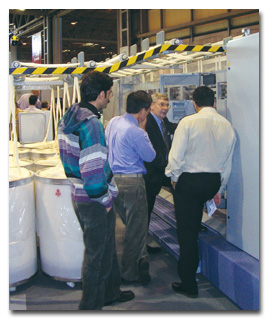 Jean-Pierre Caffin (third from left), area sales manager, NSC Fibre to Yarn, introduces the
FMV 42 vertical rubbing frame from N. SchlumbergerandCie.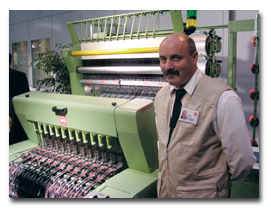 Walter Studer, textile technician, Leiter Textillabor, Jakob Muller Technologie AG, with
Mullers new Digital-Direkt Websystem MDL/C 12×30 machine.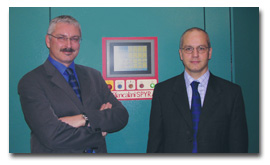 Rossano Biancalani (left) and Massimo Biancalani with Biancalanis Spyra® continuous tumbler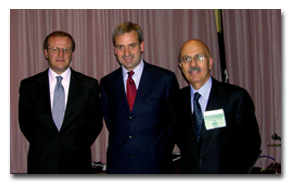 Italian Association of Textile Machinery Producers (ACIMIT) press conference hosts (left to
right) Guido Cerboni, Italian Embassy, London; Alberto M. Sacchi, ACIMIT chairman; and Giampaolo
Chiappini Carpena, Italian Trade Commission – London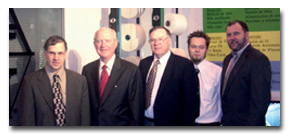 Appalachian Electronic Instruments Inc. sales team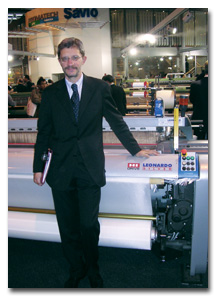 Fabio Mazzucchetti, commercial director, Promatech, is pictured with the Leonardo Silver
industrial fabric loom.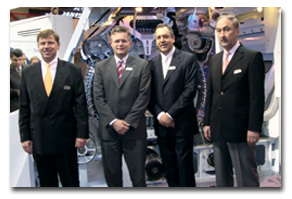 Left to Right: Dr. Michael Schurenkrr, managing director; Dr. Stefan Schlichter, head of
design and development; Heinrich Trutzschler, managing director; and Lutz Trutzschler, sales
director, Trutzschler GmbHandCo., proudly unveiled the new TC03 card the first day of the show.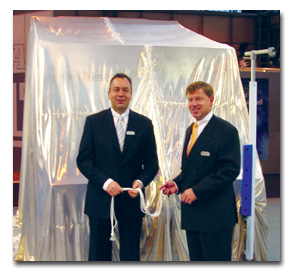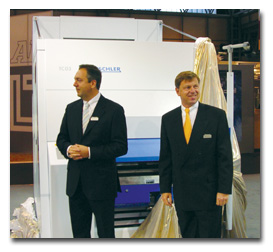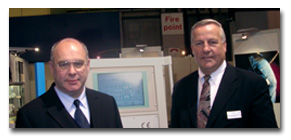 Dipl.-Ing. Johann Philipp Dilo (left), general manager, Dilo Maschinensystem GmbH, and Klaus
G. Maitre, executive vice president, Dilo Inc., in front of the Di-Loom HyperPunch DBF, VE2 machine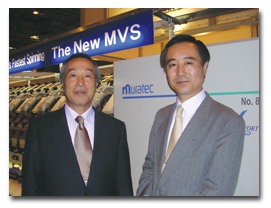 Junichi Murata (left), chairman, and Daisuke Murata, president and CEO, Murata Machinery Ltd.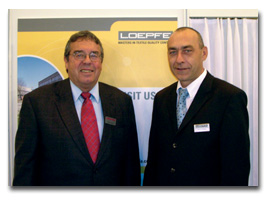 Claude Draper (left), regional sales manager, Symtech Inc., and Werner Schler, Loepfe
Brothers Ltd.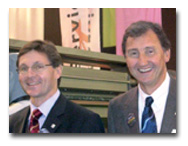 Erich W. Broker, Ph.D. (left), president and CEO, Eduard Kusters Maschinenfabrik GmbHandCo.
KG; and Halis Alkis, president and CEO, Kusters Corp., said the Kusters stand was designed to be
colorful and upbeat.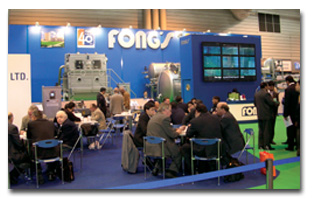 Fongs National Engineering Co. Ltd.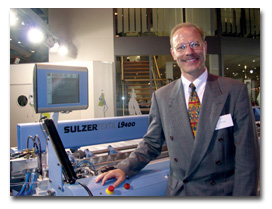 Fritz Legler, president, Sultex (USA) Inc., with the L9400 air-jet loom for carpet backing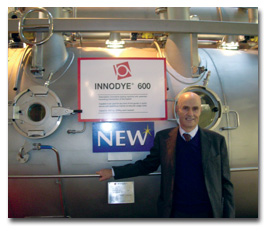 Nicola Canziani, president, Brazzoli S.p.A., with the Innodye® 600 dyeing machine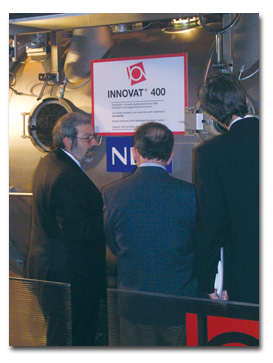 Mario Di Francesco (left), sales manager, Brazzoli, describes the new Innovat® 400 to
interested visitors. The machine was developed jointly by Brazzoli and DyStar.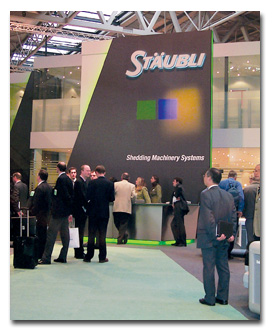 Stli AG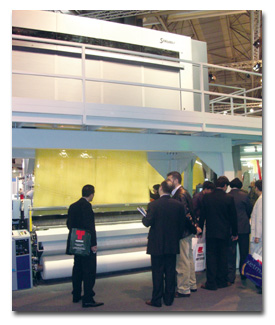 Stli introduced the Unival 100 jacquard machine, which uses an independent JC5 controller to
control between 5,120 and 20,480 ends. The Unival was demonstrated on a Picanol OMNIplus 6-J250
air-jet weaving machine.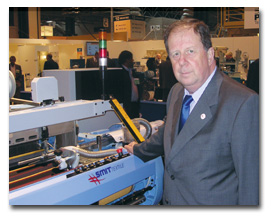 Francesco Cecchinato, area sales manager, SMIT S.p.A., with the GS900 rapier loom weaving
100-percent silk fabric for mens ties.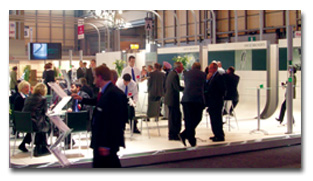 Groz-Beckert KG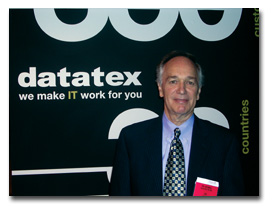 Jim Noble, director, sales and marketing, datatex – tis Inc., the US-based datatex subsidiary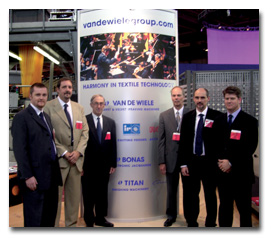 Left to right: Tony Greaney, technical sales and service manager, Bonas USA; Bob Harding,
executive vice president, Bonas USA; J. Arthur Phillips Jr., general manager, Van de Wiele of
America; Thomas H. Hansen, president, IRO Inc.; Danny Bourgois, sales coordinator, NV Michel Van de
Wiele; Benjamin E. Mackey, sales manager, Van de Wiele of America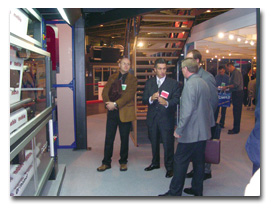 Udo Skarke, Mahlo America Inc. (second from left), chats with visitors to the companys stand.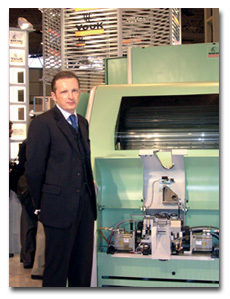 Marco Volpi, sales support, Marzoli S.p.A., with the new Marzoli C601 card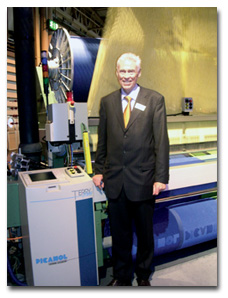 Jan Maes, market manager, Picanol NVs Apparel Business Unit, with the TERRYplus 6-J 260
air-jet weaving machine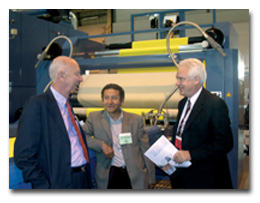 Left to right: Visitors Louis Fournier K., Sutexa S.r.l., and Raaz Vera, Raval S.A.C., chat
with Uwe J. Sick, project-/sales director, Santex AG.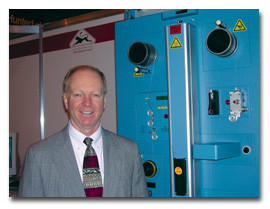 Mike Honeycutt, president, Lawson-Hemphill Sales Inc.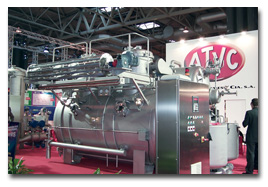 ATYC showcased its Technodye HT CCI + Rapid System + TP1 machine.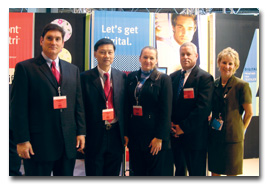 DuPont Ink Jet sales and research staff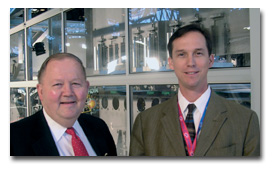 Thomas J. Malone, Ph.D. (left), executive vice chairman, MillikenandCompany; and David Moody,
Ph.D., vice president, Milliken Research Corp.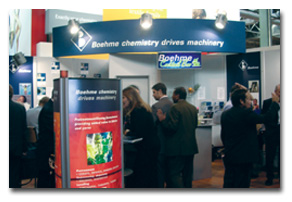 Boehme Filatex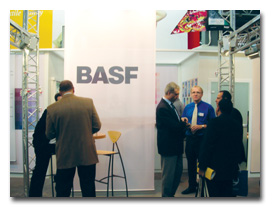 BASF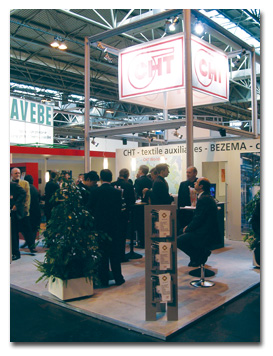 CHT R. Beitlich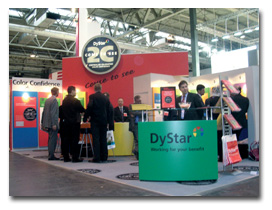 DyStar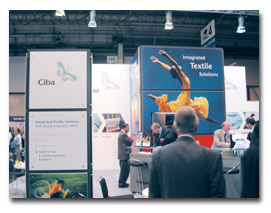 Ciba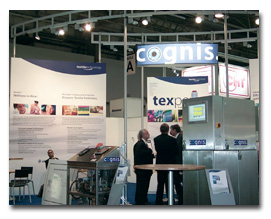 Cognis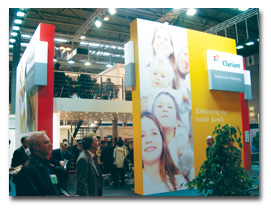 Clariant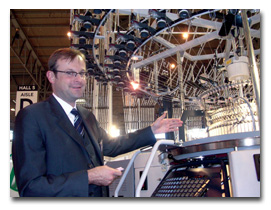 Dipl. Ing. Oliver L. Scharf, sales director, MayerandCie. Circular Knitting Machines, with
the new Relanit 4.0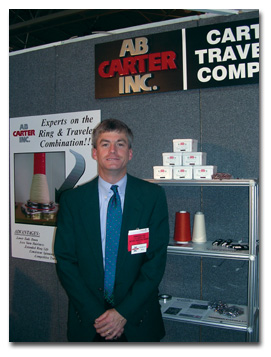 Henderson Wise, national marketing manager, AB Carter Inc.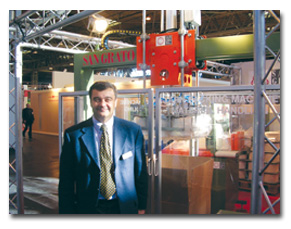 Ing. Massimo Soffritti, president, TEXBIMA, and managing director, San Grato S.r.l., with San
Gratos yarn packing machine.
Petru Singeorzan (left), sales manager, Latin America; and Jurgen Riegraf, project
management, head of design, LTG Air Engineering GmbHandCo. KG, with the ModulDrum filter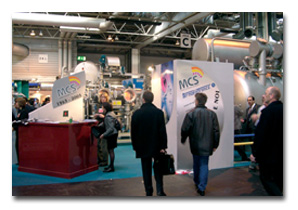 The MCS/Termoelettronica stand attracted many visitors during the show.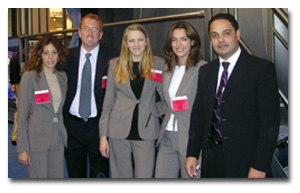 The Sclavos S.A. team with the new Athena dyeing machine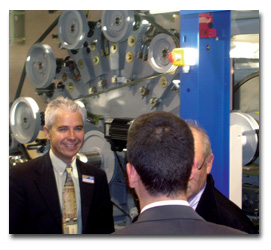 Bernard Blazak (left), senior area sales manager, NSC Nonwoven, explains how the new
AirWeb®-T machine works.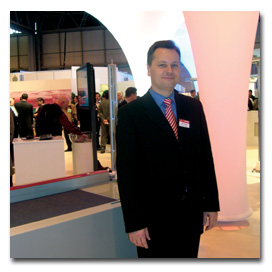 Beat Emch, executive vice president, research and innovation, Uster Technologies AG, with the
Uster® Fabriscan on-line monitoring system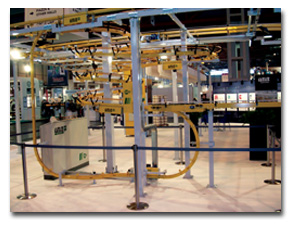 U.T.I.T. Wagner Automation S.p.A. displayed its latest material handling and automation
technologies.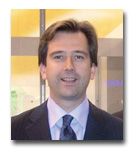 Koen Beckers, president, GTP Worldwide AG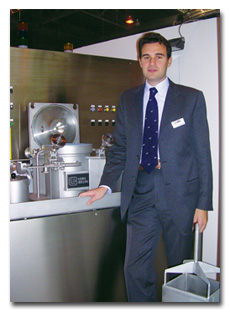 Ing. Davide Bellini, Loris Bellini Dyeing Machines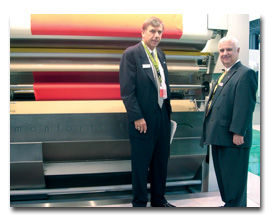 Joseph A. Okey Jr. (left), president, American Monforts; with Gerry Holt, account manager,
Stork Prints America Inc.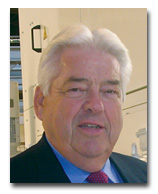 Don B. Gillespie, vice president, Fleissner Inc., with Fleissners AquaJet Spunlace process
line.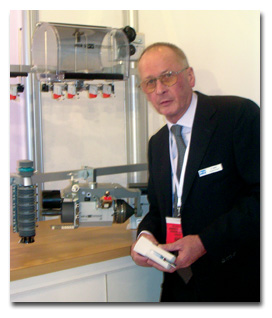 Dipl. Ing. Hellmuth Behr, managing director, Memminger-IRO GmbH, with the companys yarn
feeding technologies. In his hands is the MLT Wesco.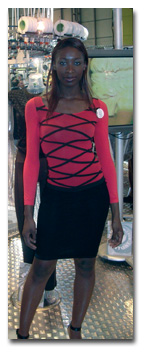 A model wearing Santoni S.p.A.s seamlesswear garments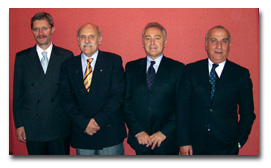 Left to right: Fabio Mazzucchetti, commercial director, Promatech; Rino Morani, member of the
board, Savio Macchine Tessili S.p.A.; Valentino Zambon, sales director, Savio; and Paolo Puntoni,
marketing and overseas branch manager, Savio, presented the latest weaving and spinning innovations
from Promatech and Savio at a press conference held at the Council House in Birmingham.
November 2003