CarpetandRugBy Peggy Whaley,Floorcovering EditorFloorTek 2003
The inaugural FloorTek Expo offered a broadened array of floorcovering solutions.The
American Floorcovering Alliance (AFA), Dalton, Ga., recently sponsored FloorTek Expo 2003. Held at
the NorthWest Georgia TradeandConvention Center in Dalton, the show had a productive and upbeat
atmosphere.According to Wanda Ellis, executive director, AFA, there were approximately 2,500
attendees. Jim Shaheen, president, said the Expo provides the very latest innovations in
technology, machinery, operating systems, and resources available to the floor covering industry.
Ellis added that the focus of this years show was broadened to include hard surfaces, such as
hardwood, tile and laminates.There were lots of things to see and do. In fact, the Expos calendar
of events was quite impressive, listing many seminars and social functions. At the inaugural awards
dinner, held at the Dalton Golf and Country Club, industry leaders were presented with the Best of
FloorTek awards. The Individual Leadership Award was presented to Lamar Lyle of Lyle Industries
Inc., Dalton. The Best Product/Method Innovation Award was presented to CMC/Card-Monroe Corp.,
Chattanooga, Tenn., for its Infinity Machine
(See Quality Fabric of the Month, TW, this issue; and CollinsandAikman Floorcoverings,
Dalton, received The Environmental Award. There was a tie between Dalton-based Shaw Industries Inc.
and Mohawk Industries Inc., Calhoun, Ga., for the Largest Contribution to the Industry Award. AFA
said both companies have demonstrated the importance of consolidation, diversification, employee
development and customer professionalism.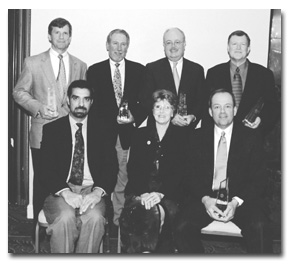 Best of FloorTek award recipients are pictured with American Floorcovering Alliance (AFA)
officials. Seated (left to right): Jim Shaheen, AFA president; Wanda Ellis, AFA director; Charles
Monroe, CMC/Card-Monroe Corp. Standing (left to right): Bill Baron, Shaw Industries Inc.; Lamar
Lyle, Lyle Industries Inc.; Mac Bridger, CollinsandAikman Floorcoverings; and Joe Yarborough,
Mohawk Industries Inc.
Textile World spoke with many of the exhibitors and received favorable comments regarding
FloorTek.John C. Blasman, CEO, Jomar Softcorp International, Canada, said, We find this show to be
all-encompassing for all areas of floor covering. This is our first time here at this show, and we
came here to talk about our products and meet people. The firms Web-based and collaborative
enterprise e-business applications provide its customers with a competitive advantage in the global
market. Two and one-half years ago, Jomar completely renewed its software to include new technology
on multiple platforms.David W. Moniz, account manager, Goulston Technologies Inc., Monroe, N.C.,
said, Our primary focus is to host a seminar where we go into detail in terms of covering our
technical capabilities in spin finishes, lubricants, and oversprays for the manufacturing and
processing of carpet fibers. [FloorTek is] a good show with many folks from the machinery industry
and other potential customers.Van de Wiele of America Inc., Greer, S.C., promoted its solutions for
woven carpets and rugs. They include weaving machines, beaming machines, design systems, networks
and Titan brand serging and fringing equipment. The firms parent company, N.V. Michel Van de Wiele,
is located in Belgium, where about 600 people manufacture carpet- and velvet-weaving machines.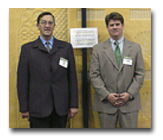 Gilbert Moulin (left), international sales manager, N.V. Michel Van de Wiele, and Benjamin
Mackey, sales manager, Van de Wiele of America Inc.Enterprise resource planning solutions from the
Porini Division of NedGraphics are now implemented in a global client base of more than 200
clients, said Jon Buchan, sales manager, Porini USA, Chattanooga. The latest advancement in the
Porini suite of textile solutions, Visual-Tuft for carpet/rug planning and scheduling, was
presented at the show. According to Buchan, Visual-Tuft gives carpet manufacturers the ability to
diminish the volatility of the supply and demand chain that exists in todays global economy.Tim
Dixon, sales manager, ChadwickandAssociates Management Systems Inc., Dalton, said the company
provides the CAMS system, a comprehensive software solution available for yarn and textile floor
covering manufacturers and distributors. From the manufacturing floor to the front office, the CAMS
system provides the critical tools needed to plan, manage, report and grow, said Dixon. Chadwick is
an IBM business partner and offers the powerful and scalable I Series/AS400 computer system, which
hosts the CAMS system. It also provides bar code printers, hand-held terminals and radio frequency
devices from Intermec.Charles Monroe, president, CMC/Card-Monroe Corp., said, Weve been promoting
our advanced patterned tufting machinery, computerized tufting controls and state-of-the-art servo
technologies. Its been a good show.Were showing some of our new products for the carpet industry
and also new products for cabling, said Richard Zollinger, Otto Zollinger Inc., Spartanburg. Its a
good market for us, and were glad to be here at FloorTek, he added.Claude Crisp, sales manager,
Epic Enterprises Inc., Southern Pines, N.C., said Epic is focusing on its replacement parts for
Volkmann/Saurer and Verdol/ICBT cablers and two-for-one twisting machines, and for Superba and
Suessen carpet yarn heat-setting machines. New items have been added this year to replacement parts
for certain Volkmann twisters such as the VTSO5 BA5, and our firm is introducing items for ICBT
twisting [now Rieter], Crisp said. Belgium-based Pierrets North American Division, Spartanburg, was
at the show promoting cutters of various capacities for natural and man-made fibers; bale or loose
materials; and tow cotton, jute, wool, nylon, polyester and carpet waste; plus high-speed rotary
tow cutters, according to Todd Cooper, sales and marketing manager. Halis Alkis, president and CEO,
Kusters Machinery Corp., Spartanburg (Zima Corp., Spartanburg), said Kusters was promoting its wet
processing machinery including EVAC vacuum systems and the Kusters Color Systems
computer-controlled dispensing system. The response has been good here at the Expo, said Alkis. As
far as Zima goes, were like a lot of the flooring industry in that were also moving into other
areas, said Bill McAndrew, vice president, sales and marketing, Zima Corp. What Kusters is to
continuous dyeing equipment, Olbrich is to the vinyl flooring equipment, he said. This is a new
product line for us and were working with a lot of the large vinyl flooring companies. We are now
representing Massen [optical inspection equipment] for vinyl flooring, carpet and nonwovens.
Another company we are now working with is SchillingandKnoble GmbH, which takes vinyl flooring,
chops it up, and makes other carpet tiles or new vinyl flooring with it.N. Schlumberger (USA) Inc.,
Fort Mill, S.C., was at FloorTek offering information about its spun carpet yarn manufacturing and
nonwovens. We offer a wide range of factory-rebuilt assemblies and maintenance programs for
specific needs of productivity, reliability and safety; and to optimize results from machines, said
Neal D. Winslow, sales engineer. Schlumberger also offers standard replacement units and customized
repair and maintenance program modules. We feel that offering a completely rebuilt and balanced
system will reduce downtime and should improve efficiency, said Winslow.C.P. Butch Moss Jr., sales
manager, Textube Corp., Greer, said the carpet segment of the textile industry is one of Textubes
main customer areas. Weve known these guys for a long time, and theyve been loyal, said Moss.
Textube promoted its plastic tubes for long-staple ring spinning, continuous heat-setting and
air-entangling machinery; reusable plastic cylinders/cones for cablers and twister; and 2-inch by
6-inch tubes for twisters. AB Carter Inc., Gastonia, N.C., showed products from two of its
divisions Mill Devices and Laboratory Testing Equipment. Our transmission and belting system and
conveyor belting business is starting to gain force, and were showing some new products, said
Henderson Wise, national marketing manager. According to Michael G. Smith, vice president, sales
and marketing, Eltex U.S. Inc., Greer, the companys particular focus is on end-break protection for
the carpet industry. End-break protection enables the manufacturer to do a better job in fewer
seconds and to produce more first-quality products. Our carpet concentration is on our textile
unification controls, said Rick Wilden, sales manager, Mee Industries Inc., Monrovia, Calif. The
custom-designed high-pressure humidification systems control humidity, as well as help to control
static electricity, reduce dust control problems and improve production. The system can maintain
humidity levels of 55 to 60 percent in a room.Alan Lavore, sales and marketing manager, Mahlo
America Inc., Spartanburg, said, We are focusing on the new technology geared to help carpet
manufacturers straighten patterned carpet. There is more and more pattern design in commercial and
residential areas, and the straightness of those patterns is becoming more and more critical to the
end-users. The straighter the carpet, the easier it is for the installer, and thats our goal.Mahlo
has long been involved in web straightening technology using optical sensors. At the show, the
company showed its latest technology, the PCS10 (pattern control system), featuring line scan
camera technology. Lavore said the new technology has been very successful.For the first time, were
showing BTSR Internationals brand-new KTF100RW, and it has been a big success so far, said Scott
Yates, general manager, PAF Sales LLC, Greensboro, N.C., US representative of BTSR. People are
looking for this to even out dyeing for space-dye machines and even out tack points in air
entanglement. So far, we have about five immediate installations from showing the product.Eldon
Specialties Inc., Graham, N.C., offers ceramic yarn guides, direct-guide tension devices,
ejection-molded plastics and machined items. One of the new things we have is injection-molded
package adapters and creel adapters, said Sean Foster, technical sales representative. Our main
purpose for being here is to communicate with people who produce and process carpet yarn. A lot of
the same guides are used in the processes. Weve been able to see some people we deal with here, and
weve met some new people. So far, so good.Chuck Crow, product sales manager, Twisting Machinery,
Rieter Greensboro Inc., Greensboro, said Rieters focus for this show was its extrusion product line
and twisting product line for the carpet industry.We are focusing on our testing instruments for
quality control, research and development, said Al Tingley, sales, Lawson-Hemphill Sales Inc.,
Spartanburg. This show has been good for us and were pleased to be here.Tingleys words were echoed
by visitors and attendees alike at FloorTek Expo 2003.Datatex's TIM Covers All BasesDatatex Textile
Information Systems Inc., Alpharetta, Ga., provides Enterprise Resource Planning (ERP) solutions
for the textile and apparel markets. Its Textile Integrated Manufacturing (TIM) is a fully
integrated modular suite of solutions covering order acceptance, sales, customer service, planning,
scheduling, product engineering, stocks, costing, dye lot management, fabric inspection, purchasing
and quality assurance. Currently, more than 300 customers are using TIM. The product is available
in 14 languages including Arabic and Chinese. Datatex has been constantly focusing on supplying a
solution that will help the companies reach their business goals in relation to improved customer
service such as on-time delivery, accurate deliveries and fast response, said Ronen Hagin, CEO. Our
solutions are constantly being updated and improved according to the changing market demands and
the latest information technology [IT], he said.Together with Datasys, Italy, Datatex has launched
a new product line based totally on Web-based, object-oriented technology, and adhering completely
to current J2EE standards.This is a multimillion-dollar investment meant to provide our current and
future customers with a clear path towards the future, staying on the same data and application
platform, Hagin said. Therefore, Datatex can clearly commit that customers who have been with [us]
for the last 10 years using the same product suite, constantly updated by new releases can rest
assured that the next 10 years will also allow them to be on the lowest-cost IT platform
available.Due to the ever-increasing difficulties in running a profitable textile and apparel
company, Datatex is currently investing heavily for the future, both on the technology level and in
the additional functionality required to survive and succeed in todays competitive global
environment.

August 2003