.
Machines Italia: WeavingThe visit to Italy-based weaving machine and woven fabric
manufacturers revealed what the industry is doing to maintain a top position in a world with more
intense competition than at any other time in history. Weaving PreparationA small company having
only 50 employees, Rostoni Macchine S.p.A. produces a range of direct and indirect warpers and
sizing machines loaded with electronics and controls. Additionally, the company produces trucks for
cloth roll doffing, multicloth roll-handling systems with capacity of up to 40 rolls, and steel
constructions for warp beam storage. According to Rostoni, reasons behind its success are more than
130 years of experience, and its partnerships with motor builders, rubber coating manufacturers,
software developers, and sensor and touch-screen control panel builders.Rostoni provides its
customers the option of including hot-air (WSA model) or radio-frequency (WSS model) dryers with
sizing machines as pre-dryers. Its sizing machine speed range is 200 to 650 meters per minute
(m/min), and sizing width is 1,800 mm.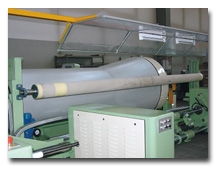 Rostoni manufactures a range of warping and sizingequipment, as well as trucks and systems
for roll handling.Established in 1948, Ramallumin S.r.l. is a small, private company with 50
employees. The companys standard manufacturing program of warp preparation equipment includes
indirect and direct warpers, warping creels for spun and filament yarns, sizing machines, and
indigo warp-dyeing and -sizing machines for denim fabrics. The company manufactures cylinder dryers
for sizing machines and the nonwovens industry. It also provides its customers the option of
including air or infrared (IR) dryers with sizing machines as pre-dryers. The companys expertise in
manufacturing cylinder dryers is extended to producing water-cooled cylinders and cooling towers
for the textile industry, and cylinder dryers and coolers for other industries such as rubber and
tire.Ramallumins machines are equipped with microprocessor-based inverters, motor controls and PLC
logic made by Siemens. Optional PC-based systems are available for machine monitoring and control.
Currently, most of its machines are sold in Italy. Export markets include the Middle East and
China.Weaving MachinesAbout two years ago, Somet and Vamatex merged into one company under the name
Promatech. Before the end of 2002, Promatechs parent, the Itema Group, acquired Switzerland-based
Sulzer Textil (renamed Sultex Ltd.). The merger and the acquisition situated the company in a
unique position of producing the broadest range of weaving machines available today, including the
only commercially available multiphase weaving machine the M8300.Recently, Promatech built a large
multipurpose demonstration center in the town of Colzate. The center comprises three areas: a
meeting room with multimedia presentation equipment;a trial room for customers to test weaving
machines before making investment decisions; and a showroom for demonstrating the many examples of
Vamatex and Somet machine lines weaving a broad range of fabrics.Promatech is determined to improve
its machines through continuous innovations such as further automation, conversion from mechanical
to electronic controls, reduction of machine parts and low maintenance. Examples of its new
innovations are automatic control of pile height for terry machines, automatic timing of the weft
cutter, and the new HI-DRIVE electronically controlled machine drive system.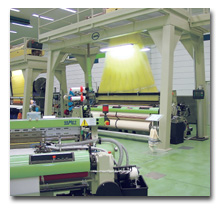 Promatech's demonstration center features a showroom and a trial weaving room for customers
to test machines before making a purchase.The HI-DRIVE motor is optional for the Vamatex Leonardo
and Somet Alpha weaving machines. With the HI-DRIVE option, machine speed can be controlled and
programmed by the microprocessor, which can produce fabrics with variable pick density to obtain
desired effects, run each filling yarn at suitable speed, and may prevent start/stop marks
resulting from high-speed starts.Promatech plans to show six of its Somet and Vamatex machines at
its main booth at ITMA 2003. Additional machines will be shown at jacquard suppliers
booths.PanterPanter S.r.l. is a new, small company with a total of 60 employees. The company
produces rapier weaving machines in a range of widths. Panter believes its small size is not a
disadvantage because overhead is minimized and savings are passed on to customers. It exports its
machines globally to China, India, Pakistan, Bangladesh, Vietnam, Taiwan and Turkey.At ITMA 1999,
Panter demonstrated on one of its machines a quick change from negative rapier to positive rapier
(or vice versa) in 20 minutes. It still provides this option to enable handling of a broad range of
filling yarn types.A direct-drive motor, which drives the machine without belt/pulleys or clutch,
is becoming standard on all Panter weaving machines. The company developed a Pocket PC that allows
its customers to monitor machine status, create/modify weave designs, transfer stored designs in
the Pocket PC to the machine (or vice versa), and store machine settings.The company plans to show
six of its machines at ITMA 2003. Four machines will be shown producing jacquard fabrics, and the
other two will be equipped with electronic dobby shedding motions. Panter also will reveal a new
drive system for its rapier machine and is expected to announce a new business venture.Menswear
Fabric ProducerFamily-owned Fratelli Tallia di Delfino S.p.A. is 100 years old. It specializes in
producing finished menswear fabrics (worsted, woolen, silk and cashmere), starting from tops. The
company owns 60 rapier weaving machines equipped with dobby shedding motion with up to six filling
feeders. At any given time, 30 percent of its machines are used for developing new fabrics. Three
semiautomatic Suzuki sample warpers are currently used to prepare warps for such a heavy load of
development. Two Suzuki warpers are used for production to supply 70 percent of the weaving
machines. The company also produces a wide range of yarns for its fabrics. It develops its own
colors by dyeing tops and yarn packages to provide a broad range of colors. Some fabrics are dyed
in an open beck. Recently, the company acquired new Sulzer G6300 weaving machines and Suzuki
warpers. The high level of automation in the plant is obvious. Examples include a fully automated
warehouse, spinning frames with automatic doffing, and semiautomatic warping machines. The company
implemented CAD systems to develop fabric design and simulation. Electronic pattern change, quick
inventory tracking, short runs, significant reduction in downtime, and production of intricate
fabric designs are possible using its line of machinery.SoftwareEstablished in 1981, Incas S.p.A.
supplies automation equipment and computerized production and quality monitoring systems to the
textile and other industries. Today, the company employs 150 people and has branches in many
countries including Italy, Spain, Mexico and Brazil. The company offers a variety of software and
hardware products including: raw material and finished goods warehouse management systems with
wireless option; production monitoring and control systems for spinning, warping, sizing, weaving,
finishing and other textile processes; and on- and off-loom fabric inspection and quality-assurance
systems. Its weaving production monitoring system provides weavers with numerous functions such as
real-time display of weaving room production and stop/breaks analysis, programming of stop causes,
statistical analysis, production planning, and interface with dobby CAD system.At ITMA 2003, the
company will introduce a new system to monitor weaving machines using wireless technology. The
system has the capability of interfacing weaving machines with the Internet, so weaving machines
and weaving room data may be accessed from anywhere in the world.
June 2003