Shanghai Awaits The Global Textile Industry
Machinery manufacturers from around the world converge in China next month for ShanghaiTex.
Read on to see what some of the companies are bringing to the show.Editor's note: ShanghaiTex 2003
has been rescheduled for December 10-13, 2003. Shanghai, Chinas largest city, has enjoyed
a long, prosperous history as an industrial and financial center with a large concentration of
textile companies. This year, once again, all eyes will be on this cosmopolitan metropolis on the
banks of the Huangpu River as it readies itself for ShanghaiTex, the 10th International Exhibition
on Textile Industry. Billed as the largest show of its kind, this years event will be staged June
2-5 at the Shanghai New International Expo Centre in the Pudong industrial district.As one of the
most significant textile events in China, ShanghaiTex 2003 is supported by 14 of the countrys
provincial textile associations and organizations. According to Adsale Exhibition Services Ltd.,
one of the shows organizers, about 1,000 exhibitors from 22 countries and regions will be showing
their wares in more than 666,000 square feet of show floor space, which represents a 40-percent
increase in area compared to the 2001 show. Moreover, organizers are expecting a record-breaking
attendance of more than 110,000.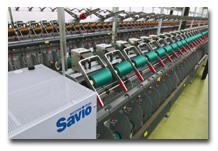 Savio will display its two-for-one twister,the GEMINIS/S, at ShanghaiTex.According to the
Italian Association of Textile Machinery Manufacturers (ACIMIT), in 2002, China exported 11 percent
(about $16 billion) of the textile products consumed globally, making it by far the worlds leading
textile exporter and producer. ACIMITs data show that Chinas installed spinning capacity has
reached 34 million short-staple and 3.6 million long-staple spindles. Such impressive production
rates, its accession to the World Trade Organization and the relatively stagnant markets in the
Western world have made China particularly attractive to machinery manufacturers around the globe.
This is evident in the increased number of international companies exhibiting at
ShanghaiTex.According to Adsale, Germany, Spain, Korea and the United States are among the
countries whose presence at the show has increased most noticeably. In addition, special country
pavilions that group companies from the same country under one unifying banner include the United
States (organized by the American Textile Machinery Association), France (organized by the French
Textile Machinery Manufacturers Association), Italy (organized by ACIMIT), Korea (organized by the
Korea Textile Machinery Association) and Taiwan (organized by the Taiwan Association of Machinery
Industry), among others.Companies exhibiting at this years ShanghaiTex include some of the biggest
names in the global textile industry representing the whole spectrum of manufacturing, from yarn
manufacturing to weaving to knitting to dyeing, printing and finishing. Based on responses to an
informal
TW survey, the following is a sampling of what some companies will be showing at the
event.Yarn ManufacturingRieter Textile Systems, Switzerland, will have several divisions
represented at the show. The Filament Yarn Technologies Business Group, a new division consisting
of the former Rieter ICBT, Rieter-Scragg and Synthetic Fiber Machinery, will be showing equipment
for processing various man-made yarns and fibers. New machinery includes the FTF 12 SDS, a
false-twist texturing machine intended for installation in large-scale polyester (PES) production
plants in the Chinese market. According to Rieter, key features include: improved flexibility that
allows manufacturers to run a wide range of materials including PES, polyamide (PA), microfibers or
polypropylene (PP) without changing heaters; use of a straight yarn path that guarantees the
processing of delicate yarns; and energy savings of up to 15 percent when compared to other
systems.Rieters Spun Yarn Systems Business Group will show a collection of equipment including
blowroom lines, cards, combers, drawframes and spinning machines.Savio Macchine Tessili S.p.A.,
Italy, will have on display a single operating ORION M automatic winding head. The ORION comes with
individually controlled motors and a flexible operating cycle. The ORION M is equipped with manual
bobbin feeding and manual packaging doffing.Savio also will show its latest two-for-one twister
GEMINIS/S 221-B with 32 spindles. The company says the GEMINIS/S offers a high production rate,
top-quality yarn, low twisting cost, reduced maintenance, low energy consumption and operating
ergonomics.Germany-based Spindelfabrik Suessen will show a range of spinning products including a
compact ring spinning system, drafting systems, open-end rotor spinning machines, and parts and
components.The EliTe®CompactSet, a modernized package of Suessens EliTe Compact Spinning System, is
available for existing ring spinning frames for short-staple and worsted spinning. According to the
company, 140,000 EliTeCompactSet spinning positions have been sold in China to date.Other products
that Suessen will show at ShanghaiTex include: the HP-A 310, HP-A 410 and HP-A 510 Top Weighting
Arms; the SC 1-M and SC 2-M Compact SpinBoxes for Autocoro SE 8 and SE 9 rotor spinning machines;
SQ SpinBoxes for Autocoro SE 7 to SE 10 rotor spinning machines; as well as spinning components and
spare parts for Autocoro SE 7 to SE 10 rotor spinning machines.Switzerland-based Saurer Textile
Group will represent its member companies, including Barmag AG, Neumag GmbHandCo. KG, Saurer
Suzhou, Saurer Hamel Ltd., W. Schlafhorst AGandCo. and Zinser Textilmaschinen.Among the equipment
to be shown is Schlafhorsts Autoconer 338 automatic winding machine, which has been specially
outfitted with a Chinese character and language menu.According to Saurer, China is one of the most
important markets for rotor spinning machines. Following the worldwide introduction at ITMA Asia in
2001, Saurer says it has installed more than 200,000 Autocoro 312 spinning positions around the
world, 50,000 of which are in China. The Autocoro 312 will once again be shown to the Chinese
market at ShanghaiTex. Following the show, the machine will be installed in the Suzhou factory for
customer trials.Trutzschler GmbH and Co. KG, Germany, will exhibit technology from its subsidiary,
Trutzschler Textile Machinery (Shanghai) Co. Ltd. It will show the High Production Card DK 903,
which has a WEBFEED system with three lickers-in a unique feature of this machine.Another DK 903 on
display will be shown with the Integrated Draw Frame (IDF), which Trutzschler says represents an
alternative to the normal drawing process because this is the first time the function of an
autoleveler draw frame is integrated in the card.In addition, other yarn-manufacturing machinery
companies that plan to exhibit at ShanghaiTex include Cognetex S.p.A., Italy, Fehrer AG, Austria,
Murata Machinery Ltd., Japan, and Sant Andrea Novara S.p.A., Italy.KnittingGermany-based
MayerandCie. will show two machines at ShanghaiTex. The Relanit 2.4 E is a fully electronic single
jacquard machine that uses the three-way technique. MayerandCie. says any pattern transferred to
the electronic system with individual needle selection at every feeder is processed within seconds
and knitted immediately. The Relanit 2.4 E to be shown has a 34-inch diameter and an E 28 gauge.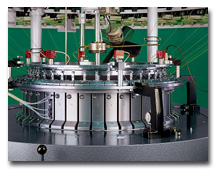 MayerandCie. will show two knitting machines at ShanghaiTex,the Relanit 2.4 E (above) and the
OVJA 1.6 Etr.The second machine to be displayed is the OVJA 1.6 Etr, an electronic double jacquard
machine with transfer and striping attachment that also uses the three-way technique. The OVJA 1.6
Etr at ShanghaiTex will feature a 30-inch diameter and an E 18 gauge.In addition, MayerandCie. will
show, in conjunction with Germany-based Merz Maschinenfabrik GmbH, the computer-controlled CC4-MED
automatic hosiery knitting machine. This four-feed high-performance circular knitting machine with
reciprocating heel device knits two-way stretch compression stockings and tights in various
compression classes, as well as antiembolism stockings and one-to-one support pantyhose with
float.Italy-based Comez S.p.A., which specializes in crochet knitting machines, will show the
CT-16B/600, a crochet machine with 16 electronically driven weft bars designed for complex lace and
flounce production. The vibration of the bars has been eliminated, making it possible to work with
as many as 16 weft bars. The machine comes in gauges of 15 and 20 needles per inch, with both 400-
and 600-millimeter (mm) working widths.Other equipment at the Comez booth will include the
Decortors 1000/EL crochet machine, the CMX needle loom and the Covertwist 2T.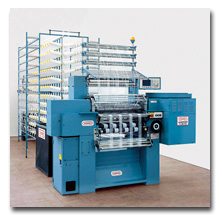 Comez's CT-16B crochet machine features 16 electronically driven weft bars.Karl Mayer
Textilmaschinenfabrik GmbH, Germany, will showcase its RJPC 4 F-NN, a raschel machine equipped with
a new piezo-jacquard system.The company says the system offers increased production output, high
operational reliability, yarn selection via the piezo-jacquard needle in conjunction with the
microprocessor control, and easy and fast pattern change.WeavingToyota Industries Corp., Japan,
will bring five weaving machines and one ring-spinning frame with compacting system to
ShanghaiTex.The company will display four sets of its JAT710, an air-jet loom whose production
began in February
(See Weaving News, TW, January 2003). The JAT710 is equipped with a new color panel that
corresponds to interactive Internet functions.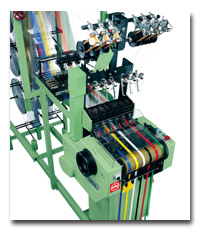 Jakob Muller's Varitex V5Ni is builtin China and India.Narrow fabrics specialist Jakob Muller
AG, Switzerland, will showcase equipment for narrow fabric production, including the VARITEX V5Ni
narrow fabric needle loom for light elastic and non-elastic tapes and belts, the NF53 6/42 s narrow
fabric needle loom for elastic and non-elastic velvet ribbons, the MDR 42 fully electronic and RD3
620 warp crochet knitting machines with weft insertion for patterned elastic and non-elastic narrow
fabrics and lace articles, and the MBJL2S air-jet weaving machine for label pictures and scarves.As
the worlds only projectile weaving machine manufacturer, Sultex Ltd., Switzerland, will provide
live demonstrations of the P7300 projectile weaving machine and the M8300 multi-phase weaving
machine.According to Sultex, the P7300 features: leading-edge machine control hardware and
software; new machine design with mature geometry; a browser-ready terminal for direct Internet
access; 15- or 35-mm-wide tucked selvages; and new lubrication and maintenance systems for maximum
availability.The M8300 system for standard fabrics has a weft insertion rate of up to 5,500 meters
per minute. Sultex says that even at the top end of its performance range, the weft is inserted at
a constant, uniform yarn velocity of just 22 meters per second with minimal weft loading.Stli AG,
Switzerland, will have a presence in two halls at ShanghaiTex. On display in the Chinese pavilion
will be two jacquard machines the LX 1600 and the CX 160. The LX 1600 is a universal and high-speed
machine with reduced mass and fewer moving parts. According to Stli, it has a wide application
range on air-jet and rapier weaving machines and allows heavier loads on the hooks. The CX 160s
most typical application is for ribbon fabrics.Other Stli exhibits at the Chinese pavilion include
the dobby type 2650. Designed mainly for Chinese weaving machine manufacturers, the positive rotary
dobby 2650 is completely assembled at the companys plant in Hangzhou.Meanwhile, Stlis automatic
drawing-in machine the DELTA 110 will be on display at the Swiss pavilion. It will demonstrate
drawing-in a harness of a fancy cotton warp.Belgian company Picanol NV will introduce its new
GamMax rapier weaving machine for the first time in the Far East. The regions textile companies
requirements, such as increased productivity, the ability to weave a wider variety of textiles,
more flexibility in switching from one article to another and lower weaving cost, were considered
in the design of the machine.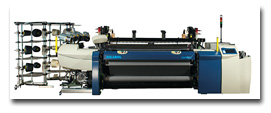 Innovations of the GamMax include optimized insertion cycle for industrial speeds; insertion
of up to 12 colors; 10 reed widths; an interactive display with Ethernet connection, USB memory
stick, PDA or key tag interface; standard sumo main motor with direct machine drive; electronic
setting of shed crossing; and ELSY selvage motions. The demonstration unit at ShanghaiTex will be
equipped with a dobby and will be weaving a shirting material.Picanol will also show the OMNIplus
air-jet weaving machine.Other weaving machine suppliers expected at ShanghaiTex include Promatech
S.p.A., Italy, Tsudakoma Corp., Japan, Smit S.p.A., Italy, and NV Michel Van de Wiele,
Belgium.Dyeing, PrintingandFinishingAmong suppliers of dyeing, printing and finishing equipment,
Bruckner Trockentechnik GmbHandCo. KG, Germany, which has more than 500 lines operating in China,
will show its finishing products. The POWERLINE tenter generation has a patented air circulation
concept. Benefits, according to the company, include increased surface touched by air circulation,
higher performance and more homogenous air circulation on the fabric web.Other products at the show
will include OPTI-SHRINK compressive shrinking lines for the treatment of woven and knitted
fabrics, and the OPTI-COMPACT compacting calender for knitted open-width fabric.Hong Kong-based
Fongs National Engineering Co. Ltd. will show the ECOTECH series of dyeing machines and a range of
finishing machinery. The SCN24ST is an open-width stretcher combined compactor that was jointly
developed by Fongs and Monforts. The stretcher has up to 50 percent of overfeed and a V-shape steam
box that can wet fabric evenly. The compactor is made up of two closely aligned compacting units,
one of which is a pressing roll and the other a circulated blanket.Italy-based Loris Bellini S.p.A.
will show its RBNV 1400/1320 vertical high-temperature, high-pressure machine for dyeing and
bleaching. It operates at 5.0 bar of pressure and at temperatures of up to 140C. Its capacity,
based on cotton packages, is about 300 kilograms. In addition, it features either automatic or
robotized operation.Loris Bellini also will display the APPC 115-LV cabinet-type skein-dyeing
system for the dyeing of mercerized cotton; acrylic, wool and blends; and worsted knitting yarns.
It features a patented variable-loading design; operates at pressures of 0.4 bar and at
temperatures of up to 108C; and has a capacity of about 200 kilograms (based on mercerized
cotton).Brazzoli S.p.A., Italy, will present Innodye, a new dyeing machine unveiled at the
beginning of this year. An Innodye 600 kg with three channels will be on display in Shanghai. After
the show, the machine will be delivered to a customer.Argelich, Termes y Cia S.A., Spain, will show
two new high-temperature jet-dyeing machines the RAPIDStrETCH RS-2 CCI + RAPID SYSTEM and the
TECHNODYE HT-2 CCI + RAPID SYSTEM. Both are fitted with the new CCI and RS systems, reducing dyeing
cycles by 30 percent compared to conventional dyeing machines.Besides the two new machines, the
company also will display fabric-dyeing machinery; package-dyeing and drying machinery; and
dyehouse automation systems.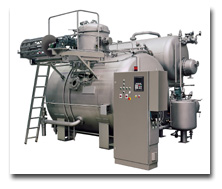 ATYC's TECHNODYE HT-2jet-dyeing machineIn addition to these companies, other exhibiting
machinery suppliers involved in dyeing, printing and finishing include Bianco S.p.A., Biancalani
S.p.A., MCS Group, Reggiani Macchine S.p.A., Tecnorama S.r.l., Sperotto Rimar S.r.l., all based in
Italy; and J. Zimmer Maschinenbau GmbH, Austria.Other ExhibitorsElectro-Jet S.A., Spain, will show
its traveling cleaners for textile machinery; rovematic ADR automatic roving frame; bobbin and cone
automatic transport systems; cone and box automatic palletizing systems; automatic sets for
cleaning, classifying and storing ring-spinning frame tubes; draft green roller cleaning machines;
and turning static ventilators.Spartanburg-based Lawson-Hemphill Inc. will demonstrate its testing
equipment for filament and spun yarns, as well as its on-line viscosity measurement equipment for
polycondensation.Lawson-Hemphills EIB is an entanglement (interlace) tester for filament yarns that
uses optical technology. The actual yarn profile and structure may be viewed and stored along with
production printouts.In addition, the company will show its new YAS concept, which was co-developed
with the US Department of Agriculture, for spun yarn testing. The instrument uses optical
technology to grade the appearance of yarns according to ASTM International standards.As
competition heats up among emerging textile manufacturing countries (where the movement to develop
higher-quality products at a lower cost has begun), it is important for Chinas mills to adopt new
technologies and upgrade their machinery. ShanghaiTex can prove to be a timely opportunity for
machinery manufacturers to showcase what they can offer and connect with their potential
customers.Concurrent Events At ShanghaiTexIn addition to the large number of exhibiting companies,
taking place concurrently with ShanghaiTex are two other textile-related events.The Technical
Symposiums will include topics on new eco-chemicals and dyeing and finishing technologies,
technical textiles and nonwovens, spinning technology developments and applications, and garment
processing developments.The Shanghai International Techtextiles, Nonwovens and Machinery Exhibition
(SITNE) will present exhibitors that supply nonwovens and technical textiles manufacturing
machinery, raw materials for functional and high-performance fibers, and chemicals for technical
textiles.

May 2003