ParksandWoolson Moves SouthSpringfield, Vt.-based ParksandWoolson Machine Co. Inc. has opened a
service and repair center in King, N.C., and plans to move its entire manufacturing operation to
that location within the next 12 months. Initially, the company will hire 10 employees and
anticipates creating a total of 30 new jobs for the region over the next three years.The
manufacturer of textile finishing and web handling equipment is making the move to North Carolina
in order to be closer to its many customers, which include Guilford Mills, National Textiles and
Burlington Industries.We are excited about bringing our company to [King] and the wonderful
opportunities available here for our business and our employees, said Al Peterson, president. Our
customers have reacted favorably to our decision, since it will allow us to service their needs in
a timely and efficient manner. We look forward to being a contributor to the community and being a
part of it.
May 2003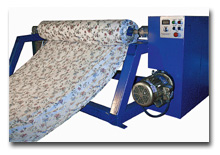 ParksandWoolson, which manufactures the Posi-Winder, plans to move its entire operation to
King, N.C.