Material WorldThe first spring edition of Material World attracted representatives from leading
global apparel companies and private label retailers who came to explore the exhibitions
full-package, fashion information and educational resources. Among the highlights of the new spring
edition was Material World Technology Solutions, the new IT-focused event.Seminar presentation
highlights included a number of case-study sessions sponsored by SAP, New Generation Computing and
BearingPoint. Industry analyst presentations were given by Navi Radjou, senior analyst, Forrester
Research; and Andrew White, research director, Enterprise and SCM, Gartner Inc.

Marshall Gordon, industry manager, apparel and footwear, SAP America, commented, Technology
Solutions within Material World is a great fit. There has never been a time in the apparel/footwear
industry when enabling technology has been so inseparably tied to the business process it empowers
as within global sourcing. Both supply and demand have evolved in a manner in which technology is
an increasingly competitive differentiator. On the supply side, the shift from domestic
manufacturing to global sourcing requires firms to identify, monitor and evaluate a growing group
of vendors in different time zones speaking different languages. On the demand side, the
accelerating retailer requirements for replenishment and Vendor Managed Inventory are equally
challenging. The common thread solution is technology- and industry- specific solutions that speed
business processes and assist executives to see through volumes of data to the issues they need to
address.Kevin M. Burke, president and CEO, American Apparel and Footwear Association (AAFA),
sponsor of Material World, noted, We are very pleased that AAFAs alliance with Material World has
expanded the scope of the show as evidenced by the number of visitors from top name apparel and
footwear companies who attended over the course of the three days.Based on the feedback weve
received from a number of our exhibitors as well as attendees, this first-time event has filled a
void and created a strong new business resource for the industry, stated Tim von Gal, executive
vice president of marketing and development, Urban Expositions, producer and manager of Material
World.Cotton Incorporated expanded its presence at the exhibition by sponsoring three fashion trend
presentations.A special invitation-only presentation in Spanish was offered by Claudia Munoz,
fashion marketing manager, Cotton Incorporated, Mexico City, to participants and guests of Fashion
Week of the Americas. More than 50 designers from Latin America and the Caribbean showcased their
fashions at the presentation. Kathryn Gordy-Novakovic, director, COTTONWORKS® Fabric Library,
Cotton Incorporated, made the presentation in English for Material World attendees.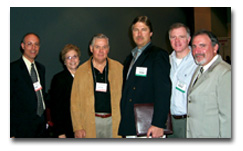 Left to right: Fred Isenberg, vice president; Nancy Brooks, vice president; and Alan Brooks,
president, New Generation Computing; John Windham, vice president, sourcing; and Joe McConnell,
vice president, sourcing, Kellwood; and Mark Goldberg, vice president, sourcing, Koret, a division
of KellwoodAs the cotton industry grows globally, it is our responsibility to answer the needs of
our constituents. We are excited about presenting the Spring/Summer 2004 fashion trends in both
Spanish and English, explained R. Michael Tyndall, senior director, global product marketing,
Cotton Incorporated.Several members representing the companys Global Product Marketing and Consumer
Marketing divisions were in attendance.Mike Todaro, managing director, American Apparel Producers
Network (AAPNetwork), said, Traffic in the contractors aisle, where our booth was anchored, was
what we expected. We had the chance to meet top executives from Russell, Tropical, VF Corp., Sara
Lee, Patagonia and many others. We met exciting new sourcing executives, such as the team from
UnderArmor who actually found one of our members to contact for sourcing on our Internet connection
in our booth. Clearly, [Material Worlds] work with AAPNetwork, AAFA and other organizations to
leverage all of us to get our members to the show is working. Ive been in the industry 13 years now
and was staggered at the number of familiar faces streaming by our booth. This show is drawing the
industry.

May 2003