Army Reservist Jason Bowling, an employee of Shaw Industries Inc., Dalton, recently returned from
active military duty in Afghanistan. Upon his return, Bowling presented to Shaw's senior management
team a US flag flown in the company's honor over the US embassy in Kabul. Bowling made the gesture
as an expression of thanks to both the company and his coworkers for the support they gave him
during his time away.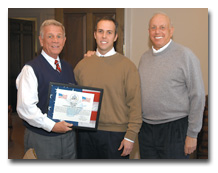 Jason Bowling (center) presents a flag that was flown in Afghanistan in honor of Shaw
Industries to Bob Shaw (left), chairman and CEO, and Julian Saul, president.
April 2003